William Cooke moved back to the Copper Country to connect exercise physiology and community outreach.
The Portage Health Foundation helped found three endowed professor positions. Cooke, who taught and did research previously at Michigan Technological University, is returning as the Portage Health Foundation Endowed Professor of Preventative and Community Health.
The motto of his new position: eat less, move more.
"It sounds simple, but changes of body mass follow the first law of thermodynamics energy in versus energy out if you take in too much energy (calories), you'll increase your mass, and if you expend more energy than you take in, you'll decrease your mass."
From Lab to Local
Cooke is an exercise physiologist and looks specifically at how nerves coordinate blood flow through the heart and brain. He's studied soldiers and astronauts—from how to detect an internal hemorrhage on the battlefield to assessing how low-orbit microgravity affects blood pressure control. He now wants to add the everyday folks of the Keweenaw to that list to help them face the region's most prevalent health concerns.
"The Upper Peninsula isn't unique in their health problems, these are nearly global challenges," Cooke says, explaining that diabetes, obesity, and substance abuse, especially alcohol abuse and tobacco dependency, will be the main targets of his research. "Our laboratory techniques are applicable to real-world, everyday issues."
"Michigan Tech is taking an interesting approach with this position; they understand that you need more than a health promotion person, you need all sorts of people to bring expertise together."
Cooke is joining other researchers, caregivers, movers and shakers to push for better health science in the Upper Peninsula through a $2.5 million grant from the Portage Health Foundation. Michigan Tech will match and exceed the grant, bringing the total to more than $6 million, which will support two other endowed professors focusing on health tech and medical statistics. The five-year grant also makes scholarships available to undergraduate students, helps support graduate student positions and funds research to improve health infrastructure and economic growth in Keweenaw, Houghton, Baraga and Gogebic counties.
"Cooke is poised to make an immediate impact on our community," says Jason Carter, who is the lead researcher on the grant and the Chair of the Department of Kinesiology and Integrative Physiology at Michigan Tech. "There are an awful lot of people in our four-county area that struggle with basic transportation to one of our local health providers, and Cooke's work is going to make a difference."
Mobile Health
Cooke has only been back in the area for less than a month—and he already has plans. In addition to increasing the capabilities of the integrative physiology lab he will share with Carter, he plans to establish a mobile health unit run by students that visits local communities and runs basic health tests including blood pressure and glucose screenings.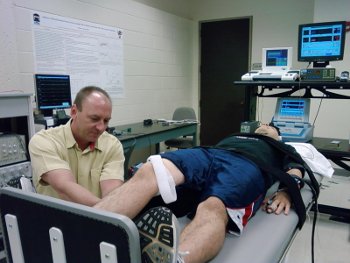 He also wants to work with biomedical engineers and computer scientists to translate his military work on internal hemorrhaging and create a hand-held device that can help first responders. The problem they face, he explains, is that people's nervous systems compensate for the blood loss—one moment the patient seems fine and then suddenly they go into volume shock and quickly decline.
Kevin Store, the executive director of the Portage Health Foundation, says the foundation has been working on initiatives during the past two years to provide education and awareness on the impact of healthy eating and proper nutrition.
"We have also invested in many projects focused on getting our citizens more physically active," he says. "Cooke will be a great addition to the collaborative discussion we are having, and the expertise he brings will be invaluable as we continue to make investments with meaning and impact on the health of our community."
"We agree: eat well and in proper proportion and getting more active are first steps to a healthier person and a healthier community."
From everyday diet to severe trauma, Cooke says the key element of his research is looking for simple solutions that have significant impact. And he can't do it alone.
"The integration of the community and the university—that's my top priority," he says. "I want both community members and the university to see this as the truly collaborative program that it is."
The first step is following the laws of physics; eat less and move more.
Michigan Technological University is a public research university founded in 1885 in Houghton, Michigan, and is home to more than 7,000 students from 55 countries around the world. Consistently ranked among the best universities in the country for return on investment, Michigan's flagship technological university offers more than 120 undergraduate and graduate degree programs in science and technology, engineering, computing, forestry, business and economics, health professions, humanities, mathematics, social sciences, and the arts. The rural campus is situated just miles from Lake Superior in Michigan's Upper Peninsula, offering year-round opportunities for outdoor adventure.