The Aerospace Enterprise is sending off Oculus-ASR, a microsatellite launching next year as part of an Air Force mission to better track objects in space.
It was January of 2011 in Albuquerque, New Mexico. A team of 25 undergraduate students from Michigan Technological University, advised by mechanical engineering professor Lyon B. King, took first place in the University Nanosat 6 competition, earning the rare privilege of having the Department of Defense launch their custom-made satellite into orbit.
The competition earned the team a two-year contract from the Air Force Office of Scientific Research to prepare the satellite for launch and construct a ground control station on campus.
But what was supposed to take two years stretched into four, then five. Repeated delays postponed the launch. Until the call came, last month. It was time—now or never.
Given just four weeks during the summer, when most of the rest of the Aerospace Enterprise team members are away from campus, a small group of students rose to the challenge, led by mechanical engineering major Carl Fruncek. In just one month they reassembled and tested Oculus and prepared it for shipping.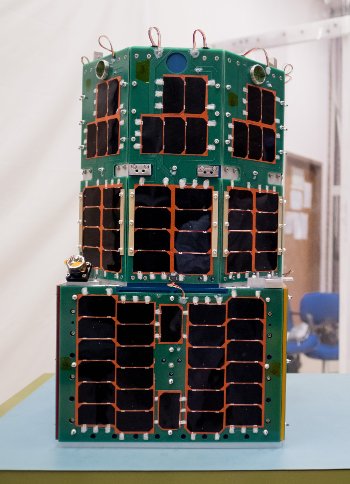 Peering into Space
Oculus-ASR, named for its role as an orbiting eye, weighs less than 150 pounds and stands a bit taller than a mini-fridge. Its mission: to improve techniques the Department of Defense currently uses to keep track of objects in space.
The students work in the Aerospace Enterprise Class 100,000 Clean Room. "We came in at the end of the school year, and Oculus was on the table, laid out flat," Fruncek says. "It had a software problem that we hadn't worked with before. We had nothing but our brains to solve any problems."
Equally important as the satellite itself is its Electrical Ground Support Equipment (EGSE), housed in an indestructible black case. The EGSE plugs into Oculus to charge its battery, edit the software loaded on its main computer and monitor the status of its electronics.
"We did have a little scare," Fruncek says. "During a test, one of the boards malfunctioned; we talked to the guys who designed the board, and found the cause of the issue. That was Monday. By Wednesday the satellite had full functionality."
Student Success
For many students in the larger Michigan Tech Enterprise Program, their crunch time is in April. And while the Aerospace team did rally for the annual Design Expo—taking third place this spring—the hard prep work began this summer. King, who has supervised the enterprise for many years, says the team is committed and that "they have shown an incredible work ethic."
That can mean very long hours for students.
"This past week during the assembly we've been here in the Clean Room from 11 a.m. to 3 a.m. every day," says team member Joseph Chen, a third-year student majoring in computer engineering.
The team assembling the satellite, in addition to Fruncek and Chen, includes: Sarah Wade and Jared Burbey, both double majors in electrical engineering and computer engineering; Colleen Lehrer, mechanical engineering; Andrew Wolowiec, software engineering; Tony Duda, computer science; and Jesse Olson, a double major in mechanical engineering and electrical engineering.
"There are many others, more than 100 students, who have contributed much more than us over the years," Fruncek says. "Basically, anyone who is an alumni of the Aerospace Enterprise since 2009 has worked on Oculus at some point."
Off to the Air Force
This Thursday the team will see it off. Oculus ASR—and its EGSE—will leave campus for Kirtland Air Force Base in Albuquerque in a special shipping crate the size of a small elevator.
"About six years ago, we were awarded the contract to prepare for flight, and although we were confident, none of us had any experience shepherding a satellite all the way to launch," King says. "There were at least 500 times throughout the program when something failed that seemed completely insurmountable and, for a day or week, it seemed the mission would fail. But in every instance the students persevered and solved the problem. So what we've learned is that failure is only temporary and you need to keep your head down and keep working, because hard work will lead to success."
"In a few months, Oculus heads down to Cape Canaveral for launch. The ultimate measure of success will be when we look up and see the fiery exhaust plume coming out of the back-end of the SpaceX Falcon Heavy, and we can wave at it and say, 'Yeah, we did that.'"
One member of the team, Olson, is interning with the Air Force research lab this summer specifically to work with them as they test Oculus. The process—nicknamed "shake and bake"—ensures the satellite can withstand the launch. Fruncek will join him for a week or two of that process as well.
Then, after a few months, the satellite will go to Cape Canaveral to await the launch.
Space Maneuvers
Once in orbit, Oculus-ASR will perform coordinated maneuvers during overflights of the Air Force Maui Optical Station (AMOS), which is an array of mountaintop telescopes used to inspect orbiting objects. AMOS investigators will attempt to determine the orientation and shape of Oculus, and compare those measurements with actual "truth" data downloaded from the satellite.
Here on campus, Aerospace Enterprise students will operate the satellite using an internet-based ground station and a transceiver in Ann Arbor, Michigan. They will control the spacecraft's orientation and change its shape during the mission, presenting an ever-changing target for ground telescopes.
"Oculus-ASR is very agile and has the capability to perform complicated spins and flips while in view of the telescopes," King explains. "It also has the ability to change shape by deploying panels to exercise the AMOS algorithms and see if ground observers can detect the shape changes."
Oculus-ASR will provide new info to the Air Force. "It will be the first satellite mission dedicated to helping telescope observatories understand what they are imaging using a cooperative target. Its capability is unique. We are aware of no other mission with the same purpose," King says. "It's a very capable little vehicle. There's a lot packed into it."
"We've probably spent more than 300 hours so far this month to complete the assembly," Chen adds. "We've put a lot of dedication into it. This satellite will go into space."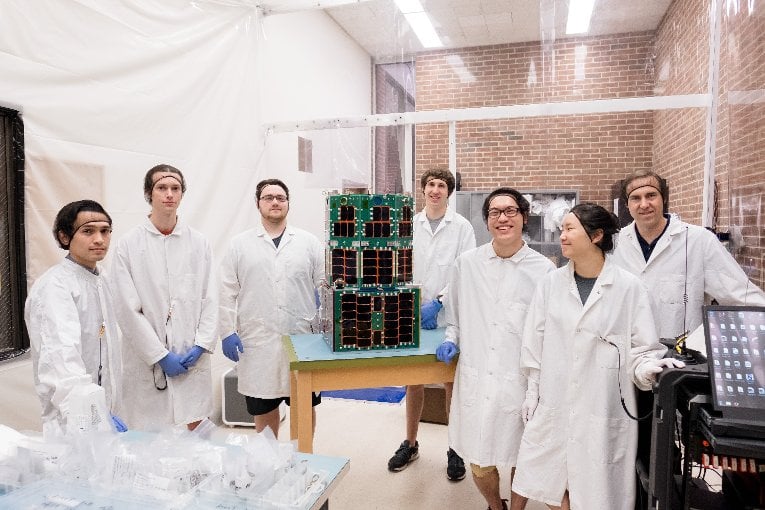 Are you interested in a career in aerospace engineering?
Michigan Technological University is a public research university founded in 1885 in Houghton, Michigan, and is home to more than 7,000 students from 55 countries around the world. Consistently ranked among the best universities in the country for return on investment, Michigan's flagship technological university offers more than 120 undergraduate and graduate degree programs in science and technology, engineering, computing, forestry, business and economics, health professions, humanities, mathematics, social sciences, and the arts. The rural campus is situated just miles from Lake Superior in Michigan's Upper Peninsula, offering year-round opportunities for outdoor adventure.