The Michigan Economic Development Corporation (MEDC) has funded five projects at Michigan Tech through the University's Michigan Translational Research and Commercialization (MTRAC) program. MTRAC supports the acceleration of commercially viable applied advanced material technologies developed by Michigan Tech researchers.
The projects funded are:
Andrew Barnard, Mechanical Engineering-Active Noise Control (ANC) with Carbon Nanotube Thin-films: a lightweight, small and immovable film used for "low noise" mode of operation for military ground and marine vehicles.
Xiaohu Xia, Chemistry-Artificial Enzymes: synthetic enzyme used in medical diagnostic kits to improve sensitivity and accuracy of test results.
Jaroslaw Drelich and Jeremy Goldman, Materials Science & Engineering/Biomedical Engineering-Bioabsorbable Stents: the bioabsorbable metal stents harmlessly erodes within the desired timeframe and has demonstrated superiority to current materials.
Bowen Li, Materials Science & Engineering-Microwave Vermiculite Exfoliation: an energy-efficient process for processing vermiculite and similar minerals.
Feng Zhao, Biomedical Engineering-Cell Patch for Wound Healing: composite tissue created from natural and artificial cells used to better heal wounds.
"All of the projects reviewed are in the prototype phase or in negotiations for marketing," said John Diebel, project director for MTRAC at Michigan Tech. "Everyone was impressed with the presentations and depth of the products in development. In the three years of the program, more than 40 new product proposals have been reviewed, and $400,000 has been awarded in funding toward projects."
The researchers presented their research before an 11-member oversight committee consisting of venture capitalists, materials experts from various fields and successful entrepreneurs in late May, in a format often compared to the popular reality television show "Shark Tank."
Office of Innovation and Commercialization
The awards are the culmination of a competitive selection process that began with the submission of 10 "Letters of Intent." Then the principal investigators worked with Tech's Office of Innovation and Commercialization (I&C) to explore how best to define the value of solving a problem with their technology. According to Diebel the primary challenge of the proposal process is to gain a better understanding of the value of the technology and offering a realistic strategic plan for funding its development rather than championing the science behind the technology. "The process takes a lot of coaching because it is a new skill for many of our inventors" said Diebel. Throughout the year, IIE works with faculty inventors by arranging specialized training workshops related to commercialization, introducing inventors to potential mentors, making them aware of external commercialization funding opportunities and providing individualized commercialization planning for early stage technologies.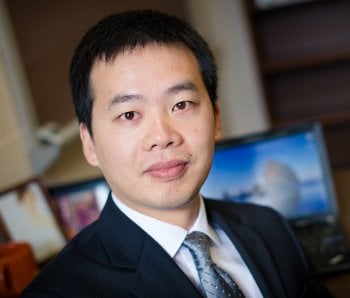 Michigan Tech is one of four universities with an MTRAC program; others include the University of Michigan, Michigan State University and Wayne State University. Each university has a different focus for projects: agriculture bio, life sciences, advanced transportation and biomedical.
"The recent statewide expansion of MTRAC will allow for greater collaboration with industry partners across the state, as it relates to advancing technologies and innovation into commercial applications," said Denise Graves, university relations director at MEDC. "With the success we've seen through programs like Michigan Tech's, we've received interest in our current program from those who currently do not have the ability to participate. Between that interest and the success of the current programs, this expanded model will allow all institutes of higher education, non-profit research centers and hospital systems to have a pathway for translating their research into the commercial market and, ultimately, helping increase the number of startups, jobs, industry licenses and investment for Michigan."
Economic Impact of Commercialization
Developed and managed by the MEDC, MTRAC programs have funded 79 projects through March 2016, helped develop 13 start-up companies, created 33 jobs, secured $21.4 million in follow-on funding and licensed technology to three Michigan companies.
MEDC's Entrepreneur and Innovation initiative establishes Michigan as the place to create and grow a business by providing high-tech start-up companies with access to a variety of critical resources, such as funding and expert counsel, from ideation to maturation, says the MEDC. Learn more about MEDC Entrepreneurship & Innovation at michiganbusiness.org.
Michigan Technological University is a public research university founded in 1885 in Houghton, Michigan, and is home to more than 7,000 students from 55 countries around the world. Consistently ranked among the best universities in the country for return on investment, the University offers more than 125 undergraduate and graduate degree programs in science and technology, engineering, computing, forestry, business and economics, health professions, humanities, mathematics, social sciences, and the arts. The rural campus is situated just miles from Lake Superior in Michigan's Upper Peninsula, offering year-round opportunities for outdoor adventure.