University Innovation Fellows Bring Design Thinking to Campus, School Children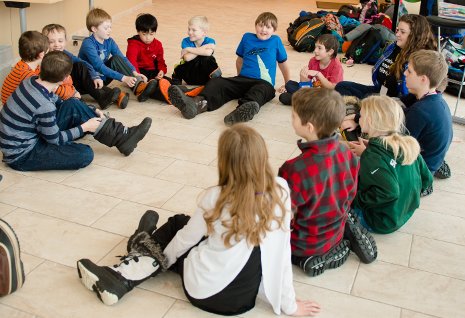 University Innovation Fellows nationwide are changing the way students think. UI Fellows at Michigan Technological University and across the country are teaching a fresh mindset known as "design thinking," a methodology that helps users identify human-centered problems and imagine and implement innovative solutions through experimentation.
Michigan Tech's UI Fellows introduced design thinking to incoming first-year students during last fall's orientation week. Now they're reaching down into the elementary and middle schools, offering after-school classes called "Discovering Your Creative Confidence and Inner Maker."
Magann Dykema, a second-year civil engineering student, taught the class for third through fifth graders. Brad Turner, a third-year software engineering major, taught sixth through eighth graders.
Elementary School Design Thinking
How do you teach 8, 9 and 10-year olds design thinking? Focusing on the word "define" during week 2 Dykema had her students define a design problem they see in every-day life. After exploring some every-day problems, Dykema had her students imagine that the Portage Lift Bridge was falling down, and the students had to define some problems that might arise because of this. Once the students explored some problems that may arise because of the bridge falling, their assignment was to redesign the bridge to include one new element that solved a specific problem they identified. One of the elementary school team's redesigns ran a road under the bridge, to accommodate snowmobiles in winter and ATVs in warmer weather.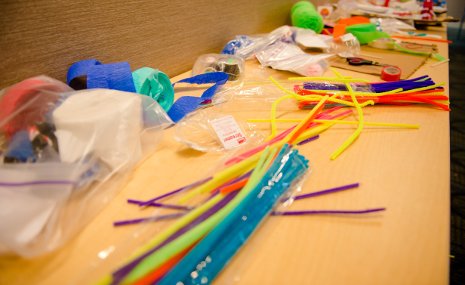 In Turner's class, the middle-school students were challenged to design a chair to accommodate eight different types of users, from a baby to an elderly man. They started by determining the features that each user would need in their chair. Then they prototyped different versions by drawing, bending, molding and sticking together different supplies such as modeling clay, tooth picks, pipe cleaners and tape. They had opportunities to showcase their creativity to their classmates, as well as their families.
Makerspace
Last fall, the UI Fellows sponsored an extremely popular "Makerspace" workshop that generated enthusiasm for creation of a permanent makerspace. Based on input received from the more than 100 workshop participants, the UI Fellows have been working with the Makerspace Committee to develop some renderings of the space and estimates for the renovations.
Turner says, "We anticipate the space will be completed sometime near the end of this semester, with a potential grand opening early next fall."
While the space is being created, the UI Fellows are hoping to sponsor a series of events focused on creativity, making and innovation by collaborating with Enterprise teams and student organizations to run small workshops for interested students. For more information and updates, see makerspace.mtu.edu. Questions can be directed to makerspace@mtu.edu.
There are seven UI Fellows at Michigan Tech, including four who finished their training last fall. The new fellows are Michelle Hoard, a senior in chemical engineering; Carly Joseph, a third-year biomedical engineering major; Nichole Mackey, a second-year student in software engineering; and Nate Peterson, a senior in materials science and engineering.
The Michigan Tech UI Fellows operate under the umbrella of the Pavlis Honors College and the new Innovation Center for Entrepreneurship, with support from their faculty sponsor, Mary Raber.
Funded by the National Science Foundation (NSF), the UI Fellows program is administered by the National Center for Engineering Pathways to Innovation program, also known as the Epicenter. It is run by Stanford University and nonprofit VentureWell.
Michigan Technological University is a public research university founded in 1885 in Houghton, Michigan, and is home to more than 7,000 students from 55 countries around the world. Consistently ranked among the best universities in the country for return on investment, the University offers more than 125 undergraduate and graduate degree programs in science and technology, engineering, computing, forestry, business and economics, health professions, humanities, mathematics, social sciences, and the arts. The rural campus is situated just miles from Lake Superior in Michigan's Upper Peninsula, offering year-round opportunities for outdoor adventure.