House Family Foundation Gives $2.3 Million for Endowed Professorships, Graduate Student Assistantships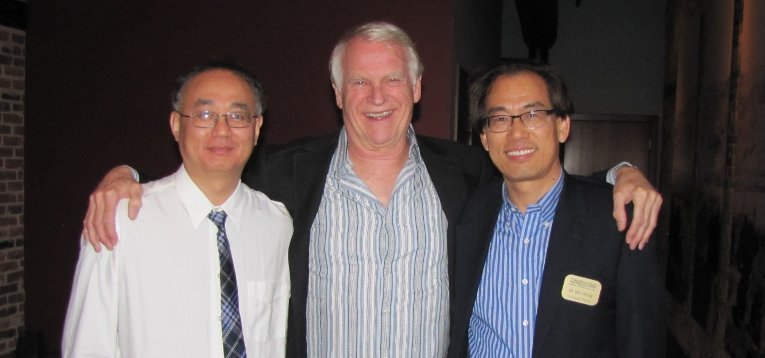 Recipients have been named for two professorships endowed by Dave House, an alumnus and longtime supporter of Michigan Technological University. The House Family Foundation gave $1 million to support each professorship and another $270,000 to fund graduate student assistantships.
Min Song, chair of the Department of Computer Science at Michigan Tech, will hold the Dave House Endowed Professorship in Computer Science. Kui Zhang, professor of mathematical sciences, will hold the Dave House Endowed Professorship in Statistics, Data Mining and Data Analytics.
The graduate student assistantships will provide $30,000 annually to each of three graduate assistants in Michigan Tech's new Master of Science in Data Science program for three years. They will contribute to the research of the Alliance for Computing, Information and Automation Research Center at Tech.
Min Song, Computer Science
Min Song joined the Michigan Tech faculty in 2014, after serving as program director for the National Science Foundation (NSF). In 2012 he received the prestigious NSF Director's award for the successful launch of groundbreaking international initiatives.
Song's research interests include design, analysis and evaluation of wireless communication networks, network security, cyber physical systems and mobile computing. He is the founding director of the University's Institute of Computing and Cybersystems. He holds a joint appointment as professor of electrical and computer engineering.
"I am honored to receive this distinguished title," Song said. "It is an acknowledgement achieved not by me alone, but by the entire Department of Computer Science, the Institute of Computing and Cybersystems, and the Michigan Tech community. Thank you, Dave!"
Charles Wallace, an associate professor of computer science who held the position of interim chair before Song arrived, said: "Mr. House has consistently shown great generosity and enthusiasm in his support of computing across the University. I congratulate Dr. Song on receiving this tremendous honor, and I am sure he will make good use of it."
Kui Zhang, Mathematical Sciences
Zhang joined the Michigan Tech faculty in August 2015, coming from the University of Alabama at Birmingham, where he was a faculty member in the Department of Biostatistics.
Zhang's research focuses on the development of novel statistical methods and new and efficient computational and bioinformatics tools to address scientific problems in biomedical fields, particular statistical genetics and genomics. He works collaboratively to apply these new statistical and computational methods to genetic studies.
Professor Zhang is a great choice for the House Professorship," said Mark Gockenbach, chair of the Department of Mathematical Sciences. "He brings a wealth of knowledge to Michigan Tech, having participated in a broad range of work in biostatistics. His most important contributions involve developing statistical methods to identify the genetic causes of complex diseases, but his experience will make him a great resource for researchers across campus."
Zhang himself said: "It was unexpected, and I felt an absolute thrill and excitement when I found out that I was going to receive this endowed professorship. I am extremely grateful for this honor, and I am very thankful for Mr. House's generous support and his recognition of the importance of statistics and data science. This opens many exciting opportunities for me in collaboration with other Michigan Tech investigators."
Alumnus Dave House
House, who earned a BS in Electrical Engineering from Michigan Tech in 1965, began his career as a computer designer at Raytheon Computer and Communications Division. In 1974, House joined Intel Corp., where he managed the microprocessor business as it grew from $40 million to $4 billion a year and managed the team that developed the familiar and successful "Intel Inside" marketing campaign. He served as chair of Michigan Tech's $200 million capital campaign, "Generations of Discovery," himself contributing $10 million.
"For Michigan Tech to provide the best learning environment and prepare its students for success in their lives and careers, it needs to be one of the top research universities," said House. "To do that we need the best faculty. Professors shape students' lives. Endowed professorships attract and retain the best faculty and provide a perpetual benefit for the University and its students.
"As alumni, Michigan Tech gave us critical skills we needed to be successful, and we need to show our gratitude and allegiance by supporting the University and it's current and future students through impactful philanthropy," he added.
President Glenn Mroz couldn't speak highly enough of House and his ongoing support for Michigan Tech, as well as the faculty named to the endowed professorships.
"These gifts are not only a testament to the importance Michigan Tech continues to have with our alumni, but they demonstrate the increased priority on computing and cybersystems as the world enters 2016," Mroz said. "Dave House's generosity will help ensure that we have sustainable faculty positions to educate our students who will have leadership positions these fields."
Michigan Technological University is a public research university founded in 1885 in Houghton, Michigan, and is home to more than 7,000 students from 55 countries around the world. Consistently ranked among the best universities in the country for return on investment, Michigan's flagship technological university offers more than 120 undergraduate and graduate degree programs in science and technology, engineering, computing, forestry, business and economics, health professions, humanities, mathematics, social sciences, and the arts. The rural campus is situated just miles from Lake Superior in Michigan's Upper Peninsula, offering year-round opportunities for outdoor adventure.