High School Students Host Computer Programming Workshop for Middle School Girls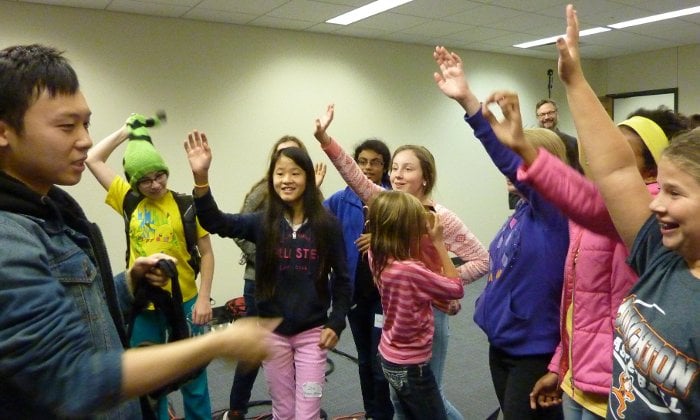 Two local high school students, themselves winners of national Aspirations in Computing awards, are paying their enthusiasm for computing forward by teaching middle-school girls to program. Miriam Eikenberry-Ureel a sophomore at Houghton High School, and Caitlyn McKenzie a senior, hosted "Code Ninja," a one-day computer-programming workshop for Houghton County middle school girls.
"Code Ninja" was funded by National Center for Women and Information Technology's (NCWIT) Aspire-IT grant. It was designed to encourage girls to think about a career in computer science.
Mckenzie and Eikenberry-Ureel were state winner and runner-up, in NCWIT's Aspirations in Computing award this past spring. This enabled them apply for the grant to conduct the workshop.
Mckenzie and Eikenberry-Ureel wanted to show the girls that programming can be a lot of fun, so they chose to teach MIT App Inventor and Processing, two programming codes that are highly visual and introduce the basics of programming. "Processing is a simple language that ties in well with Java, one of the first languages taught in college." Eikenberry-Ureel said.
Programming Android Apps
During the first workshop session, McKenzie walked the girls through use of the MIT App Inventor. This programming language is highly visual and allows the user to program apps for their Android phones. Then the girls learned more about the computer science industry from guest speakers and got a tour of Michigan Tech's Department of Computer Science.
In the afternoon, Eikenberry-Ureel taught the girls Processing, a language-based program, in which they learned to manipulate shapes. As Eikenberry-Ureel taught the group how to use Processing, Mckenzie, Michigan Tech Computer Science Lecturer Leo Ureel, Associate Dean for Special Initiatives Linda Ott and computer science undergraduates, Teresa Winn and Emily Scheetz all helped field questions.
"It bounced! That was amazing!" exclaimed one of the girls who had been working with Mckenzie after getting her program to run correctly. That's the kind of excitement Code Ninja was meant to generate.
Demand for Programmers
According to Ureel, there is a large demand for programmers, and universities are not keeping up. So, there is a huge shortfall when it comes to computer science graduates, yet another reason to try to bring more women into the field. "The peak time for women in computer science was in the mid 1980s, at just over 35 percent," Ureel said, "and it has just gone downhill from there."
"Code Ninja" was the first workshop of its kind. However, when Ureel asked the girls if they would be interested in participating in something similar again, nearly all of them raised their hands eagerly.
Michigan Technological University is a public research university, home to more than 7,000 students from 54 countries. Founded in 1885, the University offers more than 120 undergraduate and graduate degree programs in science and technology, engineering, forestry, business and economics, health professions, humanities, mathematics, and social sciences. Our campus in Michigan's Upper Peninsula overlooks the Keweenaw Waterway and is just a few miles from Lake Superior.