Middle school girls from across the western Upper Peninsula will get a taste of the excitement of science and engineering during Michigan Technological University's annual Get WISE (Women in Science and Engineering) workshop on Tuesday, February 21.
At Get WISE, girls participate in hands-on activities, solve problems and meet with college-age role models. This year's projects include a wood anatomy activity, designing and creating a pinball machine and participating in an epidemic simulation..
"We're hoping this helps them learn ways to not only problem-solve but to enjoy doing it, says Lauren Kirwin, a coordinator at Michigan Tech's Center for Educational Outreach (CPCO). "These girls are incredibly smart, and we want to give them the opportunity to explore their options."

During the workshop, the girls will meet women undergraduates and graduate students, as well as staff and faculty from a variety of departments. They will learn what shaped the women's career paths and will have an opportunity to ask them questions.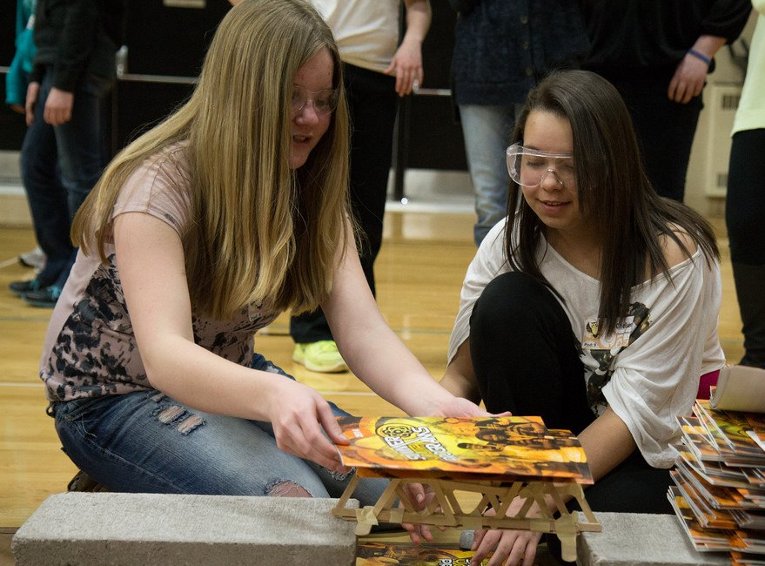 Teachers Love Get WISE
Middle school teachers love the Get WISE program.

"I have been bringing my middle school girls for the last seven years. It is a great opportunity to show them some of the amazing things that happen in the college classroom, as well as the real world, in the science and engineering fields," says Lake Linden-Hubbell Schools English teacher Heather French.
"Having a science minor from Michigan Tech myself, I believe it is important to show young ladies that they are capable of anything," French adds. "This program empowers them, shows them some positive role models and gives them an idea of some of the things they can accomplish."

Another teacher, Jen Martin Davis from Hancock Middle School says, "I always look forward to Get WISE every year. As a middle school science teacher, I personally see the positive impacts programs like Get WISE have on my students. My students leave the event pumped up about STEM, and they begin to see a future place for themselves in science and engineering."

Get WISE is hosted by the CPCO office in partnership with the College of Engineering, the College of Sciences and Arts, and the Western Upper Peninsula Center for Sciences, Mathematics and Environmental Education.
Michigan Technological University is a public research university founded in 1885 in Houghton, Michigan, and is home to more than 7,000 students from 55 countries around the world. Consistently ranked among the best universities in the country for return on investment, Michigan's flagship technological university offers more than 120 undergraduate and graduate degree programs in science and technology, engineering, computing, forestry, business and economics, health professions, humanities, mathematics, social sciences, and the arts. The rural campus is situated just miles from Lake Superior in Michigan's Upper Peninsula, offering year-round opportunities for outdoor adventure.