Nina Mahmoudian Receives a Young Investigator Program Award from Office of Naval Research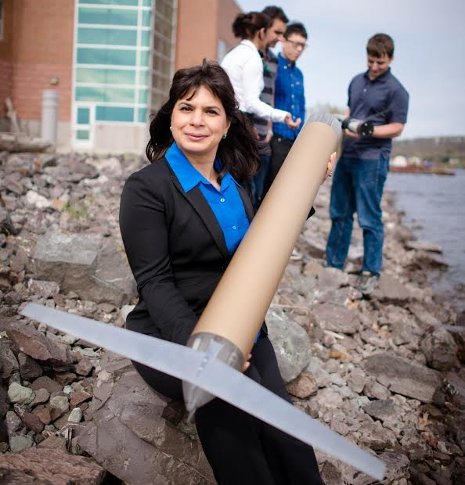 Only 36 faculty across the US were invited to join the Young Investigator Program (YIP) from the Office of Naval Research this year; additionally, only a small percent of faculty receive the CAREER Award from the National Science Foundation (NSF). Nina Mahmoudian, an assistant professor of mechanical engineering-engineering mechanics at Michigan Technological University, is one of a select few to receive both in the same year.
"To be selected for the prestigious NSF CAREER award is a major accomplishment in itself," says Bill Predebon, the chair of the Department of Mechanical Engineering-Engineering Mechanics at Michigan Tech. "Adding to that being selected for the Young Investigator Program in the same year puts her in a small group of very talented faculty in the US."
Mahmoudian's work in underwater robotics earned her the awards, both of which are granted to early career researchers. Specifically, Mahmoudian's research focuses on the continuous operation of autonomous vehicles — in other words, how to keep underwater robots under water for longer and with better performance. The Young Investigator Program funding, a total of $510,000, allows Mahmoudian to dive deeper into the mechanical challenges of long-term coordination of a fleet of Autonomous Underwater Vehicles (AUVs).
Deploying Autonomous Underwater Vehicles (AUVs)
"Improving AUVs will help a variety of missions in the Navy, and my work can make long-term observation in hard-to-reach places possible," Mahmoudian says. AUVs can be used not only for underwater environmental monitoring, but they also can scope out unsafe waters, monitor war zones, disarm bombs and move supplies.
The vehicles Mahmoudian and her team work with at her Nonlinear and Autonomous Systems Laboratory (NAS Lab) are often deployed in fleets, which she compares to a school of fish. And like a school of fish — moving in coordinated masses with dexterity — Mahmoudian says she wants her machines to be efficient. To do so requires overcoming a number of hardware and software challenges; the biggest limitation right now is energy efficiency.
Undersea Persistence
Even high-end AUVs can only manage a matter of hours underwater currently. They need to refuel or charge batteries, and the time it takes — along with the human intervention — costs a pretty penny. Improving AUV undersea persistence, how long the machines can stay underwater, is a key part of Mahmoudian's research.
She says that persistence hinges on the ability to recharge. Establishing stable recharging cycles has to meet specific technical challenges and has to contend with physical and environmental constraints.
The goal is to create an architecture that integrates three elements: energy, communication and docking, to guarantee undersea persistence where limited power resources are available. Having multiple static charging stations underwater in the area of operation is an approach that Mahmoudian plans to assess along with developing mobile charging systems for underwater.
For the latter, she envisions a second fleet of robots, a team that can swoop in and charge the AUVs and "the smart coordination and communication of the working and charging AUVs is the key" to making mobile recharging work, she says. The mobile charging system will lower deployment and operating costs.
Mahmoudian says docking, which is getting the charging and working AUVs connected properly, is a difficult problem to solve. The machines are remote, deep underwater and in a dynamic environment.
"We are also trying to develop a universal docking system," she adds, one that could be compatible with commercial vehicles. This would be like having standardized USB ports instead of the myriad charging plug-ins required for different phones.
Expanding Research
The outcome of this project will be a roadmap for building and implementing an undersea system. It covers the theoretical, computational and experimental aspects, focused on mobile recharging and onsite recharging capability.
To make this happen, Mahmoudian will work with researchers at the Great Lakes Research Center and the Center for Agile Interconnected Microgrids, both at Michigan Tech. The collaboration will help Mahmoudian and her NAS Lab team explore their research and test their robots, working towards undersea persistence.
Michigan Technological University is a public research university founded in 1885 in Houghton, Michigan, and is home to more than 7,000 students from 55 countries around the world. Consistently ranked among the best universities in the country for return on investment, Michigan's flagship technological university offers more than 120 undergraduate and graduate degree programs in science and technology, engineering, computing, forestry, business and economics, health professions, humanities, mathematics, social sciences, and the arts. The rural campus is situated just miles from Lake Superior in Michigan's Upper Peninsula, offering year-round opportunities for outdoor adventure.