Michigan Tech Shines in New Brookings Institution Report on the Economic Value of an Education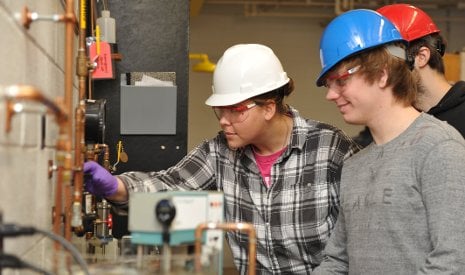 Michigan Technological University led colleges and universities in Michigan and ranked fourth in the nation in a new kind of evaluation released last week by the Brookings Institution.
Brookings, a private, nonprofit research and policy think tank based in Washington, DC, calls its new assessment of two- and four-year colleges and universities "Beyond College Rankings." It measures what Brookings calls "value-added" factors such as the kinds of majors offered—particularly in STEM (science, technology, engineering and math), graduation rates, student loan repayment rates and the difference between predicted earnings and graduates' actual earnings at mid-career and over a lifetime.
In particular, the report scored institutions on a scale of 100 on three metrics: the mid-career salary of graduates, their repayment rate on loans and the earning power of alumni in their chosen occupations. When you add those three scores together, Michigan Tech's combined score of 293 was the highest in the state. The University of Michigan-Ann Arbor was second with 243 and Lawrence Technological University was third, scoring 217.
Nationwide, using the same three-metric score, Michigan Tech ranked fourth, tied with Georgia Institute of Technology. Clarkson University, Massachusetts Institute of Technology and Polytechnic Institute of New York University ranked first, with Harvey Mudd College second, and Carnegie Mellon University, Missouri University of Science and Technology, Rensselaer Polytechnic Institute and Rose-Hulman Institute of Technology tied for third.
"The value-added measures improve on conventional rankings in several ways," says Brookings on its "Beyond College Rankings" website. "They focus on the factors that best predict measurable economic outcomes, and they attempt to isolate the effect colleges themselves have on those outcomes, above and beyond what students' backgrounds would predict."
Brookings defines and ranks "value-added" as the difference between actual outcomes such as graduates' salaries and the outcomes one would expect given a student's incoming characteristics and the type of institution.
The Brookings ranking suggests that the actual mid-career earnings of graduates compared to their predicted earning is a particular significant indicator of the value of a degree.
"Based on the curriculum value, alumni skills, STEM orientation, graduation rates and average amount of student aid—the five quality factors identified by Brookings—Michigan Tech graduates predicted mid-career salary would be $69,975, but their actual salary averages $97,300," said President Glenn Mroz. "These metrics demonstrate the true economic value of a Michigan Tech degree."
Michigan Technological University is a public research university founded in 1885 in Houghton, Michigan, and is home to more than 7,000 students from 55 countries around the world. Consistently ranked among the best universities in the country for return on investment, the University offers more than 125 undergraduate and graduate degree programs in science and technology, engineering, computing, forestry, business and economics, health professions, humanities, mathematics, social sciences, and the arts. The rural campus is situated just miles from Lake Superior in Michigan's Upper Peninsula, offering year-round opportunities for outdoor adventure.