Soundscape Brings an Auditory Aesthetic to Forestry Atrium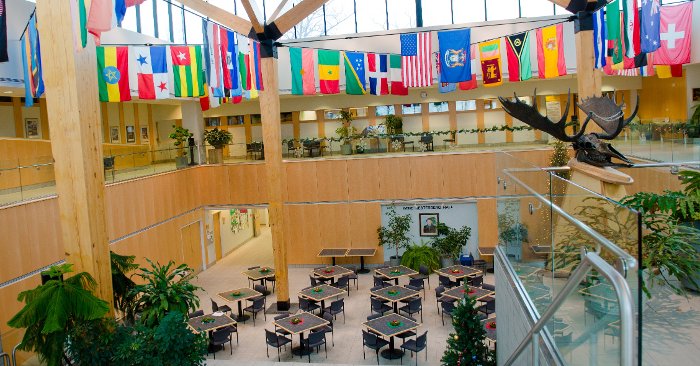 Sitting down to study, noises can become distracting. Pop, hiss! There goes the heater, or someone shuffling down the adjacent hall. Daydreams of the beach or walking through the woods interrupt thoughts about upcoming exams; how can focus be maintained when the natural world is calling?
But what if natural sounds could form a soothing backdrop for studying and learning? Michigan Tech already has many beautiful spaces on campus, such as the U.J. Noblet Forestry Building Atrium. Now, a team from various departments is collaborating to add another dimension of beauty.
Faculty from the School of Forest Resources and Environmental Science (SFRES), the Department of Mechanical Engineering - Engineering Mechanics, and the Department of Visual and Performing Arts have joined together to bring natural sounds to the Forestry atrium, to use sound to create different feelings and awareness of the space. They've created a soundscape, a combination of sounds that form an immersive environment, an acoustic ecology.
"What we do in natural resources is largely science," says Terry Sharik, SFRES dean and one of the key leaders in this project. "But there's clearly an art and aesthetic component that accompanies it."
Soundscapes
Creating these soundscapes can help those in it experience more than just the physical space, explains Josh Loar, a professor in Visual and Performing Arts (VPA) who helped design the sound system for the atrium.
Six faculty members who worked diligently on this project each have different aspects they wanted to address. "The school believes that we have these beautiful spaces around campus," says Andrew Storer, SFRES associate dean and another key leader in the soundscape endeavor. "We hope to be enhancing and adding to these beautiful spaces with this project."
Another goal is to explore the synergistic aspects and conduct more research about noise pollution. Synergy occurs when individual parts or forces interact to produce a result that is greater than the sum of its parts. "You never know what will arise," says David Flaspohler, a professor of conservation biology who is interested in the natural acoustics incorporated in the soundscapes.
The project uses sounds from around the globe, much like the colorful flags of the world that hang from the Forestry atrium's rafters. The soundscape includes the sounds of tropical rainforests and those of the Keweenaw Peninsula. Some have already been recorded. Underwater acoustics is another option, an interest of Andrew Barnard, an assistant professor of mechanical engineering who is interested in acoustics and noise control.
One of the most interesting aspects of the project that everyone mentioned is its interdisciplinary nature and the opportunity to incorporate sounds from different faculty members' research. "It is celebratory of the teamwork and work the faculty is doing," says Chris Plummer, a VPA professor who has been working with students to record Keweenaw soundscapes.
During the last two weeks of the fall semester, the temporary sound system design was put in place and tested to determine how the project will continue. The soundscape group welcomes others interested in soundscapes and their potential effects to get involved.
Michigan Technological University is a public research university founded in 1885 in Houghton, Michigan, and is home to more than 7,000 students from 55 countries around the world. Consistently ranked among the best universities in the country for return on investment, the University offers more than 125 undergraduate and graduate degree programs in science and technology, engineering, computing, forestry, business and economics, health professions, humanities, mathematics, social sciences, and the arts. The rural campus is situated just miles from Lake Superior in Michigan's Upper Peninsula, offering year-round opportunities for outdoor adventure.