2D Designs Become a 3D Reality on the Tech Trails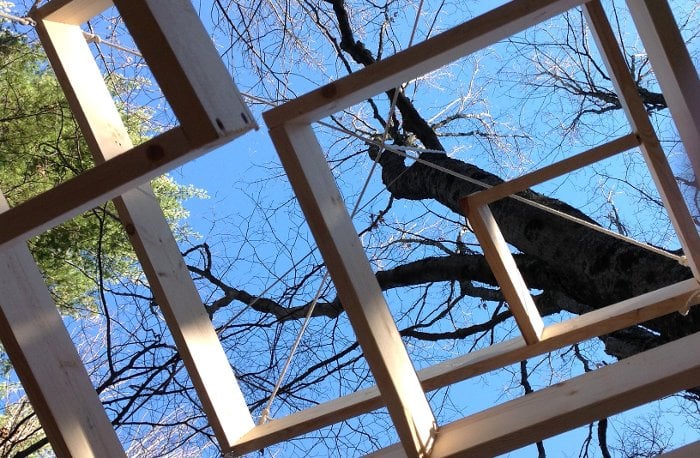 Lisa Johnson, an assistant professor of visual and performing arts at Michigan Technological University, challenged her 2D Design in Ecology students to create artworks along the theme of frames, or windows, that would "help viewers look closely at things they might not otherwise see." Johnson's class first took photographs along the Tech Trails. They developed 2D drawings and collages based on those images, which now grace the walls of Rekhi Hall, on the 2nd floor of the Computer Science department, where they are on exhibit through January.
Then they took the challenge a step further, developing 3D artworks based on these windows or frames, so that viewers could participate in their vision. With the help of Trail Master James Meese, their frames were then installed along Tech Trails.
Although about half of the artworks were removed from the trails before the snow started to fall, some were snowed in, so they are still there for skiers to enjoy. Now, as you ski along Tech Trails, you may just round a bend and see one of these students' designs gracefully framing your views along the trails.
In addition to providing artistic punctuation to views along the trails, their work helped propel Michigan Tech to second place in the Outdoor Nation competition. Outdoor Nation was a competition among US schools for the school with the most active outdoor community. The class registered their hours outside as part of Outdoor Nation, and visitors to the installation were also encouraged to do that, to boost Michigan Tech's participation.
Johnson says the 2D Design in Ecology class is based on the principles of Long Term Ecological Reflection(LTER), a collaboration between artists and biological field stations across the U.S. "It is rooted in the belief that art and science are thoughtful partners, and that close, long-term examination of place creates meaningful windows into the world," she explains. "This means that our projects—though diverse —will each connect back to ecology in some way."
For more information, contact Lisa Johnson, lijohnso@mtu.edu, 906-487-2067.
Michigan Technological University is a public research university founded in 1885 in Houghton, Michigan, and is home to more than 7,000 students from 55 countries around the world. Consistently ranked among the best universities in the country for return on investment, the University offers more than 125 undergraduate and graduate degree programs in science and technology, engineering, computing, forestry, business and economics, health professions, humanities, mathematics, social sciences, and the arts. The rural campus is situated just miles from Lake Superior in Michigan's Upper Peninsula, offering year-round opportunities for outdoor adventure.