Students Researching How to Prevent Bird-Window Collisions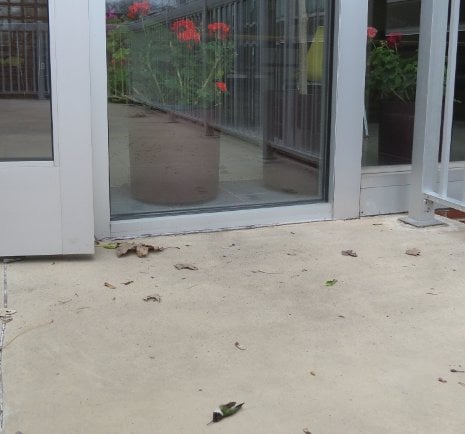 The red flower makes a picturesque reflection in the window. But outside of it lies a dead hummingbird that has flown into the glass, trying to reach the plant. Bird-window collisions are sadly common. But the Michigan Tech student chapter of The Wildlife Society hopes to help. They are participating in a bird-window collision research project, part of a North American project involving 41 college and university campuses from Mexico to Canada.
Bill Thomas, a fourth year wildlife and ecology management undergraduate, and Randee Wlodek, a third year biology undergraduate, are co-coordinators for this project, along with Amber Roth, a research assistant professor with the School of Forest Resources and Environmental Science. Roth is the advisor on the project and campus program coordinator for Michigan Tech.
Ten buildings are being studied on campus. Six were randomly selected according to certain criteria developed by the international program, and the four others were chosen by existing concerns about their involvement in bird-window collisions. The buildings are:
Outdoor Adventure Program building
A Daniell Heights apartment building
Hamar House/Center for Diversity and Inclusion
Honors Institute house
Rozsa Center for the Performing Arts
U.J. Noblet Forestry building
Dow Environmental Sciences and Engineering building
Great Lakes Research Center
Fisher Hall
Skywalk between Rekhi Hall and the Van Pelt & Opie Library
Seventeen students, faculty and staff have observed these buildings and recorded the number of dead birds they found. Forestry, wildlife ecology and biology undergraduates are not the only ones interested; some engineering students have gotten involved too.
Wlodek welcomes them. "It's important information, not just for biology and ecology students," she says. "The future engineers building the skyscrapers should be aware that birds frequently hit windows that are not designed a certain way."
The Wildlife Society has found that usually specific windows are the ones getting hit, and that how much a window reflects surrounding trees or how transparent it is makes a difference. "The sheer frequency of window collisions is one of those things you don't notice until you're aware and then you're really aware," says Thomas.
Two buildings have suffered the vast majority of the collisions, with the Dow building accounting for at least three-fourths of them. "It's good that a majority of buildings had zero bird deaths," adds Wlodek, "because that means there aren't as many collisions as we anticipated."
The birds being found are not local species. They are typically migrating birds that funnel through the Keweenaw because it creates the shortest migration route across Lake Superior between the United States and Canada . "Until we really look at the situation, we don't realize how many birds hit windows," says Roth. "And we can't count the ones that get injured and may die later. We know there is a larger impact than what we are seeing with our surveys given that we've found injured and dazed birds too."
The Wildlife Society is hoping that this will be an ongoing project for them. They have plans to work with the Department of Visual and Performing Arts to design creative window treatments to help reduce the collisions, but they need more data to clearly determine which windows need attention. They will be making a presentation of their findings to the Copper Country Audubon Club in the future and want to encourage everyone to become aware of our winged friends and their experiences while visiting our campus.
Michigan Technological University is a public research university founded in 1885 in Houghton, Michigan, and is home to more than 7,000 students from 55 countries around the world. Consistently ranked among the best universities in the country for return on investment, Michigan's flagship technological university offers more than 120 undergraduate and graduate degree programs in science and technology, engineering, computing, forestry, business and economics, health professions, humanities, mathematics, social sciences, and the arts. The rural campus is situated just miles from Lake Superior in Michigan's Upper Peninsula, offering year-round opportunities for outdoor adventure.