Michigan Tech, Central Michigan University Launch Collaborative Physical Therapy Doctoral Program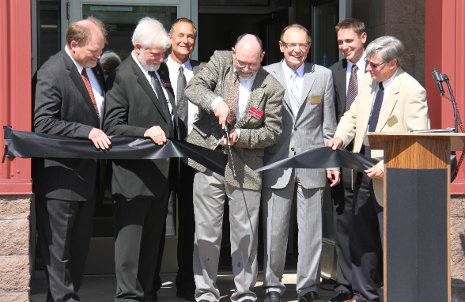 With a purposeful pun—"an exercise in partnership"—Bruce Seely, dean of the College of Sciences and Arts at Michigan Technological University, marked the launch Monday of a unique partnership between Central Michigan University (CMU) and Michigan Tech. The program will offer a Doctor of Physical Therapy degree from CMU to students at both campuses.
"This partnership is a signal of Michigan Tech's commitment to strengthening its education and research initiatives in the life sciences," said Michigan Tech President Glenn Mroz. "We are thrilled to mark the beginning of this cooperative endeavor by dedicating this wonderful space designed for physical therapy education."
The space, including a technologically cutting-edge remote classroom that will be shared in real time by students at CMU and Tech, is in Michigan Tech's Advanced Technology Development Complex. A student lounge there was furnished by a gift from the family of Roy and Ruth Jurva.
A cohort of 12 students is starting the program at Michigan Tech. Another 48 are enrolled on the CMU campus. The Michigan Tech students attended the dedication of their program space, cheering and clapping. Several of their fellow students at CMU attended remotely through a direct video link between the two classrooms.
Michael A. Gealt, executive vice president and provost at CMU, and Chris Ingersoll, dean of CMU's Herbert H. and Grace A. Dow College of Health Professions, spoke on behalf of the Mount Pleasant, Mich., university.
We value Michigan Tech as a partner and look forward to a rewarding collaboration," said Gealt. "This collaboration will provide students in the Upper Peninsula access to our nationally recognized physical therapy program and will help many students achieve their goal of becoming physical therapists."
Ingersoll said he views the physical therapy partnership between the two schools as "the tip of the iceberg of the collaboration opportunities between our two institutions."
Dean Seely and Jason Carter, chair of Tech's Department of Kinesiology and Integrative Physiology—where the physical therapy doctoral program will be housed—shared some of the history of the program's development.
About eight years ago, Carter began exploring interest and support for a physical therapy graduate program. Portage Health in Houghton and War Memorial Hospital in Sault Ste. Marie immediately responded, noting their difficulty in attracting and retaining physical therapists.
"This sounded like a dilemma that we might help solve, for many Tech graduates really hope to remain here to live and build their careers," Seely said.
Carter heard that CMU was considering expanding its physical therapy program. When he contacted Central, Seely said, it quickly became clear that CMU's educational experience and clinical network made them "the best partners we could imagine."
"Even more exciting," he said, "will be our ability to leverage Tech's strength in research, for we will encourage those physical therapy doctoral students with an interest in research and teaching to stay and earn a PhD as well, preparing themselves to become the faculty who will educate the next generation of physical therapy doctoral students."
Pointing out "the complexity of trying to move two mountains at one time," Carter thanked the administrations of both universities for "their willingness not only to work with one another, but also their unwavering commitment to provide resources and support the program's successful launch."
Funding the new program was a challenge met by reaching out to the UP Healthcare Network, a cooperative representing most of the hospitals in the UP. The network provided a $125,000 matching gift toward facilities renovation. Four UP hospitals—Portage Health, Aspirus Keweenaw, War Memorial and Dickinson Memorial Healthcare System—each donated $25,000, with a bequest from Charlie and Pat Nelson providing the same amount.
Carter singled out Seely for special thanks. "He has been instrumental in every aspect of the execution of this program," Carter said. "Bruce, if I am the spark plug, you have certainly been the gasoline to keep this initiative moving."
Peter Loubert, Michigan Tech site coordinator for CMU's physical therapy doctoral program, cut the ceremonial ribbon, inviting guests to tour the facilities.
State Rep. Scott Dianda; Kirk Schott, representing State Sen. Tom Casperson; Ann Martin, representing Congressman Dan Benishek; Michigan Tech Board of Trustees member Paul Olilla; and Herm Treizenberg, former head of CMU's physical therapy program, were among the special guests at the ceremony.
Congressman Benishek sent a framed certificate honoring the program partnership between CMU and Michigan Tech. The certificate said: "It is my hope that this partnership will lead to the better health of residents of northern Michigan for years to come."
Michigan Technological University is a public research university founded in 1885 in Houghton, Michigan, and is home to more than 7,000 students from 55 countries around the world. Consistently ranked among the best universities in the country for return on investment, the University offers more than 125 undergraduate and graduate degree programs in science and technology, engineering, computing, forestry, business and economics, health professions, humanities, mathematics, social sciences, and the arts. The rural campus is situated just miles from Lake Superior in Michigan's Upper Peninsula, offering year-round opportunities for outdoor adventure.