Winter's Over & It's Time to Grow Again--How Does a Tree Know?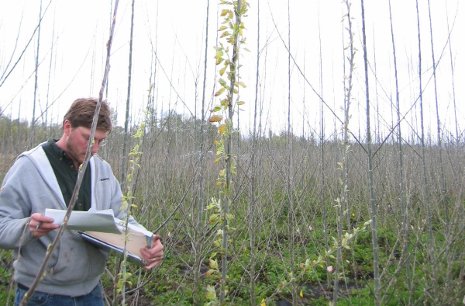 Winter takes its toll on living things. To protect themselves from the elements, bears hibernate, and trees go dormant. Biologists have observed what happens when trees become dormant, but up to now, they haven't understood the underlying genetic mechanisms that enable them to start growing again.
A team led by molecular geneticists from Michigan Technological University has identified and characterized a gene that tells a poplar tree when winter ends and a spring growing season begins. Victor Busov, a professor in Michigan Tech's School of Forest Resources and Environmental Science; Yordan S. Yordanov, a research assistant professor at Michigan Tech; in collaboration with Cathleen Ma and Steven Strauss from Oregon State's Department of Forest Ecosystems and Society published their findings online in the Proceedings of the National Academy of Sciences (PNAS) this week.
They've named the gene—fittingly—"Early Bud-Break 1," since it helps awaken the plant cells responsible for growth from their winter sleep.
Using techniques of molecular genetics and genomics, the researchers modified the EBB1 gene to see what would happen when it is experimentally dialed up and down. They found that upregulation of the gene accelerates new growth or bud-burst, while downregulation of EBB1 delays bud-break, the name for the beginning of new growth. They also discovered that EBB1 is virtually undetectable while the tree is dormant but makes a dramatic reappearance just prior to and during bud-break.
"The absence of EBB1 during dormancy allows the tree to progress through the physiological, developmental and adaptive changes leading to dormancy," Busov explains, "while the expression of EBB1 in specific cell layers prior to bud-break enables reactivation of growth in the cells that develop into shoots and leaves and re-entry into the active growth phase of the tree."
Busov says the timing of the new growth after dormancy is environmentally and economically important, and its importance will grow as climate change escalates. "Late spring frosts can irreversibly damage the growing tissues, compromise growth vigor and make plants susceptible to insect damage," he explained. "If trees grow too early, they expose themselves to these dangers. If they start too late, precious growing time will be lost. The timing has to be exactly right. The wild swings and unpredictability of climate extremes makes nailing the exact timing very difficult.
"It is foreseeable that in the near future forest and fruit trees may need our help to cope with climate change," Busov went on to say. "The discovery of this gene is a small step in this direction. Scientists still have a long way to go to fully understand the process, but this discovery opens the door to an enigmatic world about which almost nothing was known. It can be used as a starting point for unraveling the mechanism behind it. By analyzing EBB1 and the physiological processes of which it is a part, it should be possible to gain new insights into control of dormancy release in perennial plants in general. This will enable novel approaches for population management, molecular breeding and genetic engineering of dormancy-associated traits."
The research was supported in part by grants from the US Department of Energy, the US Department of Agriculture and industrial members of the Tree Biosafety and Genomics Research Cooperative at Oregon State University.
Michigan Technological University is a public research university founded in 1885 in Houghton, Michigan, and is home to more than 7,000 students from 55 countries around the world. Consistently ranked among the best universities in the country for return on investment, Michigan's flagship technological university offers more than 120 undergraduate and graduate degree programs in science and technology, engineering, computing, forestry, business and economics, health professions, humanities, mathematics, social sciences, and the arts. The rural campus is situated just miles from Lake Superior in Michigan's Upper Peninsula, offering year-round opportunities for outdoor adventure.