Blocking the Scent, Enjoying the Good Life: Tech Alumnus Hunts for a Living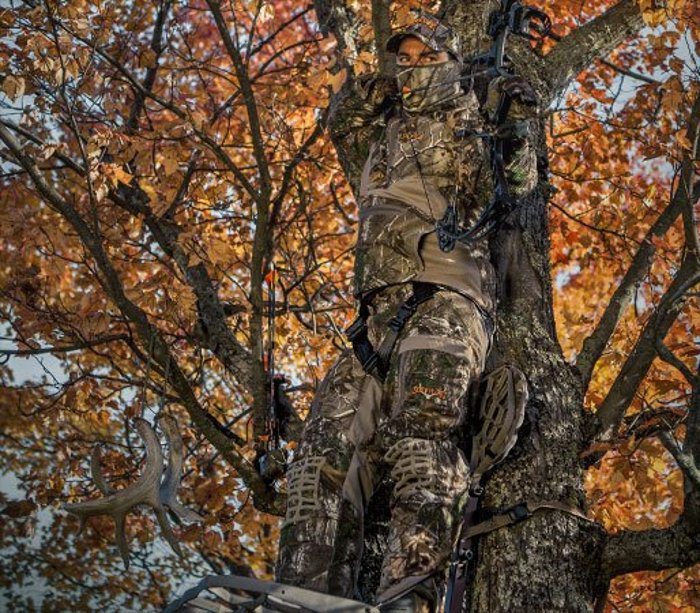 Greg Sesselmann had an epiphany but was afraid to tell anyone.
"I was the black sheep of the family," he explains. "If somebody had spilled the milk, they'd all close their eyes and say, odds are, it was me."
His family of six Tech graduates (all with better GPAs) never heard this particular hare-brained idea, but when a co-worker did, she refused to leave him alone until he worked on it. "She pressured me to push that rock uphill," Sesselmann said.
The idea was scent-eliminating hunting clothes. Sesselmann's now-global company, Scent-Lok, allows him to "live the dream."
Scent-Lok uses activated carbon in apparel to disguise human odor, and that is monumental in hunting, especially in bow hunting, the sport that initially triggered Sesselmann to become an inventor.
"You've got to get up really close, like 30 yards or less," he says, stopping briefly to talk on his way to yet another trade show. "I was working in the filtration materials business, where we used carbon in dry cleaning filters, and it hit me: this would work for hunting."
Today, Scent-Lok garments are for sale in Cabela's, Bass Pro Shops, Dick's, Scheels and other sporting goods chains.
Sesselman's scent-free hunting gear is made in Taiwan, South America, China, Vietnam, Pakistan, Mauritius, Madagascar, Jordan . . .
"And I've got representatives all over the US and more than 20 workers in Muskegon," he says.
His company has taken him to beautiful outdoor locations around the world, hunting and fishing ("All the fishing guys hunt, too.") for a living, with some lofty company at times.
"I was out at this camp with fifteen other guys: Ted Nugent, and other hunting superstars," he recalls. "Guys who are looking for world-record trophy bucks, and I'm thinking I'd rather be back with my family in Michigan for the high holy day: Nov. 15, the deer opener." Family is big for Greg. So is deer season.
With six patents, his innovations are found everywhere: hats, socks, packs, outerwear, and he's looking to continue to expand his line into new markets.
"We are currently developing bamboo carbon fibers for scent-eliminating socks," Sesselmann said. "Activated carbon is more organic than silver or chemical antimicrobials, which are typical state-of-the-art scent control in socks."
He's got fond materials-science study memories about Michigan Tech, too, in spite of a less-than-stellar academic record.
Karl Rundman was one of his favorite, albeit toughest, metallurgy professors, and Sesselman has emulated some of his management methods. "Tom Courtney and Bruce Pletka were among many great teachers that challenged all of us to think hard and solve problems," he says.
"I learned so much from the Tech professors. They were gracious, very demanding, but knew how to treat people and get the most out of each individual."
"Suits, ties and clocks don't do work and don't impress me," he continues. "Great companies have a very good operating system with great people. I only manage five of them; they manage the rest. I think, mostly, I understand people and their motivations. As one of those 'treats,' our employees all get off at 2 p.m. on Fridays. Nobody gets much done after then anyway, and they can get a start on their weekends."
However; you have to work hard to earn the right to play hard, he says. "And I like to play hard. This team has done great and wondrous things organically because we believe 'Good is the enemy of Great,' and we expect greatness."
He credits Michigan Tech with playing a huge role in his career development, first in aerospace and automotive materials and now, with Scent-Lok, in the outdoor industry.
"I am surprised at how much of what I learned was really complex problem solving that applies every single day," he said. "Tech fried my brain, making me think in 'inverse reciprocal lattices,' but prepared me well for a vibrant, self-driven career."
Sesselman says he looks forward to reinventing himself at least one more time.
"I wonder what that will be?" he said. "But I bet it has Husky prints all over it!"
Michigan Technological University is a public research university founded in 1885 in Houghton, Michigan, and is home to more than 7,000 students from 55 countries around the world. Consistently ranked among the best universities in the country for return on investment, the University offers more than 125 undergraduate and graduate degree programs in science and technology, engineering, computing, forestry, business and economics, health professions, humanities, mathematics, social sciences, and the arts. The rural campus is situated just miles from Lake Superior in Michigan's Upper Peninsula, offering year-round opportunities for outdoor adventure.