Michigan Tech Launches 3D Printers for Peace Contest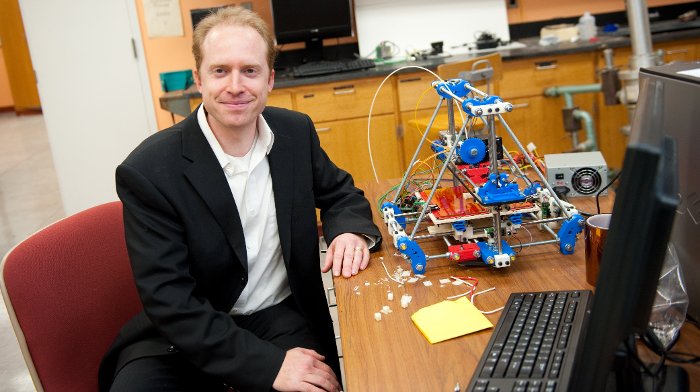 What would Ghandi do with a 3D printer? Or Albert Schweitzer? Or Mother Theresa?
Michigan Technological University is inviting anyone who thinks they might know the answer to enter the first 3D Printers for Peace Contest.
"We want to encourage people to think about ways 3D printing can be used for the benefit of humanity," said the contest organizer, Associate Professor Joshua Pearce. "3D printers have been getting a lot of bad press because people are using them to make guns, which is unfortunate, because many designers are making wonderful things."
Michigan Tech has already saved tens of thousands of dollars using 3D printable scientific and engineering equipment. Plus, University researchers have developed 3D printable tools to test water quality and recycle waste plastic. Their studies have shown that 3-D printing consumer goods is better for the environment than shipping those items from China, said Pearce.
"Our aim is to raise awareness of the power of 3D printing to change the world for the better," he said.
The winner will receive a Series 1 3D printer donated by Type A Machines valued at $1,400. The runner up will receive a Michigan Tech version of the popular RepRap 3D printer kit.
Designs must be open-source, meaning that they be free and available to everyone. They should offer solutions to problems plaguing humanity that often result in conflict. For example, they might address scarcity of food and water in the developing world, enhance sustainable economic development or provide free, clean energy.
"We'd like people to think about what designs could help reduce military spending and conflict while making us all safer and more secure," Pearce said.
The designs must be manufactured on a RepRap-style printer using plastic filament. To enter, post a design on Thingiverse.com and tag it "Peace Contest."
The deadline for entering is Sept. 1, and the winners will be announced Sept. 4. For detailed contest guidelines, go to 3D Printers for Peace.
Michigan Technological University is a public research university founded in 1885 in Houghton, Michigan, and is home to more than 7,000 students from 55 countries around the world. Consistently ranked among the best universities in the country for return on investment, Michigan's flagship technological university offers more than 120 undergraduate and graduate degree programs in science and technology, engineering, computing, forestry, business and economics, health professions, humanities, mathematics, social sciences, and the arts. The rural campus is situated just miles from Lake Superior in Michigan's Upper Peninsula, offering year-round opportunities for outdoor adventure.