SURFing at Tech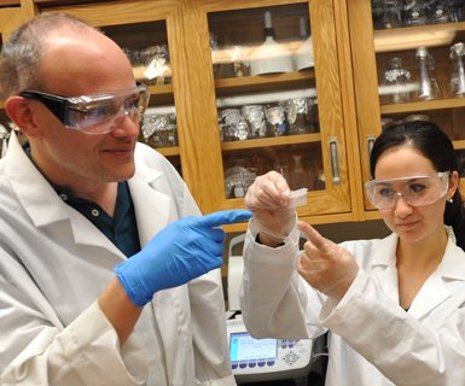 Felicia Nip, a third-year biochemistry and molecular biology major at Michigan Technological University, is immersed in the world of fruit flies this summer.
Through a Summer Undergraduate Research Fellowship (SURF) and with mentor Thomas Werner, assistant professor of genetics and developmental biology, Nip explores how certain fruit fly strains evolved resistance to deadly mushroom toxins. The flies (Drosophila melanogaster) are not known to feed on mushrooms in nature. Yet, they can resist the poisons, thanks to their multi-drug resistance (MDR) genes.
This research could have significant implications not only for toxicology, but for cancer research as well.
"We don't know what MDR genes do in nature, but we do know that humans also have MDR genes," Werner says. "When the MDR genes in humans are activated, anti-cancer drugs are pumped back out of cancer cells, leading to multidrug resistance."
"If fruit flies use MDR genes to defend themselves against a mushroom toxin, then these flies could be used as a platform to test anti-cancer drugs in the future," Nip adds.
Nip and other students in the Werner lab raise sensitive and resistant fly larvae with and without exposure to mushroom toxin and extract their RNA to compare gene expression differences that could explain the genetics underlying this remarkable toxin resistance.
"If we find a good candidate gene that seems to cause the toxin resistance, we can transgenically transfer this gene from a resistant fly to a sensitive fly," Nip says. "If the sensitive fly survives after receiving the transgene, bingo!"
This smaller-than-miniscule work is weighty, even for the Woodhaven student, who seemed predestined for Michigan Tech.
"From the moment I left both the Women in Engineering camp and the Leading Scholars Program, I was ready to become a Husky," she says. "It was the perfect place, in respect to education, environment, and people."
Nip plans to apply to medical school next summer, as she ultimately wants to become a pathologist.
"I want to continue to explore the microscopic world," she says. "I have experience with microscopes all across campus, including the electron microscopes."
Nip is one of the 20 recipients to receive a SURF award this summer.
In another SURF project, civil engineering undergraduate Daniel Cerminaro is developing better algorithms to analyze remote-sensing images of areas struck by earthquakes. Using high-resolution satellite and aerial images of the recent earthquakes in Haiti and New Zealand, he aims to pinpoint damage more quickly and accurately. The ultimate goal is to support emergency responders and decision makers during the recovery process.
Cerminaro is working under the tutelage of Thomas Oommen, assistant professor of geological and mining engineering and sciences.
"I worked with Daniel, starting last year, to introduce him to image processing to rapidly characterize earthquake damages from satellite and aerial images, and he learned it so quickly," Oommen says. "He did so well that the work was accepted for publication for the ASCE Geocongress last spring. It helped to secure additional funding for this summer through SURF and the Michigan Space Grant Consortium."
Cerminaro, from Guatemala originally, began by using Erdas Imagine software for image processing while analyzing Haiti's earthquake damage. Since then, he's been using eCognition, for object-based image analysis used in earth sciences to develop rules for the automatic analysis of remote-sensing images.
"Erdas worked pretty well," Cerminaro says. "It characterized the image as objects based on the shape characteristics, but the earthquake damages are complex objects with no defined shape. The eCognition helps detect complex objects such as earthquake-induced landslides."
Cerminaro and Oommen want to identify earthquake-induced liquefaction, too, where ground water has risen to the surface, then receded, leaving a salty residue visible in the images. They show patches of white in parking lots in Christchurch, New Zealand. Elsewhere, they have revealed the extent of liquefaction in Port-au-Prince, Haiti, clearly shaded in blue. The researchers also work to identify ground displacement (large cracks in the earth).
One major difference Cerminaro noted between the two earthquakes was that, although they were of similar magnitude, the structural damage in Haiti was far worse.
"Buildings in New Zealand used rebar and did more shifting and moving, whereas the Haitian buildings were flattened," he says. "Thus, New Zealand is recovering faster." As proof, Cerminaro shows rubble and missing docks in Haiti and clearly shifted structures in New Zealand.
For the future, Cerminaro is deciding between graduate school and the working world, as he finishes his bachelor's degree next year. Either way, he says, construction will be his focus. It seems he's seen enough of destruction.
The SURF program funds undergraduates to conduct research with faculty members for approximately 10 weeks. The program is sponsored by the Office of the Vice President for Research and the Honors Institute. Since its inception in 2002, students have completed research projects that have led to at least 44 peer-reviewed publications and numerous presentations at national and international conferences. The stipend is currently $3,300.
Michigan Technological University is a public research university founded in 1885 in Houghton, Michigan, and is home to more than 7,000 students from 55 countries around the world. Consistently ranked among the best universities in the country for return on investment, the University offers more than 125 undergraduate and graduate degree programs in science and technology, engineering, computing, forestry, business and economics, health professions, humanities, mathematics, social sciences, and the arts. The rural campus is situated just miles from Lake Superior in Michigan's Upper Peninsula, offering year-round opportunities for outdoor adventure.