Scholarships Available for Future Science, Math Teachers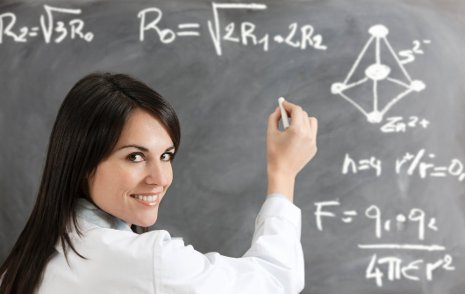 Sarah Weinreis completed her BS in Chemistry at Michigan Technological University in 2008, but her dream was to help high school students succeed in science and mathematics. She found a path to her goal through the Robert Noyce Teacher Scholarship program, which enabled her to earn her teacher certification at Michigan Tech.
First Weinreis had to student-teach. The Noyce program, run by the Department of Cognitive and Learning Sciences, placed her at Arthur Hill High School in Saginaw, MI, a high-needs urban school where 45 percent of the students live in poverty.
"During my first few weeks at Arthur Hill, my students challenged me—they'd they'd give me the stare-down in class or make comments about how I just didn't 'get' them.," she says. "And they were right—I didn't fully understand their dreams, problems and culture. But the Noyce program had prepared me for this challenge, and I devoted myself to learning about my students—from attending their extra-curricular activities to just being available to chat."
After completing her student teaching, Weinreis earned her teaching certification at Michigan Tech.
The National Science Foundation-funded Noyce Scholarship program supports undergraduate and graduate students hoping to become science or mathematics teachers. The program provides financial support for up to two years of study at Michigan Tech. Once certified, recipients are expected to teach science or mathematics in a high-need school.
The Noyce program began in 2002 as an NSF effort to encourage college students pursuing science, technology, engineering, or mathematics (STEM) fields to become certified to teach science and mathematics to K-12 students. The demand for teachers, particularly in science and mathematics, was growing with no sign of slowing down, and the number of new teachers seeking certification was not keeping up with the demand.
Michigan Tech's Noyce program began in 2009. "We have provided scholarships to 13 students so far," says program head Brad Baltensperger, chair of cognitive and learning sciences. "Acceptance has been high, but we have high expectations."
Applicants must be within two years of receiving their undergraduate degree or have already completed a degree in a science, technology, engineering or mathematics field. Sophomores can apply if they will be juniors in the fall. They must be planning to enroll in a teacher certification program to teach science or mathematics and be US citizens or permanent residents.
Upon graduation, Noyce scholars are expected to teach science or mathematics for two years in a high-need school for every year they received scholarship support. Michigan Tech works with partner schools to place graduates in schools that meet program requirements. If a Noyce scholar cannot meet the teaching mandate, the scholarship becomes a loan that must be repaid.
Students in the program earn field experience working with teachers to better understand the classroom and the needs of students. They attend seminars hosted by experienced teachers from local or partner schools and serve a student-teaching internship at one of Tech's high-need partner schools. The program continues to offer mentoring support after graduation, including a graduate-level online course.
"I found the seminars very helpful," says Nicholle Stark, a senior majoring in chemistry with minors in mathematics education and coaching fundamentals. "They were great supplements to what I was already learning at Michigan Tech. The Noyce committee is also very friendly and easy to work with, and the program definitely keeps you busy." Stark begins student teaching in the fall.\
"It's a great opportunity for anyone who has been considering a teaching career," says Baltensperger.
The deadline to apply for a Noyce scholarship for the 2012 fall semester is March 15, 2012.
For more information, contact Brad Baltensperger (brad@mtu.edu) or Judy Anderson (juanders@mtu.edu).
Michigan Technological University is a public research university founded in 1885 in Houghton, Michigan, and is home to more than 7,000 students from 55 countries around the world. Consistently ranked among the best universities in the country for return on investment, the University offers more than 125 undergraduate and graduate degree programs in science and technology, engineering, computing, forestry, business and economics, health professions, humanities, mathematics, social sciences, and the arts. The rural campus is situated just miles from Lake Superior in Michigan's Upper Peninsula, offering year-round opportunities for outdoor adventure.