Yap, Lee Receive Bhakta Rath Award for Nanotube Research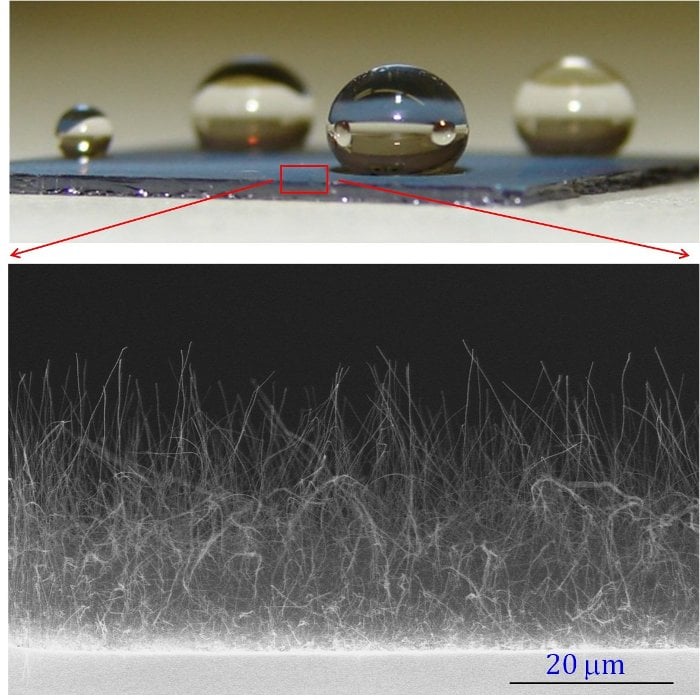 For groundbreaking work in nanotechnology, Yoke Khin Yap and Chee Huei Lee have received Michigan Technological University's Bhakta Rath Research Award.
The award, endowed by 1958 alumnus Bhakta Rath and his wife, Shushama Rath, recognizes a Michigan Tech doctoral student and advisor for "exceptional research of particular value that anticipates the future needs of the nation while supporting advances in emerging technology."
Yap, an associate professor of physics, and then-PhD student Lee (he graduated in 2010) invented a technique for synthesizing boron nitride nanotubes. Compared to their carbon-based cousins, boron nitride nanotubes have alluring qualities but, before Yap and Lee's pioneering work, had been notoriously difficult to grow.
The researchers created veritable nano-carpets of boron nitride nanotubes and discovered they possessed a number of interesting properties: They are perfect insulators, which means they could be doped to form designer semiconductors for use in electronics that operate at high temperatures. They are among the strongest materials known and can be dispersed in organic solvents, properties that could be useful in making high-strength composites and ceramics. Plus, they shed water like a duck's back. This quality, known as superhydrophobicity, holds at all pH levels, which means they could be used as protective coatings to shield against the strongest acids and bases.
Yap said Lee played an important role in their collaboration. "I enjoy working with Chee Huei, as he is willing to listen, think and work hard on an idea, and then he comes back to tell you much more than what you were expecting," said Yap. "My initial ideas mature and flourish with his feedback."
Lee has authored or coauthored 12 peer-reviewed journal papers on their nanotube research, as well as three chapters and review articles and three papers in peer-reviewed proceedings. As recipients of the Rath Award, Yap and Lee will share a $2,000 prize. Their research work is supported by the National Science Foundation and the Department of Energy's Office of Basic Energy Sciences.
Michigan Technological University is a public research university founded in 1885 in Houghton, Michigan, and is home to more than 7,000 students from 55 countries around the world. Consistently ranked among the best universities in the country for return on investment, Michigan's flagship technological university offers more than 120 undergraduate and graduate degree programs in science and technology, engineering, computing, forestry, business and economics, health professions, humanities, mathematics, social sciences, and the arts. The rural campus is situated just miles from Lake Superior in Michigan's Upper Peninsula, offering year-round opportunities for outdoor adventure.