Graduate Research
Making the Most of What We Got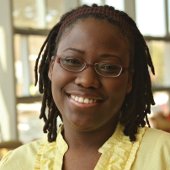 Sometimes it seems like we never have enough of what we need most, like time, space, and bandwidth. Alicia Thorsen specializes in finding ways to stretch those scarce resources.
Thorsen, a PhD candidate, applies her computer science savvy in ways that make it much easier for the rest of us to make do with less. She does this through an algorithm that solves the maximum weight matching problem. It is written in a language known as Unified Parallel C, which is designed to make it easier to program the coming wave of peta-scale supercomputers.
Thorsen explains. "Matching has to do with resolving problems where there are conflicts. Let's say the University has lots of courses and rooms, and you have to match up a course with a room. If you have a thousand courses at one time and a thousand rooms, then you haven't got a problem."
But, if those courses start and stop at different times, as courses often do, and if you'd like to keep a few rooms vacant for workshops or retirement parties, then your scheduling problem gets more and more complicated. Thorsen's algorithm makes it easy.
Or, perhaps you are jumping back and forth between several applications on your garden-variety PC, which has only one microprocessor to handle them all. Through maximum weight matching, it can juggle its effort to make it seem to you, the user, that everything is running smoothly.
And Thorsen's work can also help communication networks work better. Cell phone networks are a case in point. "Messages are sent to a destination in many packets," says Thorsen. Those packets can travel down any of a number of routes, and some routes are more congested than others. Her program distributes those packets in the most efficient way, so that more calls get through seamlessly.
Thorsen's efforts earned her high honors at the High Performance Computing and Simulation Symposium held in March 2009 in San Diego. Judges cited not only the elegance of her computer science but also the quality of her writing in naming "Weighted Matching Using the Partitioned Global Address Space Model" the conference's best paper.
In addition to completing her dissertation under the guidance of Assistant Professor Phillip Merkey, Thorsen works in Cupertino, California, as a software engineer for Apple, where she is figuring out ways to block junk email and prevent legitimate messages from being waylaid by spam filters.
"Apple is a great company, and I'm having a great time," says Thorsen. "I wanted to work at a big company with a lot of smart people, so this is my dream job."
The position doesn't require a PhD, she says, but she's grateful for her graduate education. "The depth of knowledge I have allows me to approach problems from a different angle," she says. "I sat down over the last couple days reading a dissertation on detecting junk mail; for me, it's like reading a newspaper."
---
Master's Student Assesses a Small Lake with Big Problems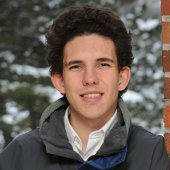 Iron Mountain's Crystal Lake doesn't live up to its name anymore. A beautiful lake has become a blight.
"People didn't know where to begin to address the situation," says graduate researcher Jarron Hewitt, now a master's student in environmental engineering. So, as part of a Senior Design project, he and his fellow students undertook an investigation of the once-pristine lake, located about two hours south of Michigan Tech.
They first pinpointed the problem: the fifty-acre lake receives storm-water discharges that flush in coliform bacteria from animal waste, which makes it unhealthy, and phosphorous-rich lawn fertilizer, which stimulates algae growth. In the winter, the lake freezes over and the algae die off, sink to the bottom, and turn into muck.
Historically, the lake was 20 feet deep; now it is 9 feet deep. Core samples show that almost all of the disappeared 11 feet of water has been replaced by a thick layer of dead algae and other plant material, which, as it decomposes, uses up oxygen. Telltale, then: lots of dead fish in the spring.
Hewitt and his fellow Senior Design students assessed the condition of the lake and then proposed ways to restore it to beauty and "beneficial uses" like recreation. They came up with three recommendations:
Divert storm water, the source of the bacteria and fertilizer.
Aerate the lake to make sure there's more oxygen for fish.
Dredge the lake to get rid of the muck that recycles phosphorous and consumes oxygen.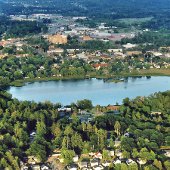 Hewitt, who works under the guidance of Professor Marty Auer, is now devising an engineering plan to restore Crystal Lake and estimating the cost. However, he confronts a reality of all enterprise: money, or rather, the lack of it. The biggest job, dredging, would cost several million dollars. Auer calls the assessment "a shovel-ready restoration plan."
Auer calls Hewitt "the face of this project," noting that he has worked with the city council and other civic leaders as well as conducting the engineering studies.
For his part, Hewitt is excited to help the people of Iron Mountain perhaps improve their community. "I feel like I'm giving something back," he says. Back in his hometown of Gwinn, Michigan, before he ever came to Tech, he never imagined such a "hands-on, real-world opportunity."
It is likely that Hewitt will mentor another student in similar work. The community of Fergus Falls, Minnesota, has sought help to assess its own lake, plagued by the same problems, all for the same reasons. Auer will oversee that work, which will begin next spring. That effort will involve another Senior Design project and another master's student, whom Hewitt will coach before he graduates in May. The Minnesota Pollution Control Agency is supporting Michigan Tech's work with a $50,000 grant.
---
Grad Student Draws on Nineteenth Century Findings for Twenty-First Century Research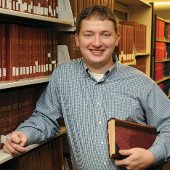 Deep in the stacks of the Van Pelt and Opie Library, Joe Miller stumbled upon a 112-year-old book that gave him a start.
Miller, who is a builder, recently earned his PhD in civil engineering specializing in heavy-timber roof design, keyed beams in particular. Keyed beams, lovely and useful though they may be, are in one sense an also-ran in the world of wood.
Miller explains in the context of the Upper Peninsula, where the old-growth, white-pine forests were ferociously clearcut in the nineteenth century. "By 1900, all the large trees were cut down," he said. The massive timbers required for constructing large buildings and reinforcing mine tunnels were gone. Builders needed a cheap, local alternative, so they began making big beams out of two smaller ones.
They cut mated notches in the lesser beams, fastened them together, and pounded close-fitting wedges, or keys, into the notches. The technique keeps beams stiff and bound tightly together, which prevents them from slipping (and breaking prematurely) when heavily weighted in the middle.
Keyed beams have been around since the eighteenth century. More recently, builders have adopted other technologies, but they aren't always popular. "A lot of my clients had problems with steel beams or glue-laminated timbers," Miller says. "Aesthetically, they wanted to use a more-natural approach that could be achieved locally."
Now, with keyed beams gaining a new following, Miller has developed the first theoretical model to represent their capacity under load. In other words, how much weight can they take before they break? And what factors determine if a keyed beam will be stiff enough?
Miller has been testing his model against his own experimental evidence using oak, yellow poplar, and wood laminate. "I've found that the inclination and shape of the keys can have an incredible effect" on the strength of the beam, he said.
He's not the first person to study keyed beams, which brings us back to the library and the 112-year-old book. Miller was perusing the library's offerings on the subject when he stumbled across an 1897 reference volume authored by Edward Kidwell, a faculty member at the Michigan School of Mines, now Michigan Tech.
As it turns out, Kidwell was one of the earliest researchers to test keyed beams and document the results. "It wasn't until I'd chosen a school and a dissertation topic that I found his book," Miller says, still struck by the coincidence. On top of this, Miller found Kidwell's century-old reports to be both reliable and engaging.
"I tested his methods, and everything he said appears consistent with our observations," says Miller.
"To be reinvestigating a concept that's been around three hundred years is kind of cool."
---
Student Transforms into National Geographic Star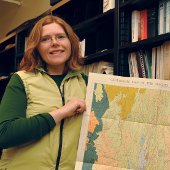 Alex Guth, a PhD student, online lecturer, and Kenyan geology researcher, has been tapped as an expert for a National Geographic television show airing next spring. The focus of the Geographic TV special was the concept of Pangaea, the super-continent that existed before the current continents parted ways.
The Kenya Rift shows today how continents tear apart, and the island of Madagascar is a consequence of past rifting. Madagascar's past connection to Pangaea is seen in rocks and animals of the island. For example, lemurs, unique to Madagascar, evolved there after the split, leaving their relatives in Africa. Guth works with geology professor James Wood and his East Africa Geology Group, which has undertaken field studies in Kenya for the past two years.
"I couldn't speak as a biologist," Guth said. But, she could discuss her areas of expertise: 1) mapping a visual history of the rift and 2) tracking the history of climate change in the region over the last 10 million years.
Producers working with National Geographic's TV show googled Alex and discovered that she had some camera-savvy and knew the geology of the Kenya rift area they were interested in portraying.
First, she had to do a phone interview, which turned out to be an audition. "They were asking me questions to see how I would respond," she said. She passed their test, and, when she got on location, she was asked many more questions multiple times.
"They'd keep asking until I smoothed it out," Guth said. "It's funny how you answer questions differently each time."
Spending long hours outside in Africa was not easy for Guth. Thanks to a lack of sunscreen and red hair, "it didn't take long to get sunburned."
She did remember to wear her Michigan Tech shirt, however, much to the delight of University officials.
An additional, somewhat daunting task was explaining her work at a level television viewers could understand. "That means talking not as a scientist but as an ordinary person," she said.
And being on camera presented some other challenges.
"I had to gaze or point at a certain area that really meant nothing," she said. "The lighting would be right, and it just looked good on camera."
To help support graduate research:
Jacque Smith, Director of Graduate Marketing and Advancement
jacque@mtu.edu
906-487-1434
www.gradschool.mtu.edu
Michigan Technological University is a public research university, home to more than 7,000 students from 54 countries. Founded in 1885, the University offers more than 120 undergraduate and graduate degree programs in science and technology, engineering, forestry, business and economics, health professions, humanities, mathematics, and social sciences. Our campus in Michigan's Upper Peninsula overlooks the Keweenaw Waterway and is just a few miles from Lake Superior.