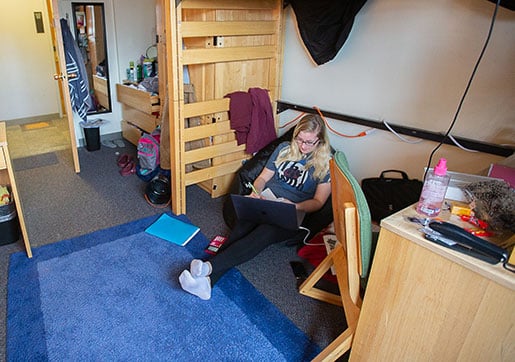 Furnishings and Decor
Each residence hall has slight differences in room dimensions and layouts. The average room measures about 12 feet x 15 feet. A typical double room includes two sets of loftable beds (beds can be raised or lowered to create alternate furniture layouts to better utilize floor space), two chests of drawers, two desks with a shelving unit, two study chairs, a waste basket, recycling bin, and carpeting. Triple and quad rooms are furnished accordingly. Each room is provided with a dry erase board and cork strip on the outside of their door in order for residents to attach door tags and leave messages.

Provided furnishings may not be removed from the room. Storing or placing furniture in the hallway or in an off-campus location is prohibited.
Residents are responsible for the replacement cost of missing or damaged furniture.
Public area furnishings moved to resident rooms will be returned, and the residents responsible will be charged with violating University policy.
The misuse of furnishings will result in a maintenance service charge.
REHS staff maintains the right to remove anything on a dry erase board or cork strip if it violates University policies, local, state, or federal laws.
No furnishings may block the window. In case of a fire the window is used as a secondary exit point.
Bed linens are not provided, so residents are encouraged to purchase linens prior to arrival. The standard mattress size is 36 inches x 80 inches. Extra-long twin sheets fit best. Residents are responsible for laundering their own linens.
Virtual Tours of each residence hall room style are available online.
Appearance
It is the resident's responsibility to keep their rooms clean for health and sanitation reasons. Michigan Tech does not provide general room cleaning. Rooms found to be unclean and thought to cause a health or sanitation concern will be charged a service fee for necessary cleaning.

Nothing may be displayed or attached to room window(s), on hallway walls, on lounge windows, on door frames, or on the room door surface inside or outside. Decorations may be placed on the tack strip in the hallway.
Room door viewers are installed for security reasons and may not be removed, covered, or altered in any way.
It is not permitted to string any type of wiring or cables from room-to-room.
Window screens in rooms and common areas must remain in place and may not be tampered with. Fixtures on or outside your window is prohibited. You may not exit the building through any window.
Air conditioners and satellite dishes are not permitted.
Room entrance floor mats furniture, and other personal belongings are not permitted in the hallway.
Cut trees or limbs are not permitted as decorations.
It is imperative that residence halls and student rooms are maintained in their original condition and free from damage caused by alterations. Students may express themselves with decorations by using adhesives that are not damaging to surfaces.
Nails, tacks, wallpaper, and tape of any kind that can be particularly damaging to finished surfaces should not be used.
Duct tape is prohibited on walls and furniture in student rooms. Masking tape or white poster putty is permitted for hanging posters and other decorations. We recommend 3M Poster Strips with Command Adhesive. Painting walls or murals is not permitted, nor is altering the existing color pattern in the room or on the door and door trim.
Paint and supplies are not available to residents for end-of-the-year "touch-ups." Any damages caused by alterations will be assessed after the resident checks out with their resident assistant.