Spring Career Fair 2021
Use these expert tips to get the most out of Career Fair, taking place February 17, 2021
Before Career Fair
During Career Fair
Prioritize the companies you want to visit
While you're waiting in a virtual room, study your notes and questions for the company
Greet employers with a smile, and your personal introduction
When talking to a company rep highlight key points on your resume
Ask the representative for their contact information*
Thank the recruiter for their time
After your session, make notes about your conversation for a follow-up after the fair
* Please note: Career Services does NOT have contact information for recruiters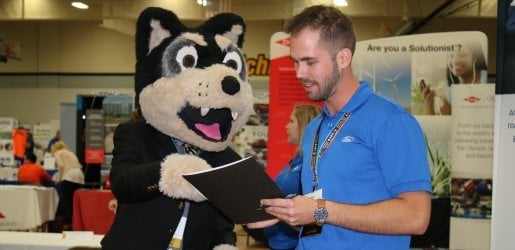 Career Fair is over. What's next?
Send a thank you to any recruiters that you met with.

Apply to companies that you met with at the Career Fair.

Make connections on sites like LinkedIn.

Prepare for any follow-up interviews you may get.

Clear your voicemail inbox and check your spam folder for recruiters trying to contact you.

Don't give up on the job search! Plenty of companies are hiring on sites like LinkedIn, Glassdoor, Indeed, Handshake, etc.

Attend our events! We have plenty of events that will help you with the job search after Career Fair.

Make an appointment

with a Career Services coach or advisor for assistance with offer negotiations, follow-up emails and continuing your job search.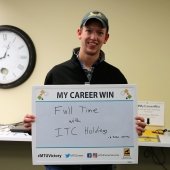 "I remember my first year at Michigan Tech. I was debating if I wanted to go to the career fair. I decided to go and because of it, I have a large network of industry professionals.

Go to Industry Days, go to Career Fair, get to as many events as possible. By going to these events, you will meet recruiters that will get to know you by name."

— Matthew Rudy '17
---
If you need additional help preparing for Career Fair, please contact Career Services or schedule an appointment.
Future Career Fairs

2021 Fall Virtual Career Fair: Wednesday, September 22


Michigan Tech's 2020 Fall Career Fair was—literally—a virtual success. We're carrying forward the convenience, accessibility, and ease of participation for employers and students with a virtual format in Fall 2021.

We'll be hosting it on Career Fair+ again, with registration through Handshake. Look for employer registration to open in June. We're also bringing back CareerFEST, our in-person events throughout the month of September. Check back for more information soon.

The pandemic isn't over—many companies aren't ready to send their recruiters to campuses just yet, but they are ready to hire Huskies.