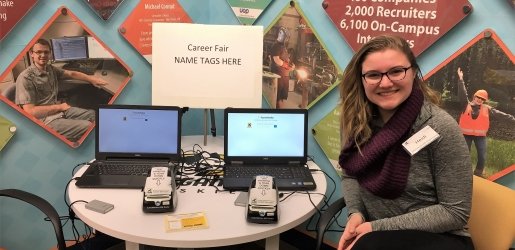 Use these expert tips to get the most out of Career Fair.
Before Career Fair
Update your résumé

Need help? Make an appointment with a Career Advisor or come to Career Services for a walk-in. Hours can be found here.
Attend a résumé workshop.
Make several copies of your updated résumé before Career Fair.

Research Companies

Download the Career Fair Plus app.
Review companies attending the fair on Handshake.
Pick the companies you want to visit. Study their company website or LinkedIn page.
Take notes and prepare questions to ask recruiters. ("What do you like most about working at ABC Company?")
Talk with your Academic Advisor.

Upload your updated résumé on Handshake and update your profile.
Plan your wardrobe.
Print a (new!) Career Fair Nametag in Career Services (Admin 220).
Attend CareerFEST Events and practice networking with recruiters.
Prepare your Personal Introduction.
During Career Fair
If this is your first Career Fair, consider taking the First-timers Tour (1pm, 2pm, 3pm, 4pm) or watch the video.
Prioritize the companies your want to visit.
While you're waiting in line, study your notes and questions for the company.
Greet employers with a smile, an acceptable handshake, and your personal introduction.
When talking to a company rep, highlight key points on résumé.
Ask the representative for a business card or their contact information.
Thank the recruiter for their time.
After you walk away, make notes about your conversation for follow-up after the fair.
*Please note- Career Services does NOT have contact information for recruiters.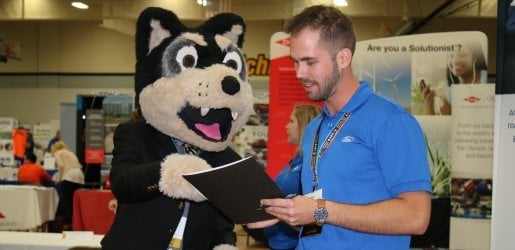 After the Career Fair
Make sure your voicemail is professional.
Check your phone messages and email.
Follow-up with a thank you message within 48 hours of the fair.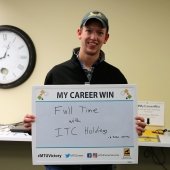 "I remember my first year at Michigan Tech. I was debating if I wanted to go to the career fair. I decided to go and because of it, I have a large network of industry professionals.

Go to Industry Days, go to Career Fair, get to as many events as possible. By going to these events, you will meet recruiters that will get to know you by name."

- Matthew Rudy '17
---
If you need additional help preparing for Career Fair, please contact Career Services or schedule an appointment.
Play Career Fair First-Timers Tour video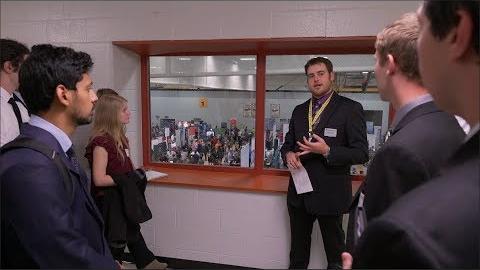 Career Fair First-Timers Tour
Get an inside look at how Career Fair works and how you can better prepare for it.
Future Career Fairs
2020 Fall Career Fair: Wednesday, September 23, 2020
Add to Calendar
09/23/2020 2:00 PM
09/23/2020 7:00 PM
America/Detroit
Michigan Tech Fall Career Fair
Student Development Complex

2020 Natural Resource Career Fair: Wednesday, November 12 & Thursday, November 13, 2020