Career Services offers interactive events, both large and small, that connect students, employers, and alumni. Find additional career events on Handshake and the Michigan Tech Event Calendar.
Spring 2019
Feb 19
Co-op / Internship Expo
11 a.m. - 2 p.m. | MUB Ballroom A
Before you hit the career fair lines, meet employers specifically looking to hire co-op students and interns. This casual expo lets you network and discover opportunities a day early.
---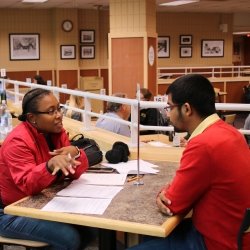 Feb 19
Resume & Interview Blitz
3 p.m. - 5 p.m. | MUB Ballroom A
Strengthen your résumé or interview skills with help from industry and campus professionals. Bring a hard copy of your resume to this informal, walk-up event for 15 minutes of invaluable advice.
---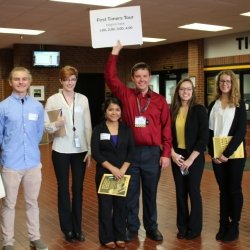 Feb 20
First-Timers Tour
1 p.m., 2 p.m., 3 p.m., 4 p.m. | SDC Main Entrance
Your first Michigan Tech Career Fair can feel overwhelming. Let us show you around! Take a guided tour of Career Fair and get a bird's-eye view of the event, see how it works, and find out what you can do to better prepare for it.
---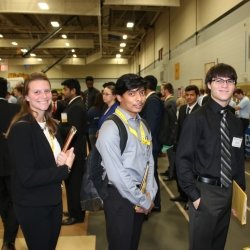 Feb 20
Career Fair
12 p.m. - 5 p.m. | SDC
Don't miss out on one of the largest career fairs in the country! Put on your suit, grab some resumes, and head to the SDC to network with recruiters and find your next opportunity.
---
Feb 26
LinkedIn: Recruiter's Perspective
12:15p.m. - 1 p.m. | Admin 220
Want insider knowledge? We've got it. Find out how recruiters use LinkedIn to find you.
---
Feb 27
Negotiating Offers with Confidence
5:00p.m. - 6:00p.m. | Admin 220
You got the job. Now what? We're sharing tips and trick on how to negotiate job offers with confidence.
---
Feb 28
Interview Strategies
12:15p.m. - 1p.m. | Admin 220
Learn how you can prepare for and have a successful interview. We'll discuss common questions and how you can answer them with confidence.
---
March 5
Negotiating Offers with Confidence
5p.m. - 6p.m. | Admin 220
You got the job. Now what? We're sharing tips and tricks on how to negotiate job offers with confidence.
---
March 6
The Art of Networking
4p.m. - 6p.m. | MUB Alumni Lounge
Eighty-five percent of jobs are filled through networking. Come learn when, why, and how to network in-person. Then practice what you learned on each other.
---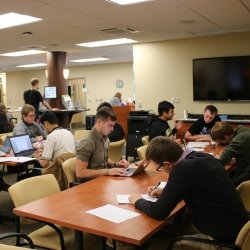 March 19-April 9
Design Your Career for Seniors
Session Dates: March 19, March 26, April 2, April 9
Session Time: 5p.m. - 7p.m.
Location: Admin 220
Design Your Career is a four-week interactive seminar that applies Design Thinking to create career options unique to you! It's based on Stanford's most popular course: Designing Your Life.
To get the most out of this series, please plan on attending all four weeks for the full two hours. Registration is limited to the first 20 students who sign up. This series is free and open to all majors. Snacks included.
---
March 20
Senior Send-Off
4p.m. - 6p.m. | MUB Alumni Lounge
For all students scheduled to graduate in 2019. Join us for free food and a crash course in adulting. Get advice on personal finance, building your network, and your first year on the job.
---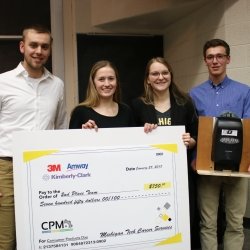 March 21-23
Develop an innovative idea and win cash prizes. Company sponsors provide the supplies and you create the product. Build a team of 3 to 5 Michigan Tech students, mark your calendars, and register now- registration link.
Cash prizes:
1st place $2,000

2nd place $1,400

3rd place $1,000
Company Sponsors:
THURSDAY
5-7 pm | Event Kickoff | MUB Ballroom
Meet the company reps that sponsor, supply, and coach students through Consumer Products Challenge. Pick up your information packet and get answers to your questions. *At least one team member is required to attend the Event Kickoff.
FRIDAY
10 am-12 pm | Challenge Box Pick-up | MUB Ballroom
Pick up your challenge box and sign up for your Product Pitch time. All Challenge Boxes contain identical items supplied by our sponsors.
4-6 pm | Product Pitch | MUB Ballroom
Pitch your product idea in 2-minutes or less. Coaches are looking for unique and feasible products that will benefit the environment, society, health or safety.
SATURDAY
10 am - 12 pm | Semi-final Presentations | Fisher Hall
Each team has 10 minutes to sell their idea and present their prototype/drawing. Each company will choose 2 teams to advance to the finals.
2-5 pm | Final Round | Fisher 139
Cash prizes are awarded to the top three finalists.
---
April 2
LinkedIn: Making the Most of Alumni Connections
12:15p.m. - 1p.m. | Admin 220
Connect with Michigan Tech alumni on LinkedIn to explore careers, build relationships, learn about companies or locations, and get help landing a job. Let us show you how!
---
April 3
Graduating and Still Looking
5p.m. - 6p.m. | Admin 220
Are you graduating this semester but still don't have a job lined up? That's okay, we're here to help! We'll give you ideas to figure out your next steps and find success.
---