Students Learn to Create the Future of Business

The Business Development Experience, which finished its pilot year in spring 2011, unites business and engineering students in a collaborative, hands-on atmosphere to work toward a common goal: bringing a product from an idea to market. With this new program, the School of Business and Economics is integrating the development of new technologies and new businesses into the undergraduate curriculum.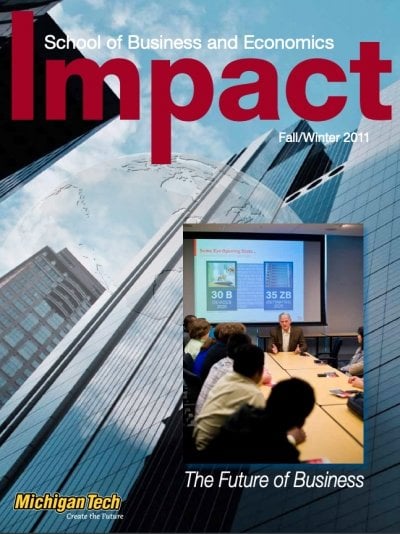 On the cover: The Business Development Experience shows them how.
---
Impact is produced by Michigan Technological University's School of Business and Economics and University Marketing and Communications.
Dean: Darrell Radson
Director of Marketing and Communications: Lynn Czarnecki Makela
Design: Bill Tembreull, Creative Director, University Marketing and Communications
Contributors: Suzanne McDonough, Erin Kauppila, Lynn Czarnecki, Darrell Radson, Dennis Walikainen, Diane Benda
Photography: Brockit, Gowtham, Jonathon May, John Hatch, Sarah Bird, Susan Diane Photography
Please send correspondence to impact@mtu.edu.