In March 2011, the Michigan Tech community around the world watched as the Huskies women's basketball team worked steadily toward an unprecedented second-place finish in the NCAA Division II national championships.
Leading the way was a School of Business and Economics alumna, head coach Kim Cameron '05. At only 27, Cameron became the first basketball coach in Michigan Tech history to take a team to a national championship game—an exciting end to her first year on the job.
The youngest head coach at Michigan Tech, Cameron led her team to a record-breaking 31 wins and was named the Great Lakes Intercollegiate Athletic Conference and Women's Basketball Coaches Association Region 4 Coach of the Year.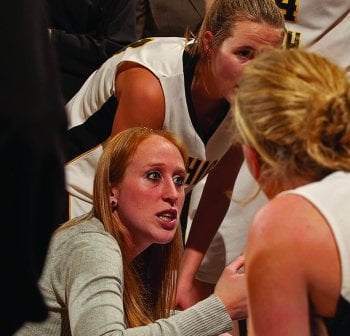 For Cameron, the path to success has been relatively short and somewhat chaotic. The Alpena, Michigan, native played on the Huskies women's basketball team from 2001 to 2005 and accepted the position of assistant coach immediately after graduation. Five years later, head coach John Barnes left Michigan Tech and Cameron was offered the position. "My career has been a dream come true," she said. "Things have fallen into place perfectly. It was intimidating to move up so quickly, but I learned under a successful head coach, and I've been part of Michigan Tech's winning tradition for many years. My goal was simply to continue on that path."
While university-level coaches often come from backgrounds in exercise science and physical education, Cameron has a BS in Business Administration, focused in marketing and management, and a psychology minor. This nontraditional educational path, says Cameron, ended up being an advantage in her coaching position.
"We recruit heavily, and my experience in marketing helps me sell Michigan Tech, which many people see as a difficult product," says Cameron. " There was a steep learning curve, but my course work in marketing and psychology gave me the tools I needed." She also cites a foundation in business as helpful for the extensive planning, budgeting, logistics, and organizational duties required of Michigan Tech coaches.
As the new head coach, Cameron found herself drawing upon her knowledge of management principles when she assumed control of the team. She made strategic changes to allow her players to work to their strengths, giving her offensive team more freedom to be creative and use their emotions on the court.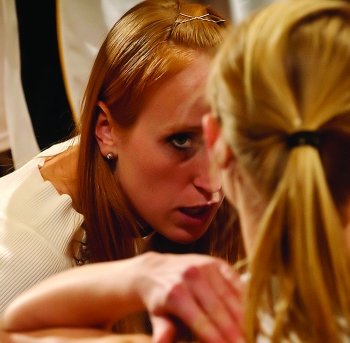 "Before I came on as head coach, we graduated five strong seniors," she said. "I started with a team of younger players who had been working hard out of the spotlight for years. 2010-11 was their time to shine. We pulled together and trusted each other, with incredible results."
Cameron cites the work ethic of her team, which included three School of Business and Economics students, and their ability to balance school and sports as major factors in the successful season. "Our athletes are students first, and I find that players who take pride in academics succeed on the floor," she said. They finished the season twentieth in the nation with an overall GPA of 3.459.
The team's success at the NCAA national championship had a unifying impact on the Michigan Tech community, both locally and across the world.
"The support was unbelievable. Everywhere we went, our fans turned out in the thousands," she says. "I was getting countless good-luck messages and calls from former athletes and alumni from all over. Our success got them thinking about Michigan Tech again. There's a great connection between athletes, alumni, and the community."
A devoted Michigan Tech fan herself, Cameron says, "I love the school, I loved my education, I love the area, I love the community. It's easy to sell a product that you believe in so wholeheartedly. I felt safe here. I felt happy and loved. I want to bring other people here to have the same positive experience."
When asked for advice for business graduates who want to pursue nontraditional careers, Cameron advises students to put themselves out there and to find a way to work personal passions into a career that uses their business skills. "Give yourself a chance to do what you love," she said. "I'm living proof that anything is possible."
Michigan Technological University is a public research university founded in 1885 in Houghton, Michigan, and is home to more than 7,000 students from 55 countries around the world. Consistently ranked among the best universities in the country for return on investment, Michigan's flagship technological university offers more than 120 undergraduate and graduate degree programs in science and technology, engineering, computing, forestry, business and economics, health professions, humanities, mathematics, social sciences, and the arts. The rural campus is situated just miles from Lake Superior in Michigan's Upper Peninsula, offering year-round opportunities for outdoor adventure.