Cedric Kennedy is growing a company that converts plastic waste into 3D printing filament.
Instinct, hard work, tenacity, and humbleness are all needed to complete a Michigan Tech management degree. Cedric Kennedy uses those core competencies in his life, sprinkles in some passion and energy, and wins the day. For Kennedy, this means going to school, starting a business, and acquiring funding for his business. Oh, and doing his part to save the environment.
At 26, his incredibly positive, high-energy, motivated, passionate entrepreneur founded Superior Filament which is now a full-scale operation poised for growth in a young 3D printing market. Thanks to strong support, it has blossomed into a full-fledged business that started from a class project at Michigan Tech.
"I want to continue to grow and learn. Hopefully my behavior will influence others to do the same."
Kennedy's idea for Superior Filament started in an entrepreneurship course taught by Dr. Andre Laplume. Kennedy's team originally wanted to sell 3D printed medical equipment, but quickly found they lacked the resources to implement the idea.
Not to be discouraged, the team shifted focus to converting recycled plastic waste to 3D printing material—called filament—after reading an article published by Dr. Joshua Pearce of Michigan Tech that mentioned how much material 3D printing wastes. With that, Kennedy and team used their entrepreneurial spirit and passion for the environment to form Superior Filament. Their company produces lament made from 100 percent recycled and biodegradable materials, which makes the "wasteful" step of 3D printing a lot easier on the environment.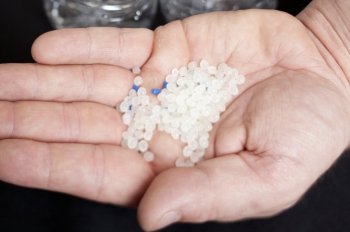 Kennedy knew, however, that all the ideas, tenacity, instinct, and hard work in the world wouldn't grow Superior Filament. He needed cash. Like any great entrepreneur, Kennedy and his team pitched their ideas in a variety of competitions. Last October, Kennedy entered Michigan Tech's Bob Mark Elevator Pitch Competition— and placed first. This garnered his business $1,000 in cash, a $5,000 expense account, and a one-year client agreement with Houghton-Hancock's MTEC SmartZone business incubator.
In April, Kennedy's team entered Central Michigan University's New Venture competition, where 25 teams competed for a total of $80,000 in cash awards. Superior Filament did very well, winning $10,000 for Best Technology, $1,000 for Best Pitch, and $250 for Audience Choice.
"Experiences like the New Venture Competition are truly priceless," says Kennedy. "Although each team had the opportunity to win some money, the real value came from the experience."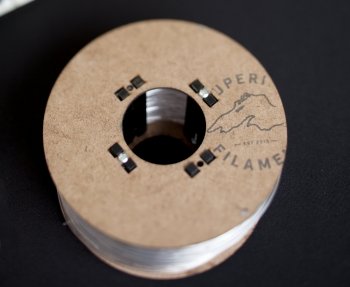 Kennedy took sensible advantage of that experience by building his network and connecting with successful entrepreneurs who provided constructive criticism on Superior Filament.
"They identified weaknesses in our business plan and provided insights into how to improve certain aspects of our operation. In fact, I still talk to several of the judges and venture capitalists who continue to provide me with resources and new opportunities."
Kennedy says the most challenging part of the competition was staying calm. "I am a very high energy person. Often that energy causes me to make mistakes or forget something important. I was so excited about the competition I had to keep reminding myself to slow down."
After their hard work was rewarded with financial support, Superior Filament is scaling up equipment and inventory to lay a foundation for the future. However, Kennedy is smart. He thinks big. He knows the company will need to conduct research and development and ramp up marketing, in addition to garnering capital. With that, they will continue attending competitions and leverage their relationship with MTEC SmartZone to make these tasks easier. They also continue to gain support through crowdfunding campaigns.
Kennedy has a passion for running his own business and appreciates the growth associated with that process. Superior Filament seems to have found its feet as a new business and is growing. With his go-getter attitude Kennedy plans to begin graduate school, where he will be working toward his Tech MBA®, while continuing to grow his company.
"I want to continue to grow and learn each and every day, and hopefully my behavior will influence others to do the same."
Michigan Technological University is a public research university founded in 1885 in Houghton, Michigan, and is home to more than 7,000 students from 55 countries around the world. Consistently ranked among the best universities in the country for return on investment, Michigan's flagship technological university offers more than 120 undergraduate and graduate degree programs in science and technology, engineering, computing, forestry, business and economics, health professions, humanities, mathematics, social sciences, and the arts. The rural campus is situated just miles from Lake Superior in Michigan's Upper Peninsula, offering year-round opportunities for outdoor adventure.