Over coffee, Impact talked to Tanner, Hailey, and Thomas about hands-on experiences outside the classroom.
The Guestbook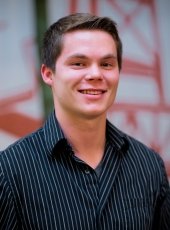 Until Thomas Strome started crunching "real" numbers for his internship at Northern Hardwoods in South Range, MI, his double major in Marketing and Management Information Systems was more theory-based than real-life experience. For Strome, learning-by- doing opened his eyes to a potential new career path he never envisioned.
"Experiential classes are really great, and now I get to take that knowledge and work with real numbers, real data, and real clients who come in and make purchases," he said. "I've been doing more business-to-business sales, and I found out that I enjoy it. Working in real life, gaining hands-on practical experience, helps me plan where I want to be in the future."
---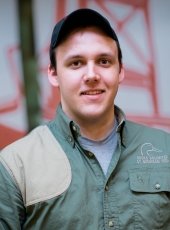 Tanner Flatt knows that owning your own business brings tremendous rewards, especially when it involves hunting and fishing in the great outdoors. Flatt owns and operates The 906 Hunting Company in Naubinway, MI, and now he's taking what he learns in the classroom and using it to improve his business.
"I've been working on new product development and business-to-business marketing principles to apply later on," he said. "That's what I really want to do later in life."
Although Flatt may be a step or two ahead of his classmates, he still faces challenges—ones that his degree in marketing can help him overcome. His company started out as a business idea in high school, and with family support, it took off. While taking an entrepreneurship class at Michigan Tech, Flatt developed a Facebook page to launch his brand online, and it's been growing ever since. He knows how valuable his education is, and that it will lead him to his ultimate career goal: traveling the country making hunting and fishing videos for national TV.
---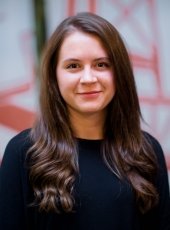 Ever since Hailey LaFleur set foot on campus, she's been absorbing every bit of learning experience she can–both inside and outside the classroom. Though it requires taking on a lot of responsibilities, her involvement in start-ups Huskies4Hire, Superior Filament, and the Association of Student Marketing Researchers (ASMR), while double majoring in Marketing and Management, has been the best way for LaFleur to figure out where her education and interests will take her.
"I want to be a sponge, so I take on a lot, but I appreciate every single thing I do because it validates my thoughts," she says. "I want to experience as much as I can so that I can confidently choose my next step."
While interning with Upper Peninsula Marketing Department, Inc. in Houghton, LaFleur leveraged her social media skills to support clients. Her hard work led to more hands-on experience in market research and initial campaign planning.
"It's fast-paced, but that's what the real world is," she says. "It's good to get that experience at the student level so I'm more prepared after graduation."
---
Hands-on Experiences
Marketing is a highly creative, yet broad career path. Luckily for students at Michigan Tech, the School's Association of Student Marketing Researchers (ASMR) provides internship opportunities.
"Internships are a great opportunity for students to test their genuine interests and where their talent ts," said Dr. Jun Min, ASMR Faculty Advisor. "ASMR allows students to develop interests in marketing through exposure and involvement with professional research projects, presentations, and leadership opportunities."
Students are often pressed for time from the moment they set foot on campus right up until graduation. ASMR is an avenue using Tech's industry connections to link students with meaningful career experiences that fit their busy schedules. The opportunity to apply classroom theory to actual projects for real companies is invaluable.
"I want that real-world experience. We're taught all of the academics; concepts, theories, equations—whatever we need," LaFleur said. "Internships, through ASMR, allow us to test our knowledge. That's so valuable to benchmark where you're at, what you like, and what you want to do for your future."
Dr. Min said internship experiences not only prepare students for a successful career, they're also a system that helps faculty in the School of Business and Economics mold educational programs that meet students' needs.

"Students start out gaining experiential learning, then they take an internship. At that internship, they realize they didn't learn x, y, and z, so they bring that lack of knowledge back to the classroom to faculty," Dr. Min said. "Their newly acquired knowledge leads to changing the program, and so on. Internships close the loop."
This fall, LaFleur takes over as President of ASMR. Her goal is to grow the program by creating partnerships with other universities to provide more project variety and opportunities for students.
Michigan Technological University is a public research university founded in 1885 in Houghton, Michigan, and is home to more than 7,000 students from 55 countries around the world. Consistently ranked among the best universities in the country for return on investment, Michigan's flagship technological university offers more than 120 undergraduate and graduate degree programs in science and technology, engineering, computing, forestry, business and economics, health professions, humanities, mathematics, social sciences, and the arts. The rural campus is situated just miles from Lake Superior in Michigan's Upper Peninsula, offering year-round opportunities for outdoor adventure.