A Message from the Department Chair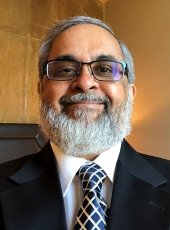 What a year (or two)!
Greetings from the Department of Biological Sciences at Michigan Tech! It gives me great pleasure to share this bi-annual report of various ongoing activities and exciting accomplishments by our faculty, staff, and students during Spring 2020-Fall 2022.
In the spring of 2020, I was on sabbatical for one semester. The news of a possible COVID-19 pandemic broke out in February 2020 when I was in New Zealand. I immediately returned home, and Michigan Tech moved to a virtual mode of education in March 2020. Our faculty swiftly switched to this new mode in about a week, and all lectures and even remote labs became operational without severely affecting our educational mission. The semesters that followed were full of challenges, but I am glad to report that we somehow weathered this unprecedented storm, and the fall 2022 semester feels almost back to normal. The research labs were closed for over a semester in 2020, but as you can see from this report, research rebounded very quickly. The folks at the Biology department were also closely involved in setting up a COVID-19 testing lab, a unique undertaking as highlighted in this newsletter later on. Our faculty, staff, and students brought in over $9.9M in funding during this period and published over 90 peer-reviewed publications. The teaching mission has remained as strong as ever, with faculty and others winning state-wide and university-wide accolades. I hope you will enjoy reading about these and other highlights in this newsletter.
We would love to hear from you. Please call my office at 906-487-2738 or email me at cpjoshi@mtu.edu to let us know how you are doing. Please feel free to stop by Dow 740, and we would be happy to show you our research labs and newly upgraded teaching labs. The campus and overall surroundings are also looking very beautiful now, so please come back to the Keweenaw very soon!
Chandrashekhar Joshi, Professor and Chair, Department of Biological Sciences
Contact Dr. Joshi at cpjoshi@mtu.edu or 906-487-2738
---
We have graduated over 4,000 students since 1962!
---
Faculty Promotions and Tenure
Congratulations to the following biological sciences faculty members who were promoted in the 2019-2022 academic years!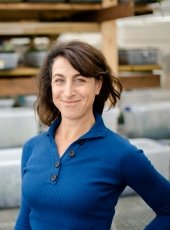 Dr. Erika Hersch-Green, Assistant Professor
was promoted to Associate Professor with tenure in 2020.
See Dr. Hersch-Green's full profile to learn more about their time at Michigan Tech.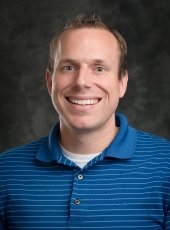 Dr. Steve Techtmann, Assistant Professor
was promoted to Associate Professor with tenure in 2021.
See Dr. Techtmann's full profile to learn more about their time at Michigan Tech.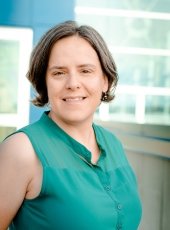 Dr. Amy Marcarelli, Associate Professor with Tenure
was promoted to Professor in 2021.
See Dr. Marcarelli's full profile to learn more about their time at Michigan Tech.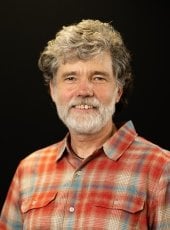 Dr. Casey Huckins, Professor
started serving as an Associate Chair in 2022.
See Dr. Huckin's full profile to learn more about their time at Michigan Tech.
---
Welcome to New Faculty and Staff
Fall 2022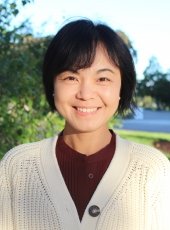 Yan Zhang, Ph.D., Research Assistant Professor, Biological Sciences
Dr. Yan Zhang joined the Department of Biological Sciences as a Research Assistant Professor in the Fall of 2022. She earned her Ph.D. in the Department of Pharmacology and Toxicology at the University of Missouri-Kansas City, where she investigated the molecular mechanisms of innate immune responses. She completed her postdoctoral training at the Jared Grantham Kidney Institute at the University of Kansas Medical Center, studying the pathological mechanisms and therapeutic targets of polycystic kidney disease. Her research lab will engage in defining the role of immune cells in the pathological microenvironment and the potential therapeutic effects of manipulating immune cells.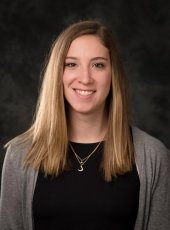 Sarah LewAllen, MS, MLS(ASCP)CM, MLS Program Coordinator
Sarah LewAllen joined the Department of Biological Sciences as the MLS Program Coordinator in October of 2021. She earned her Bachelor's degree in Medical Laboratory Science and Exercise Science and a Master's degree in Biological Sciences from Michigan Tech. After graduation, she completed her clinical internship at Beaumont Health in Royal Oak, MI, and became a certified Medical Laboratory Scientist. Before returning to Michigan Tech, Sarah worked at Beaumont Health in Farmington Hills, MI as a generalist in the lab.
Fall 2021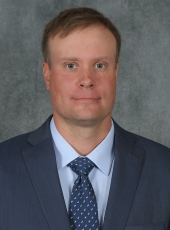 Robert Larson, Ph.D., Assistant Professor, Biological Sciences
Dr. Robert (Rob) Larson joined the Department of Biological Sciences as an Assistant Professor of Human Biology in the Fall of 2021. Rob had recently joined Michigan Tech as the MLS Director in the Fall of 2020. He earned his MS and Ph.D. in the Department of Biological Sciences at Michigan Tech, studying neural-cardiovascular physiology in human subjects and animal models. He completed his postdoctoral fellowship in Cardiology at The University of Iowa Carver College of Medicine, where he studied cardiac sensory and sympathetic nerves in structural heart disorders. His research lab will examine the role of the autonomic nervous system in cardiovascular disease and seek to discover new treatment targets. Rob is a Medical Laboratory Scientist certified by the American Society for Clinical Pathology and has over 10 years of experience working in the Diagnostic Lab at Aspirus Keweenaw Hospital.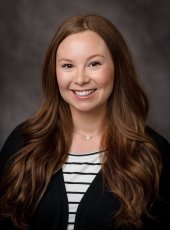 Claire Danielson, MS, MLS(ASCP)CM, MLS Program Director
In the Fall of 2021, Claire Danielson joined the Department of Biological Sciences as the MLS Program Director and Lecturer. She previously worked as MLS Practicum Coordinator in the Biological Sciences department since January 2020. She is a Medical Laboratory Scientist certified by the American Society of Clinical Pathology and has worked in level-one trauma centers in Minneapolis and Colorado Springs. She also held the title of Microbiology Supervisor in a critical access hospital before obtaining her MS at Michigan Tech. Claire teaches many courses in the MLS program such as phlebotomy, immunohematology, and the medical bacteriology lab. Claire continues to work closely with our MLS students to be placed at clinical practicums and obtain their ASCP certification.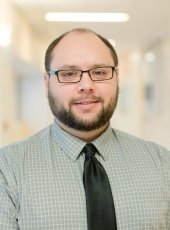 Travis Wakeham, MS, Lecturer of Human Biology and Undergraduate Academic Advisor
Travis Wakeham joined the Department of Biological Sciences as the Lecturer of Human Biology and Undergraduate Academic Advisor in the Fall of 2021. He has previously worked as a Laboratory Supervisor from 2016-2019 and as an Undergraduate Academic Advisor in the Biological Sciences department since 2019. Travis teaches many courses in our program, such anatomy and physiology, human pathophysiology, advanced human physiology, zoology, and introduction to biological sciences. He is dedicated to providing an inclusive learning environment for our students and supporting each of them to achieve their goals.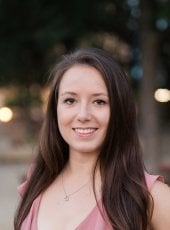 Lindsay Putman, Ph.D., Postdoctoral Research Associate
Lindsay Putman joined the Department of Biological Sciences as a Postdoctoral Research Associate in Stephen Techtmann's Lab in the Fall of 2021. She will characterize the composition and function of plastic-degrading microbial consortia. Lindsay earned her Ph.D. in Environmental Geosciences Microbiology and Molecular Genetics from Michigan State University, studying the microbial ecology and geochemistry of an alkaline groundwater system.
Fall 2020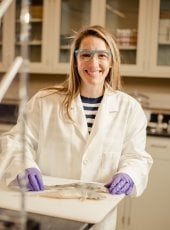 Jill Olin, Ph.D., Assistant Professor, Biological Sciences
Dr. Jill Olin joined the Department of Biological Sciences in the Spring of 2021 from a research scientist position at the Great Lakes Research Center. Jill is a trophic and food web ecologist, best known for her work quantifying species- and food web-level responses to environmental stressors, including hurricanes and oil spills in coastal ecosystems. She earned her BS in Marine & Freshwater Biology at the University of New Hampshire and her MS in Marine Science from Hofstra University. She earned her Ph.D. in Environmental Sciences from the University of Windsor in 2012. Her research aims to understand how habitat use and foraging decisions and environmental regimes, such as altered salinity and temperature gradients related to climate change, shape the distribution of predators and prey and how those interactions structure aquatic ecosystems.
---
Goodbyes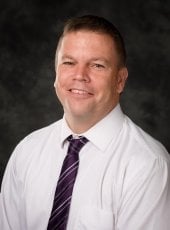 In the Fall of 2020, associate professor John Durocher joined Purdue University Northwest as Nils K. Nelson Associate Professor of Integrative Human Health. At Michigan Tech, John did extensive work in the fields of applied human physiology and exercise physiology. He also taught Anatomy and Physiology, and human pathophysiology courses and was nominated for the teaching award. Our best wishes for his new appointment.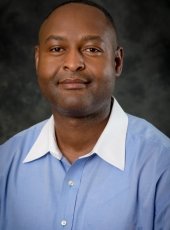 Associate professor Ebenezer Tumban moved to Texas Tech University, School of Veterinarian Medicine, in the Fall of 2020. Dr. Tumban is a molecular virologist and vaccinologist, and in the past, he conducted research studies aimed at understanding the molecular determinants of arboviruses (such as dengue and Langat viruses) mode of transmission. He was also nominated for the teaching award at Michigan Tech. We wish him all the best in his new endeavors.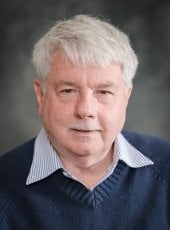 Professor W. Charles Kerfoot retired at the end of Spring 2020. Dr. Kerfoot's distinguished research career in the freshwater ecology of the Great Lakes spans over 47 years. At Michigan Tech, Dr. Kerfoot has served as the Director of the Lake Superior Ecosystem Research Center and Remote Sensing and Ecosystems Research Institute. Dr. Kerfoot received several accolades, such as Michigan Tech's Distinguished Faculty Research award in 2013, Lifetime Achievement Award by International Association for Great Lakes Research in 2014, and the Eugene P. Odum Gold Medal by the International Society for Ecological Communications in 2007. Dr. Kerfoot is credited for the creation of a new area of research, "Resurrection Ecology" and he is an internationally known authority on paleoecology. Dr. Kerfoot is continuing as an emeritus research professor in our department.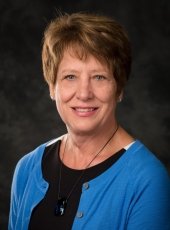 The Biological Sciences department would like to acknowledge and celebrate the retirement of Medical Laboratory Science (MLS) Program Director, Karyn Fay. Karyn was such a memorable addition to the Biological Sciences Department and will never be forgotten. Before teaching at Michigan Tech, Karyn worked in many disciplines over the years and in a variety of places. In Virginia, she worked as a generalist. In Florida, she worked in a plasmapheresis clinic and then in a reference laboratory working mainly in steroid chemistry and fluorescent microscopy. In Arizona, she did microbiology projects related to immunology and virology. Before coming to Michigan Tech, she was the Hematology Supervisor at Keweenaw Memorial Medical Center in Laurium, MI for several years. Karyn began teaching in Michigan Tech's MLS program in 2003. She later became the Program Director in 2013. Karyn officially retired in the spring of 2020. After retirement, she went on to help with the creation and development of the Michigan Tech COVID lab. Her efforts to help and support our students and the University as a whole were always tremendous. Throughout her years at Michigan Tech she educated and touched the lives of hundreds of students and left an indelible mark on the number of lives she came across. Her caring personality made her office a special place for students to talk and feel welcome. Karyn was instrumental in Michigan Tech's MLS program obtaining accreditation from NAACLS in 2018 and she also received a university-wide teaching excellence award in 2016 for her outstanding teaching contributions. Karyn will always be remembered in our department for her expertise in laboratory medicine, positive attitude, and warm presence. She truly cared for her student's success and will be dearly missed! We wish her a long and happy retirement.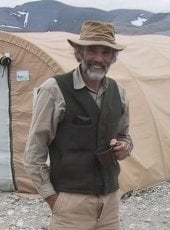 Adjunct Professor Bob Stottlemyer Passed Away
Dr. John Robert (Bob) Stottlemyer, a faculty member at Michigan Tech from 1979-1990, died of natural causes on May 31, 2022, on a research expedition at a remote field site along the Agashashok River in northern Alaska. He remained an adjunct professor with the Department of Biological Sciences until his death. Dr. Stottlemyer's three decades of research at the Agashashok River site was just a small part of his remarkable career studying environmental issues in northern landscapes and his incredibly full life of eight decades. He majored in forestry at Pennsylvania State University, with summer jobs fighting wildfires as a smoke jumper in the Sierra Nevada Mountains of California and working as an interpreter in national parks. He studied forest ecology for his Ph.D. at Duke University under the supervision of Professor Bill Ralston, focusing on forest soils and water quality. His Ph.D. research at the Fraser Experimental Forest in the Colorado Rockies was one of the first to combine the hydrology of mountain streams with water quality and nutrient budgets, an approach that persisted in his research over the next five decades, providing some of the best long-term records of forests and streams in the world. At Michigan Tech, he focused on hydrology, chemistry, and processes influencing water quality in remote watersheds from Calumet to Isle Royale National Park, Denali National Park, and Noatak National Preserve. Dr. Stottlemyer's loss leaves an emptiness in many lives, but each time he comes to mind, we all find ourselves smiling with so many grand memories of our unique colleague and friend.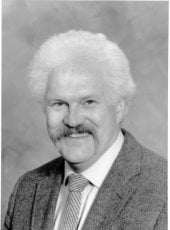 Professor Bill (Dr. Wilbur H.) Campbell Passed Away
Emeritus Professor, Dr. Wilbur H. (Bill) Campbell passed away on January 30, 2022. Professor Campbell earned his Ph.D. in biochemistry from UW-Madison in 1972 and moved to the Keweenaw in 1985 to become a biochemistry professor at Michigan Tech. He was a brilliant scientist dedicated to his research. In 1993, Bill and his wife, Ellen decided to bring the discoveries of Bill's academic research out into the world with new products for testing water quality. NECi, in Lake Linden, was one of the first biotech companies in Michigan. NECi's products for nitrate testing won U.S. EPA method approval in 2017. These kits are made in Lake Linden and sold to customers worldwide. Dr. Campbell retired from Michigan Tech in 2003. He loved trees, birds, wildlife, cats, bears, and peace. The beauty of the area kept the Campbells here in the U.P., despite the winters.
---
Biological Sciences by the Numbers
18 | Biological Sciences Faculty

5 | Biological Sciences Staff

149 | Undergraduate Students that graduated 2019-2022

42 | Graduate Students that graduated 2019-2022

240 | Undergraduate Students currently enrolled

42 | Graduate Students currently enrolled

$9.9 M | New grants from Spring 2020 to Summer 2022
Michigan Technological University is a public research university founded in 1885 in Houghton, Michigan, and is home to more than 7,000 students from 55 countries around the world. Consistently ranked among the best universities in the country for return on investment, Michigan's flagship technological university offers more than 120 undergraduate and graduate degree programs in science and technology, engineering, computing, forestry, business and economics, health professions, humanities, mathematics, social sciences, and the arts. The rural campus is situated just miles from Lake Superior in Michigan's Upper Peninsula, offering year-round opportunities for outdoor adventure.