Get to know the gene editing toolbox. Biologists Sachin Teotia and Guiliang Tang compiled the literature for you in their meta-analysis on techniques for plant genomes. And illustrator Jordan Blahnik turned it into an infographic. Here are the power tools: CRISPR-Cas9, artificial microRNA, and short tandem target mimics.
Trends in Biotechnology
Teotia and Tang published their study in Trends in Biotechnology earlier this year. Here's where you can find the study. A heads up: it's a hefty document. As a meta-analysis, the team pulled together research from 118 different studies, bringing together many ideas on several techniques.
This kind of work, too often unappreciated in the science media world, is the foundation of good research. We make the breakthrough, we debate it, we analyze it, then we compile it—and repeat, rehash, debate again, and refine. In light of culturally contested gene editing technologies—think CRISPR babies and GMOs—these meta-analyses are crucial. They help keep the research in context and out of the sci-fi world, even when the technology can do things we barely imagined a decade ago.
Genome Engineering
The paper's opening line encompasses the breadth of this research field, "Genome sequencing has not only extended our understanding of the blueprints of many plant species but has also revealed the secrets of coding and non-coding genes."
And those secrets have opened up a whole new toolbox. Some might argue it's a Pandora's Box, and there's a whole history behind the scenes, but there's no doubt that the technology has wrought—and will still bring—a lot of change. Even in just the world of plants.
Here's an infographic rundown of the research compiled by Teotia and Tang.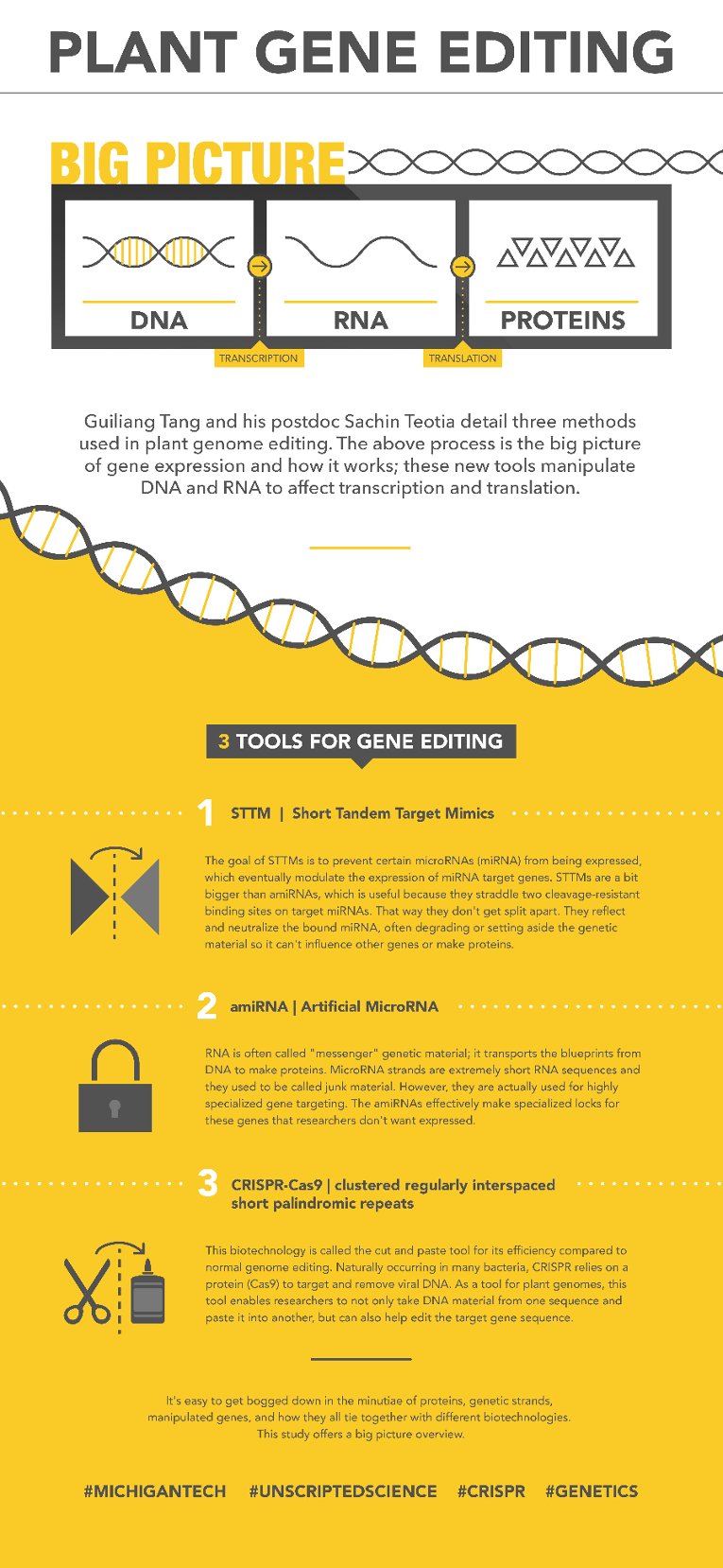 Michigan Technological University is a public research university, home to more than 7,000 students from 54 countries. Founded in 1885, the University offers more than 120 undergraduate and graduate degree programs in science and technology, engineering, forestry, business and economics, health professions, humanities, mathematics, and social sciences. Our campus in Michigan's Upper Peninsula overlooks the Keweenaw Waterway and is just a few miles from Lake Superior.