In her guest blog, graduate student Brooke Poyhonen shares her work in health, user experience (UX), innovation and overcoming doubt during the Texas Healthcare Challenge: Virtual Hackathon.
As the 2020 fall semester was dwindling down and my last few big projects were being completed, I set about making a list of goals I wanted to complete before my graduation in the spring. One of them included gaining new experiences and putting myself out there. With this past year of pandemic-related quarantines and virtual learning, it was very easy to fall into a place of complacency. Entering 2021, I wanted to push myself out of my comfort zone.
I know I am not the only student who has battled imposter syndrome and felt wildly unprepared to tackle the "real world" and enter industry. Looking at my resume, I knew I was lacking key experiences that could help set me apart from other applicants. Working the past seven years in health care as a pathology tech has taught me so much, and I gained so many unique skills and experiences — but pivoting into the world of user experience (UX) and human factors, I felt I needed something more.
About the Researcher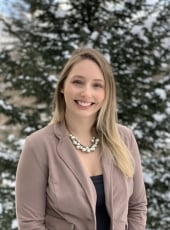 Brooke Poyhonen
Graduate Student
https://brookeux.com/about
Research Interests
User Experience (UX)
Health Tech
Human Factors
Decision Making
Hacking for Health Care
My first taste of hacking came from participating in the Work-Related Musculoskeletal Disorders (WRMSD) Grand Challenge. When we use the term hacking in these challenges, it simply means we are using the skills we have to help solve the challenge or problem.
The WRMSD challenge was promoted through the Human Factors and Ergonomics Society email list. It looked like the perfect opportunity for me to gain experience with problem-solving with a team and product design, and hopefully have fun along the way. The challenge was aimed at finding solutions for work-related musculoskeletal disorders sonographers develop from repeatedly performing ultrasound scans. I worked with a team of four other students and our team mentor to help develop a solution, which needed to be innovative, scalable and sustainable.
There were definite hurdles to get over: We needed to learn how to work effectively together and bring out the best in each other. At the end of our month-long hacking, we submitted a solution called the Air Buddy, which aimed to reduce the amount of contact force sonographers need to manually use to obtain correct imaging. The judges deliberated for a week and when the results were announced, our team and the Air Buddy took first place. Honestly, I was shocked and so proud of my team. We received a cash prize and the invitation to attend and present the Air Buddy at the alliance's next design summit.
Texas Healthcare Challenge: Virtual Hackathon
Coming fresh off my first hackathon win, I was eager to participate in another one. I found the Texas Healthcare Challenge, which is usually held in person in Dallas, but the COVID-19 pandemic meant they were hosting a completely virtual challenge experience. To say I was excited is an understatement. I started researching right away, and it looked like a lot of awesome health care ideas and solutions had come out of this challenge.
The week of the challenge came, and I made myself familiar with the virtual platform, attended some pre-challenge presentations, and participated in networking events. Coming out of these activities, I was feeling a little in over my head. There were physicians, engineers and people with years of industry experience participating. I thought, "Do I really have the ability to make a meaningful contribution to my prospective team?" I even contemplated dropping out altogether because I was so nervous I would somehow make a fool of myself in front of all these successful, knowledgeable and smart people. However, I persevered and pushed myself through my insecurities — and I am so glad I did!
WatsonCares for Postpartum Moms
My team, WatsonCares, came together almost by accident. I am grateful for the virtual environment, because I don't think my teammates and I would have found each other if the challenge had been conducted in person. The whole hacking part of the challenge — that is, the brainstorming, teamwork and prototyping — was a mere 24 hours, and participants were expected to have chosen their team and already be working on their problem by Friday night. Well, Friday night rolled around and we had all finished watching one of the many presentations of the weekend, and afterward there were discussions going on between people who felt no real connection or passion for any of the problems being pitched. As the clock ticked down and the discussion grew, team WatsonCares was formed.
While the name is a placeholder, the original idea of WatsonCares was centered around providing a personalized experience for postpartum mothers. Through our app and the power of IBM's Watson, we wanted women to be able to have their postpartum questions answered through a personalized chatbot and connect with a community of mothers just like them with tailored resources based on their location and needs.
The app was really based on the problems everyone is facing during this pandemic: We have all felt isolated, scared and alone at times. Can you imagine being a new mother and not being able to have help from your family or friends, or not even knowing where to turn for help? This is the reality for many postpartum mothers.
WatsonCares is built around the idea of a one-stop place for postpartum mothers to receive support, interact in a community and get answers to their postpartum questions. We wanted to be real about some of the hard parts of the postpartum experience — like postpartum depression, pelvic floor therapy, postpartum bleeding, learning to breastfeed and navigating intensive care in NICU — and provide help and resources with our app.
Friday night turned into Saturday afternoon. It finally came time to present, and as the fates would have it, our team was last. We sat through all the other fantastic ideas before presenting our app. After two hours of deliberation by the panel of judges, awards were announced: Team WatsonCares not only won first place, but also received the IBM grand prize of $120,000 in IBM credits to be used toward IBM products and services.
Our dream for this app is to provide a safe space for women to come together, learn and support each other, which means a more joyful transition into motherhood for postpartum mothers in the future. My team and I are moving ahead with our idea — we are in the beginning stages of forming a startup, and I couldn't be more excited for the future of our idea and where it takes us.
Michigan Technological University is a public research university founded in 1885 in Houghton, Michigan, and is home to more than 7,000 students from 55 countries around the world. Consistently ranked among the best universities in the country for return on investment, the University offers more than 125 undergraduate and graduate degree programs in science and technology, engineering, computing, forestry, business and economics, health professions, humanities, mathematics, social sciences, and the arts. The rural campus is situated just miles from Lake Superior in Michigan's Upper Peninsula, offering year-round opportunities for outdoor adventure.