When it comes to securing a patent, every word matters. Luckily for Huskies, tenacity also counts — and there are mentors aplenty to offer valuable advice.
Michigan Tech alumna Judy Swann '83 is one of them. She's helped to secure hundreds for inventors as an examiner and supervisor with the U.S. Patent and Trademark Office (USPTO). Swann funneled everything she learned as an engineer, along with a love for reading and writing — and boundless curiosity about what makes things tick — into a 34-year career at the USPTO.
Along the way, she developed a keen awareness of what makes patent applicants successful. It's wisdom well worth sharing with current and future Huskies whose innovations can change the world for the better.
More in Michigan Tech Magazine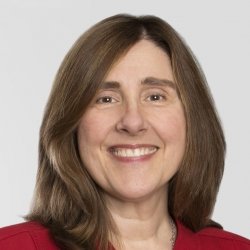 Judy Swann draws on her career at USPTO to help mentor Huskies and share patent pro tips here. Find out how Swann's roommate at Tech helped her find her professional calling, meet some of Michigan Tech's inventors and discover why alumni are such prolific innovators in "Patent Genius," available now in the latest (digital) issue of Michigan Tech Magazine.
Words of Advice for Prospective Patent Applicants
Do your research. "I always recommend you do a pre-search. It might help you refine your invention," says Swann. "There are search engines — and previous patents are there for anyone to look at to try to make a better invention of their own. It's useful for solving problems or making your patents better while you are working on your invention. Also, search before filing your application, because if somebody has already patented it you may not be spending money and time well."
Hit your deadlines. "The patenting process includes numerous dates to be aware of," says Swann. "For example, you have one year from the date you made your invention public to file. If you put out flyers or have a symposium, you have to track the dates of process because that's when your year starts. Then, during prosecution, you have a limited number of months to respond to letters from the examiner to file a reply. Generally, (depending on the information required), you get three months for free, and can buy up to three more months, with the sixth one being the absolute deadline. Pretty big consequences if you don't file timely."
Be patient. "The time it takes to prosecute a patent is what surprises people more than the money. It can average 15 or so months to get first action, maybe two years to get a patent," says Swann.
Play the long game. While some might hit the jackpot on the first try, Swann describes patent securing as a process of continuous education and discovery. A single application may take multiple communications to be fruitful. It may take multiple applications to obtain the patent that becomes the bedrock of a company. Inventors may begin with a one idea, and it may morph into a different idea or fragment off into a slightly different field. It's about steady progress. "The guy who invented the SkyCam, which captures the live action at football games — that wasn't his first invention. His first invention was a support to stabilize a camera carried by a person," says Swann, referring to cinematographer Garrett Brown's Steadicam.
Patent Basics
An original disclosure comes in three parts: Claims, specification and drawings if needed.
"That is basically the boundary of the box you've drawn yourself for your invention," says Swann.
Watch this USPTO video (enjoy the hint of nostalgia) for a layperson's overview of the process.
Find a wealth of patent resources via Michigan Tech's Research Office.
Peruse Michigan Tech patents in the digital commons at Van Pelt and Opie Library.
"A well-written specification is key to a proper patent."
There are no shortcuts when it comes to polishing your prose, says Swann. "Writing a complete and proper disclosure is where you should spend your time, your money and your thought process. It might provide additional content needed to obtain the patent protection an applicant needs."
Michigan Technological University is a public research university founded in 1885 in Houghton, Michigan, and is home to more than 7,000 students from 55 countries around the world. Consistently ranked among the best universities in the country for return on investment, Michigan's flagship technological university offers more than 120 undergraduate and graduate degree programs in science and technology, engineering, computing, forestry, business and economics, health professions, humanities, mathematics, social sciences, and the arts. The rural campus is situated just miles from Lake Superior in Michigan's Upper Peninsula, offering year-round opportunities for outdoor adventure.