Michigan Tech's IDEA Hub has a big goal: to reimagine and revolutionize university education. You can help transform the undergraduate experience at Michigan Tech.
What if students pursued missions instead of majors? What if barriers to interdisciplinary collaboration disappeared? What if instead of helping students to "learn about," we helped them "learn to become"? What if all our students could study abroad or have an intercultural experience right here? What if we taught them how to fail mindfully?
You're Invited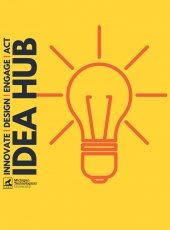 IDEA Hub hosts its first open house from 2-4 p.m. Wednesday, Nov. 20 in Memorial Union Ballroom Alumni Lounge B. Come when you like, stay as long as you like, snack, chat and share your ideas.
There are lots of people asking each other questions like this at Michigan Tech, but they rarely get to be in the same room at the same time. Last spring it finally happened: From January to May of 2019, a group of almost 40 faculty, staff and students devoted two hours every Friday to sharing their ideas for education innovation.
Led by Dean Lorelle Meadows and Assistant Dean Mary Raber of Michigan Tech's Pavlis Honors College, the Education for the 21st Century task force engaged in the design-thinking process to brainstorm ways to transform the undergraduate experience at Michigan Tech.
Their charge from Michigan Tech President Rick Koubek: to "advance Michigan Tech's core educational goals by developing transformative content and approaches that clearly address the needs of the 21st century workforce."
Their ideas for change focused in three areas: transforming the first-year experience, developing a "next gen" general education model and removing barriers to interdisciplinary education.
But institutional change can be slow, especially in academic institutions. The task force realized it needed to jumpstart the process with an idea incubator to research, brainstorm, prototype and test educational innovations.
Enter IDEA Hub. IDEA stands for Innovate, Design, Engage, Act. It's not a conventional research institute or a center, but a place where previously siloed efforts will coordinate and amplify educational innovation.
About the Director
Husky Innovate
In operation for several years, Husky Innovate supports faculty, students and staff working to bring technological innovations to life. Husky Innovate also includes Michigan Tech's Student Innovation Leaders. They're a growing team of students trained to apply and facilitate the design-thinking process, bringing about campus change from the student perspective. The hub also includes a newly formed multidisciplinary team focused on creating entrepreneurially minded learning opportunities as part of Michigan Tech's role as a partner in KEEN, an entrepreneurial engineering network.
Global and Community Engagement
This working group focuses on how to help every student experience global and community engagement during their time at Michigan Tech through domestic and international opportunities.
Tech Forward Educational Innovation
Three working groups within this hub each focus on one of the three initiatives: first-year, next-gen gen ed and interdisciplinary education.
Membership includes faculty, staff and students from across the University. Throughout the fall semester, groups engaged in information benchmarking, identifying innovative programs at other institutions that could provide ideas and inspiration; institutional discovery, mapping the current landscape of first-year, general education and interdisciplinary programming at Tech, as well as institutional history; and empathy-building, interviewing students, faculty, staff and administrators in order to understand their experiences and better define the problems around which to brainstorm possible solutions.
This hub also includes a Human-Centered Engineering Initiative funded through a National Endowment for the Humanities Connections Planning Grant; it seeks to meaningfully integrate humanistic and technical inquiry and highlight the importance of humanistic inquiry for students in engineering disciplines. Faculty from the Department of Humanities, College of Engineering and Pavlis Honors College are collaborating to explore the connections and differences between humanistic and engineering perspectives.
Share Your Ideas
Do you have an idea — big or small? IDEA Hub wants your input. All faculty, staff and students are invited to the Hub's first open house from 2-4 p.m. on Wednesday. Explore IDEA Hub's mission, reach out to IDEA Hub Director Mary Raber or contact Educational Innovation Strategist Marika Seigel for more info.
Michigan Technological University is a public research university founded in 1885 in Houghton, Michigan, and is home to more than 7,000 students from 55 countries around the world. Consistently ranked among the best universities in the country for return on investment, Michigan's flagship technological university offers more than 120 undergraduate and graduate degree programs in science and technology, engineering, computing, forestry, business and economics, health professions, humanities, mathematics, social sciences, and the arts. The rural campus is situated just miles from Lake Superior in Michigan's Upper Peninsula, offering year-round opportunities for outdoor adventure.