Resources for Online Instruction
The IDEAhub team hosts weekly sessions in online education. Check our archives for discussions regarding online labs and fieldwork, exams, Zoom tips, and more.
Higher education is changing. Universities are facing more competition than ever before, and our graduates are entering a post-graduation world that is radically different than that of their parents and grandparents. It is a world defined by the gig economy, by digital technologies, and by the challenges and opportunities of the Fourth Industrial Revolution. We are preparing our students for careers that don't exist yet.
But institutional change is slow.
What is IDEAhub?
IDEAhub (Innovate, Design, Engage, Act) is an idea incubator and touchstone for creative interdisciplinary solutions to complex problems facing Michigan Tech, the community, and the world. We engage faculty, staff, students, and community members to identify and act on opportunities for innovation. Our work is concentrated in three "Hubs:" Global and Community Engagement, Husky Innovate, and Tech Forward Educational Innovation. Within the Tech Forward Educational Innovation Hub, we have four working groups each focused on one of the initiatives identified identified in the Education of the 21st Century final proposal: "First-Year Experience," "Next-Gen Gen Ed," and "Interdisciplinary Education." The groups' membership includes faculty, staff, and students from across the university.
What are we doing?
We are following the Design Thinking process—empathize, define, ideate, prototype, and test—in order to make sure that we are solving the right problems and coming up with innovative, iterative, and scalable solutions to those problems. Right now we are engaged in empathy building: conducting interviews, benchmarking research, and institutional research in order to define problems and issues surrounding gen ed, first-year programming, and interdisciplinary education. By the end of this semester, we will start to brainstorm possible solutions for prototyping and testing, as well as solicit ideas from the campus community.
How can you get involved?
Do you have an idea for an educational innovation (large or small!) that you'd like support in prototyping and piloting? Stay tuned for pitch competitions and calls for proposals. If you have ideas, experiences, stories, or thoughts you would like to share with us, or you'd like to participate in our work in other ways, reach out to IDEAhub director Mary Raber or educational innovation strategist Marika Seigel to share your questions and ideas.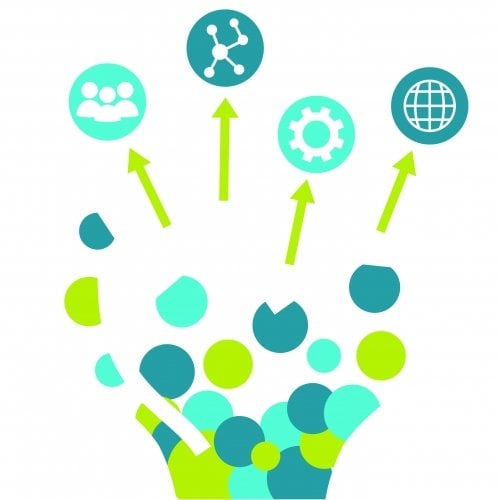 Do you have an idea?
Do you see a change that should be made on campus, but you're not sure who should be charged with making that change? Or do you want to implement your own idea, but need support? Let us know your idea, and how IDEAhub can help!