Kemmy Taylor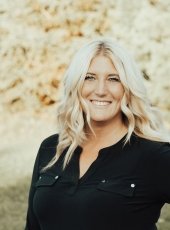 Director, Pre-Health Programs
Pre-Health Advisor
Affiliated Faculty | Biological Sciences & Kinesiology and Integrative Physiology
D.C. Palmer College of Chiropractic, 2001
Pre-Medical Studies: University of Massachusetts, Dartmouth and University of East Anglia, Norwich, England.
Biography
Originally from New England, Dr. Kemmy Taylor completed her pre-medical studies at the University of Massachusetts, Dartmouth and University of East Anglia in Norwich, England. She attended graduate school at Palmer College of Chiropractic in Davenport, Iowa where she earned her Doctor of Chiropractic in 2001 and was a sports injury intern.
Dr. Taylor has been a clinician and co-owner of Superior Family Chiropractic in Chassell, MI since 2002 where she has worked alongside her husband, Dr. Mischa Doman. Since 2015, she's served as Baraga County Memorial Hospital Credentialed Medical Allied Health Staff. Dr. Taylor trained and practiced differential diagnosis, radiological and advanced imaging diagnosis. She has experience in co-management with primary care and specialist physicians for non-neuromusculoskeletal conditions and treatments. In her practice she employed integrative best practices policies for improved patient outcomes.
Prior to her current role as Director of Pre-Health, she served as an Assistant Teaching Professor in the Kinesiology and Integrative Physiology (KIP) department. Dr. Taylor designed and taught the inaugural Functional Anatomy course in KIP and continues to teach it. Dr. Taylor also served as the undergraduate internship coordinator for the KIP department.
Dr. Taylor enjoys traveling, spending time outdoors whale watching with her Cape Cod, Massachusetts family as well as watching sunsets on the beaches of Lake Superior with her husband and two daughters, Nadja and Aryana. In the winter months she takes advantage of the snow and finds pleasure in cross-country skiing and snowshoeing.
Links of Interest
Specialties
Professionalism
Human Physiology & Epigenetic Influences
Diversity and Equity in Healthcare
Sports Injury Prevention & Treatment
KIP 3600 Motor Development
KIP 4800 Functional Anatomy
KIP 5700 Graduate Seminar
KIP 4900/4910 Exercise Science/Sports and Fitness Management Internship
KIP 2000 Professionalism
KIP 2200 Health Promotion and Wellness
KIP 3100 Exercise Assessment and Prescription
KIP 4300/5300 Motor Control and Learning