MTRI Demos Uses for Unmanned Aerial Vehicles in Transportation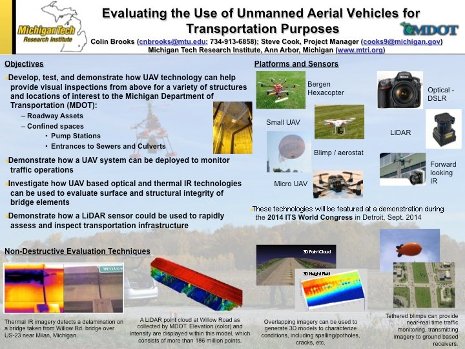 The Michigan Tech Research Institute (MTRI) will be flying its unmanned aerial vehicles (UAVs) before thousands at the Intelligent Transport Systems World Congress in Detroit Sept. 7-11. More than 12,000 researchers, transportation agency and company representatives from around the world are expected to attend the meeting.
Colin Brooks, environmental science lab manager at MTRI, and Steven J. Cook, project manager at the Michigan Department of Transportation (MDOT) will demonstrate MTRI's family of UAVs, from a micro-UAV that can fly through a culvert to assess its condition to a tethered traffic-monitoring blimp.
The demos will take place in the Michigan Spotlight section of Cobo Hall and at Belle Isle. A video produced by MTRI and MDOT will be shown.
Other topics on the program of the enormous international conference include connected vehicles, smart cars, driverless vehicles, transportation policy and transportation apps.
Unmanned Aerial Vehicles
MTRI has been working with MDOT to use UAV technology to provide visual inspections of roads, bridges, traffic patterns and confined spaces such as pump stations, sewers and culverts. UAV-based optical and thermal infrared imagery is used to evaluate surface and structural integrity of bridges. LiDAR (light detection and ranging) is another remote-sensing technology that can catch a ride on a UAV.
Several Michigan Tech scientists and engineers work on MTRI's UAV projects. Tim Havens, assistant professor of electrical and computer engineering, is a LiDAR specialist.; Tess Ahlborn, professor of civil and environmental engineering, specializes in bridge conditions; and Thomas Oommen, assistant professor of geological and mining engineering and sciences, works with thermal infrared imaging.
In Nevada, Oommen is using UAVs with similar remote-sensing technology to assess the condition of slopes above rail lines. Eventually, the technology could be attached to the trains themselves, turning them into data-collecting instruments as they traverse the rails.
The Michigan Tech Research Institute is a recognized leader in research, development and application of sensor and information technology, bioinformatics, earth sciences and environmental processes to solve problems of national security, and to protect and evaluate critical infrastructure. It is housed in Ann Arbor, Mich.
Michigan Technological University is a public research university, home to more than 7,000 students from 54 countries. Founded in 1885, the University offers more than 120 undergraduate and graduate degree programs in science and technology, engineering, forestry, business and economics, health professions, humanities, mathematics, and social sciences. Our campus in Michigan's Upper Peninsula overlooks the Keweenaw Waterway and is just a few miles from Lake Superior.