The Grass is Always (Going to Be) Greener: Tech Welcomes New Master Gardener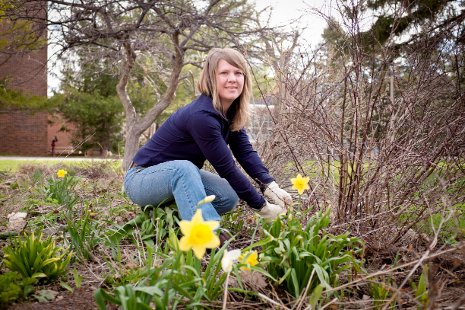 Tranquil, lush escapes in the heart of a bustling campus. Green oases nestled between towering brick-and-concrete buildings. That's what Quincy Higgins Arney is tasked with creating and maintaining.
It's a dirty (and daunting) job, sure. But as Michigan Technological University's new master gardener, Higgins Arney hopes the campus community doesn't see dirt—just flowers and foliage.
Higgins Arney, who has been an independent landscape designer in the area for five years, started her new role at the end of April, right when Michigan Tech was prepping to send off the class of 2014. One of her first projects was arranging giant geranium planters to place on the sides of the stage at Commencement.
Of course, most of her work isn't indoors.
"I'm outside almost every day," she says. "After the intense winter we had, there is plenty of cleanup to do. The freezing rain we had throughout early winter let weight really take a toll on branches. I'm pruning plenty right now."
As a lifelong local, Higgins Arney has seen the grounds at Tech progress through many sets of annuals and a handful of perennial beds. Now, she's eager to put her own mark on campus. Carefully thought-out gardens­—taking scale, proportion and balance into account—are what she says makes up her trademark approach to gardening.
"I consider the big picture," she explains. "Working with big buildings, it's important to plan how gardens will look when you're standing far away or right in them. I need to think about how plants will fill a confined space. Roots are powerful. A poorly planned tree could buckle the sidewalk in ten years."
Cracking pathways aren't the only concern for Higgins Arney. There are plenty of other logistical challenges to consider before she can begin the big transformations.
"Right now, I'm asking where snow gets pushed. Which areas get scraped by the plows. Where snow statues are built. Where underground utilities are located. They all dictate where I can work."
In the immediate future, she hopes to bring new life to the Memorial Union Building circle traffic island by creating a new garden with the help of a team of five student employees.
"I like to use rocks in my designs," she says. "The Japanese call well-placed rocks 'ishi.' It's the idea that rocks symbolize our foundation and the passage of time."
She aims to bring an Asian-garden flair to campus—all the while paying homage to local roots. "It's an un-fussy way of gardening. I use native plants that will really fill the space nicely but add influences from different styles."
Higgins Arney gives campus's prior master gardener, Lynn Watson, plenty of accolades for the gardens she has inherited. When Watson took her position as master gardener about five years ago, the soil around campus was dense and sandy—most gardeners' nightmare. Through her characteristic "lasagna gardening," where she layered organic matter, newspaper and straw, Watson created rich soil, which will provide Higgins Arney with a fantastic canvas.
Further beautifying campus is certainly a tall order, but Higgins Arney says she's ready to get her hands dirty—literally.
Michigan Technological University is a public research university, home to more than 7,000 students from 54 countries. Founded in 1885, the University offers more than 120 undergraduate and graduate degree programs in science and technology, engineering, forestry, business and economics, health professions, humanities, mathematics, and social sciences. Our campus in Michigan's Upper Peninsula overlooks the Keweenaw Waterway and is just a few miles from Lake Superior.