Foraging in the landscape can provide herbal teas, nourishing vegetation—even wetland hot dogs. Students in Michigan Technological University's first wild foods course find and identify plants that sustain us during final exams, giving "field tests" a whole new meaning.
Tara Bal, research assistant professor with the School of Forest Resources and Environmental Science, and Karena Schmidt, ecologist with the Keweenaw Bay Indian Community Natural Resources Department, designed online modules grouped by plant categories, focusing on ethnobotany and ecological restoration. Students also reviewed the phytochemical analysis of nutritious and medicinal plants, and learned the basic ID of important food, medicinal, utilitarian, and ceremonial plants. Then they applied their identification skills during three day-long field outings in several Keweenaw locations, including the Paavola wetlands, Swedetown trails, McLain State Park, and Nara Nature Trails, guided by Bal and Schmidt. The event wrapped up with a wild foods banquet featuring dishes students learned to make from the plants they harvested during the field trips.
"The experience is the important part of the class; this is not a contest to find as many plants as we can. Rather, we will walk and talk, gather, and try out a few techniques and recipes for you to continue practicing on your own."
The 12 students in the seven-week, non-traditional course also learned about natural dyes from local plants. Walnut, for instance, produces a rich brown. Lichens from Bare Bluff near Bete Gris on the Keweenaw's south shore yield purple and green hues. Students learned to honorably harvest bark from Basswood trees—and used the sturdy fibers to bind together birch-bark baskets. They also made soothing salves from yarrow and heal-all, locally found flowering plants with anti-inflammatory properties native to temperate regions of the northern hemisphere.
"I've been gardening a long time for food. I'm understanding in a different way."
Bounty Along the Boardwalk
Schmidt leads the first exploration, on the half-kilometer North Boardwalk Trail at Nara Nature Park. Lead isn't exactly the right term. Students who forge ahead are continually compelled to backtrack, notebooks in hand, to pick up on Schmidt's inch-by-inch discoveries in the marshy recreation area densely packed with nutritious, useful and ornamental plant specimens.
Before the group even reaches the boardwalk, there's an opportunity to sample serviceberries, also known as sugar plums or wild plums, from a tree overlooking the parking lot. On the ground, the buttery yellow of hardy, daisy-like chamomile is impossible to miss. Like many of the plants spotted today, it's most simply prepared as a tea from fresh or dried flowers.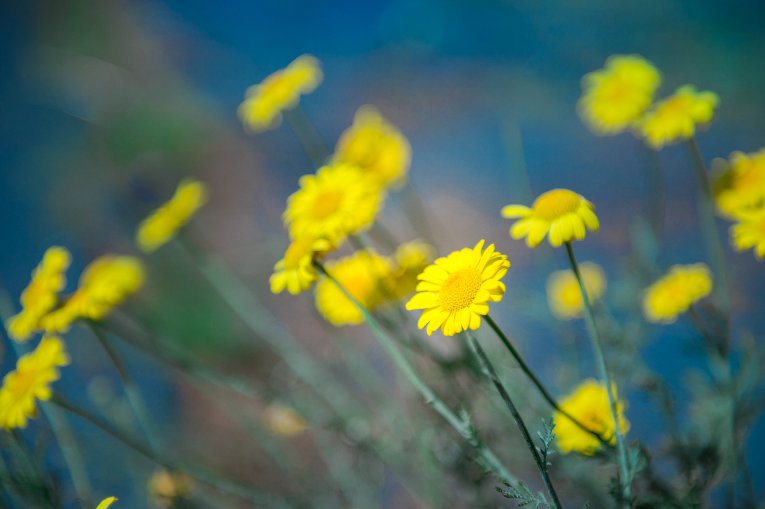 Leaves and roots are also utilized in many wild edibles. The nutrition, taste and medicinal efficacy, where applicable, varies by season, as the class will learn when it explores cattails later in the field day.
No need for close-toed hiking boots here. The only obstacles on the sturdy boardwalk, bordered by waving feathery-topped grasses, are easily skirted piles of seed-sprinkled animal spoor (critters like the berries, too) and an occasional low spot where marsh water puddles on the planks. Unlike students in Bal's field techniques class, students in this course aren't expected to step off into the shin-high, pollen-dotted brown muck to sample, measure and study their own 25-meter-radius plot of reedy swamp. "If they forget their waders the first time, they don't forget them again," she says. "And it's a lot colder at that time of year."
TP, Tiny Cones and Tree Beverages
Bal points out a common herbaceous perennial with delicate lavender flowers. "Large-leaf aster makes great toilet paper, as anyone caught out in the woods has ever had to discover!" she says. Schmidt brings a nearby tag alder to the group's attention: it holds the unusual distinction of being a cone-bearing deciduous tree. The Lilliputian cones are a favorite among crafters.
"Alder doesn't give us edibles, but look what it's doing for the environment," says Schmidt, explaining that it captures atmospheric nitrogen, contributing to soil health.
Dragonflies flit among the purple loosestrife. An occasional mallard squawk and trill of the red-winged blackbird carries on the gentle breeze. Students spot wild Iris seed capsules.
Schmidt stops again, pointing to white, lacy elderflower blooms several feet off the boardwalk. The exactly opposite leaf pairs are a strong identifier. Soil and water conditions are also essential field identification aids. Elderflowers, late bloomers on the southern fringes of the boreal forest, favor "a wet place," she notes.
The berries are a noted medicinal, particularly as a syrup for respiratory ailments. But the flowers are also tasty and useful. "It's a lovely, delicious drink," says Schmidt.
Students ask about the white berries nearby. They are dogwood, and unlike their neighbors, are not edible. Ditto for the orange and red berries on native honeysuckle bushes—while unfit for human consumption, birds have been known to get goofy on the fermented berries.
Lower on the ground is horsetail, an ancient fern-like plant with vertical ridges. It's profuse in Keweenaw. Some students remark that they're always pulling it out of their gardens. It contains abrasive silica spicules, which makes it an effective pot and pan scrubber for the next time you're out camping.
Schmidt spots invasive orchids, a seeming oxymoron for flower lovers. Even encroachers can contribute to ecosystems, notes Bal. "It's the perfect bug hotel," she says, encouraging the class to examine the reddish-purple petals of what looks like a non-hairy lady slipper. "Shelter, drinking water, a dash of pollen …"
More Incredible Edibles
Ox-eye daisy, a hardy white-flowered perennial whose curly edged leaves can be added to salads.
In spring, vitamin C-rich young curly dock leaves add pizazz to salads. In late summer, dried seeds add crunch and flavor to dishes.
Mint grows generously along the boardwalk. Someone mentions mojitos with mulled mint—and how refreshing they'd taste on one of those all-too-rare sweltering Keweenaw days.
Harvesting the Do-it-all Cattail
The boardwalk terminates at an observation deck with a built-in bench on the Pilgrim River. Here, the water surface is lush with salad-plate-sized water lilies. Flagrant purple spikes of the unpoetically named pickerel weed dominate the landscape, second only to the tell-tale green spikes and sausage-shaped cluster of tiny brown female flowers of today's piéce de résistance: the cattail, sometimes known as the "marshland hot dog."
Bal pulls on heavy waders, scooches off the deck into the Pilgrim River, and makes her way to a likely looking cattail cluster. She reaches down into the dark water, explaining how to "feel around for where the big rhizome is, you can feel the muck moving around it."
Most parts of the cattail are edible. Schmidt shows the class how to clean the rhizome, the root of the plant, and students slice off samples: crunchy and fresh, reminiscent of celery, or extra-crunchy cucumber. The taproots, growing off the main rhizome, white and pointy like baby parsnips, are even crunchier—and sweeter, a little like water chestnuts.
The wild foods course was offered during summer track B, when foragers have the best chance of finding many of the plants they studied. But it's not the best time for marshland hot dogs. They are eaten early in growing season, Bal explains, "when the brown part is still green." Tops can also be sliced up and used in stir fries, like onions, or leeks.
While the pseudo-wieners are past their prime, the plants offer more than a mouthful of brown fuzz. Cattails are nature's gift that keeps on giving: providing both protein and carbohydrates. Long, slender leaves make mats. Seed-fuzz can serve as a fire-starter. Roots can be dried and ground to make flour or soaked in water to extract the starch. Late in spring, cattail tops contain protein-rich pollen, which can be used as a thickener in soups and stews.
And while this class is taking place a few miles from grocery stores, Bal reminds the class that cattails have historically been an important source of survival food, dried for winter use.
Before she gets out of the water, she passes up a pickerel weed. The spongy pink root does not wow tasters. "It's like eating foam," remarks one student.
Harvest This, Not That
The most important rule: If you're not sure what it is, don't eat it. Even if you know that a plant is edible, consider other factors before you collect and consume. Don't forage in streams, ditches or creeks where there may be chemical runoff. Avoid areas that may have been treated with herbicides, for example under power lines, says Bal.
"Be aware of where things like pesticides have been used. Be aware of who owns the land and what is the history of that area," she says.
Foragers should also avoid mine-waste remediation areas like those in the Copper Country that have been covered with soil and vegetation. "Don't harvest on stamp sands. Let the plants grow. Let them do their job," says Bal.
Final tips: even if you are hooked on the taste of cattail root or curly dock salad, enjoy in moderation. Too much of any plant can be an unpleasant surprise for your digestive system. And in support of sustainable landscapes, take only what you need.
Michigan Technological University is a public research university, home to more than 7,000 students from 54 countries. Founded in 1885, the University offers more than 120 undergraduate and graduate degree programs in science and technology, engineering, forestry, business and economics, health professions, humanities, mathematics, and social sciences. Our campus in Michigan's Upper Peninsula overlooks the Keweenaw Waterway and is just a few miles from Lake Superior.