Power to the People: Michigan Tech Student Brings Solar Energy to His Village in China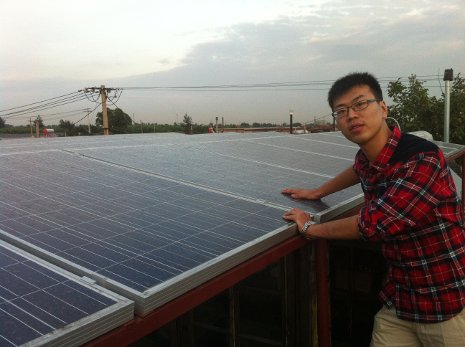 They can depend on it. Every Chinese New Year, the power goes out for everyone in Yawei Wei's hometown. That got him wondering: isn't there some way to get more electricity to China's rural villages?
Wei is a master's student in electrical engineering at Michigan Technological University. He is from Zao Yuan, a village of about 2,000 in Shanxi Province. Like most everyone else in China, the residents tune in to watch TV on New Year's Eve and heat food in their microwaves. Unfortunately, the local power grid can't handle the demand, resulting in a blackout.
Wei, whose specialty is power engineering, pondered a solution. Grid improvements would be costly. Like rural America in the 1930s, rural China lags behind cities when it comes to electrical service. He might not be able to keep the lights on during New Year's Eve, Wei thought. But he could do something. He could bring solar panels to sunny Zao Yuan. Specifically, he could bring them to his cousin's roof.
Wei had the skills to design and build a small solar facility, and he had the encouragement of his advisors, Bruce Mork, the Wiitanen Professor of Electric Power Systems, and Sumit Paudyal, an assistant professor of electrical and computer engineering. Professors Leonard Bohmann and John Lukowski also offered insight and support. The biggest hurdle was back home.
"The most difficult thing was trying to convince my family," Wei said. "That took three or four months."
No one else had ever done anything like this in Zao Yuan, and it's always hard to be the first at anything. Still, the project seemed too good to pass up.
To encourage rural electrification and support its over-capitalized solar panel industry, China was offering a heck of a deal to its citizens: install solar panels capable of generating up to 100 kilowatts and hook them to the grid, and the government will buy your electricity for twice the retail rate. That's right: twice the going rate.
Wei figured it would take about 10 years to pay back the cost of the solar panels, and he convinced his cousin to install a 10-kilowatt system of 48 panels above his roof. He formed a family-based company to install solar panels, and the project was completed in July with the enthusiastic support of the local power utility. "They think it might be part of a solution to help balance our electrical demand," he said. "People are using much more electricity than they used to, even five years ago."
As the first rural solar power project in Shanxi Province, it drew the attention of the Chinese news network CCTV-NEWS, which broadcast the story nationally in November. Wei and his family had visitors from several other rural regions throughout China who were interested in launching similar enterprises.
So far, the system has generated about $200 worth of electricity and has worked so well Wei and his cousin plan to add a 20-kilowatt system. And they are also encouraging others in their village to get on the solar bandwagon.
"People really know nothing about electricity, only that it can kill people," he said. "My cousin is teaching people in the neighborhood about it, and they are getting interested. It can be complicated, but if you follow the steps, you can have your own photovoltaic system."
He hopes his experience will inspire others. "I wanted to share this idea with other Michigan Tech students, not only Chinese but Indian and African," Wei said. "If I can do this in my hometown to benefit my people, maybe they can too. Mine is not a lonely case."
But what about the upcoming New Year's celebration, which falls on Jan. 31? The solar panels probably won't help the residents of Zao Yuan this year. But if the energy could be stored in batteries, or if the town had a wind generator, maybe the lights wouldn't go out. Maybe incorporating smart-grid technologies would make a difference. "We are talking with the local utilities," Wei said. "I think we can use technology to really help my people. It makes me feel really excited."
Michigan Technological University is a public research university, home to more than 7,000 students from 54 countries. Founded in 1885, the University offers more than 120 undergraduate and graduate degree programs in science and technology, engineering, forestry, business and economics, health professions, humanities, mathematics, and social sciences. Our campus in Michigan's Upper Peninsula overlooks the Keweenaw Waterway and is just a few miles from Lake Superior.