Biggest Snowball Honor Returns to Michigan Tech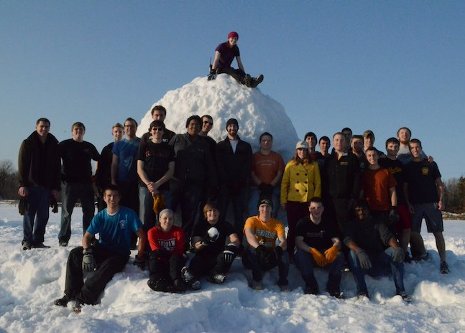 In 2006, Michigan Technological University was basking in Guinness glory, having nabbed three wintery world records. But records are made to be broken: one by one, each toppled in the intervening years, and those radiant moments of victory faded into memory.
Last winter, a hardy band of mechanical engineering students had enough. That was when Michigan Tech's ASME student chapter pledged to bring at least one of the University's long-lost Guinness World Records back to Houghton.
They ruled out the snowball fight. "The record is 5,000 people, and we cannot do that," said Parshwa Patwa, who organized the effort. The newest snow angel record was even more daunting: nearly 9,000.
But the world's biggest snowball? The record, held by Dartmouth College, did not seem insurmountable. So, with help from the Douglass Houghton Student Chapter of the Michigan Society of Professional Surveyors, they gathered 30 strong on the softball field and began to roll. It took two and a half hours, but in the end, they created a massive snowball with a circumference of 32.94 feet, or 10.04 meters. Estimates were that it weighed in the neighborhood of three or four tons, Patwa said.
The weather helped. "The day we broke the record was the nicest day in the past two weeks," said Patwa. The snow was so warm and sticky that the students did not need to contact firefighters to compact the snow with more water, as they did in 2006.
Licensed surveyors Steven Hein and Casey Storm verified the snowball's size, and Patwa, a third-year mechanical engineering major, captured the entire ordeal on a two-hour video. Guinness verified the record, and Patwa received the official certificate on Sept. 18.
In retrospect, rolling an enormous snowball seems like an unusual undertaking for someone from Gujaret, India, where summer temperatures can soar to over 120 degrees and snow is unheard of. Patwa said that never crossed his mind. "The reason we did it is because the award was taken away, and we wanted to get it back to Michigan Tech," he said. "We cannot just lose stuff."
Michigan Technological University is a public research university, home to more than 7,000 students from 54 countries. Founded in 1885, the University offers more than 120 undergraduate and graduate degree programs in science and technology, engineering, forestry, business and economics, health professions, humanities, mathematics, and social sciences. Our campus in Michigan's Upper Peninsula overlooks the Keweenaw Waterway and is just a few miles from Lake Superior.