Donors Underwrite New Video Scoreboard for Michigan Tech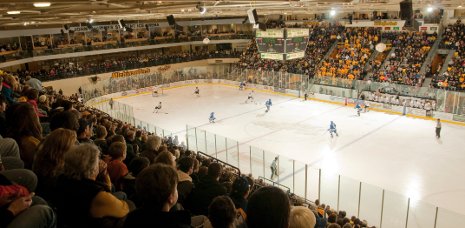 Work will begin immediately on a new $615,000 video scoreboard for Michigan Technological University's John J. MacInnes Student Ice Arena. Completion is scheduled for this summer. Michigan Tech's Board of Trustees today approved the purchase of the scoreboard, funded entirely by donors.
The project calls for a four-sided unit to be installed over center ice of the arena. Each side of the scoreboard will be approximately 15 feet high by 14 feet wide, greater dimensions compared to the existing scoreboard. The new board features main video screens on each of the four sides as well as areas for displaying score and other game information.
"Video boards are the standard in Division I hockey, and we're thrilled to be able to make this enhancement to our fan experience," said Michigan Tech Athletic Director Suzanne Sanregret. "We will be able to provide our fans with game replays, highlights and information.
"Also included in this project are improvements to our video production process, which will help several of our other sports with improved web streaming capabilities."
Funding for the project came exclusively from private donors. Numerous Michigan Tech alumni and friends made gifts to the project. Significant lead contributions were provided by Ruanne and John Opie '61 of Birmingham, Mich., Jolayne and Dan Farrell '60 of Houghton, Mich., and Venus and John Rockwell '79 of San Jose, Calif.
"Ruanne and I are pleased to join with other alumni and supporters of the hockey program by matching their donations to the project," said Opie, a member of the Michigan Tech Sports Hall of Fame. "The video scoreboard will be an important addition to the arena."
Added Sanregret, "I am impressed with and thankful for the generosity of our significant contributors. They have provided the resources to invest in our program because they believe in its future."
Mitsubishi Electric DiamondVision has begun building Tech's custom video board. The Warrendale, Pa.-based company has produced displays for many collegiate and professional facilities including the one at Texas Stadium, home of the Dallas Cowboys.
"Mitsubishi is proud to be a part of this exciting addition to the MacInnes Student Ice Arena and that the Athletics Department has chosen our state-of-the-art products for this installation," said Todd Stih, National Sales Manager for Mitsubishi Electric Power Products. "The display products being supplied are the same level of quality as used in many professional installations. I believe Tech hockey fans will appreciate the quality of the products and the enhanced game day experience they provide."
Michigan Tech alum Mark Rakoski '95, an executive director at Mitsubishi Electric, was integral in making the video board project a reality.
"Thanks to Mark for partnering with Michigan Tech Athletics," said Sanregret. "He helped coordinate things with his ties to both Michigan Tech and Mitsubishi Electric."
A production room with video equipment will be installed in the ice arena and changes made to the press box to accommodate the new system. Total Sports Entertainment, based in LaCrosse, Wis., has been contracted to complete that phase of the project.
The video board is the latest in a series of upgrades to the MacInnes Student Ice Arena in recent years. The seats were replaced and the floor was refinished in 2006. The Ruanne and John Opie Suites were constructed in 2009. A new ice plant was installed in 2012.
"I want to thank Suzanne and all of our alumni who have come forward to help in funding the video board," said head hockey coach Mel Pearson. "A video board will not only enhance the game night experience for our fans, but will also make our arena the premier facility in the new WCHA."
Michigan Technological University is a public research university, home to more than 7,000 students from 54 countries. Founded in 1885, the University offers more than 120 undergraduate and graduate degree programs in science and technology, engineering, forestry, business and economics, health professions, humanities, mathematics, and social sciences. Our campus in Michigan's Upper Peninsula overlooks the Keweenaw Waterway and is just a few miles from Lake Superior.