Late Spring Puts the Pressure on Facilities Management
By Kevin Hodur | Published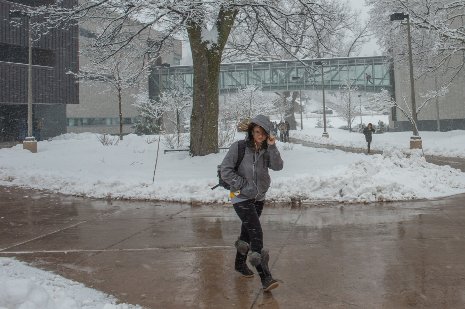 Winter storm warnings are hardly unusual in the Keweenaw. An average winter usually has days and days when the forecast is simply "snow." And getting at least six inches of snow a week is quite normal.
But it isn't normal for April, especially the second half of April. This winter, April has seen more snow than November or December, and the late spring snowfall is playing havoc with commencement plans.
While students are pushing to finish projects, presentations and exams, Facilities Management staff too are hard at work, trying to move away the stubborn remnants of winter and prepare for coming commencement celebrations.
George Butvilas, interim director of Facilities Management, laughs slightly when asked about how this winter has gone. "It hasn't been easy," he says. "We're woefully behind this year because of the snow."
Normally before commencement. Facilities takes down the broomball courts, repairs the ground underneath, sweeps up the stamp sand used throughout the winter, and then begins the setup process for the ceremony at the SDC. With considerable snow on the ground a week before the end of the term, workers are hard-pressed to prepare everything on time.
"It'll be a real trick," says Butvilas.
Outside, campus doesn't show the usual signs of impending summer. Snow still covers most of the ground, and even the sun blazing in a crystal blue sky is having a hard time digging all the way down to the dirt and grass underneath.
That means Lynn Watson is feeling frustrated. Watson, the University's master gardener, is normally well into her spring routine. This year, however, all of the preparation is done, but her crew has yet to dig in.
"The plants are ordered, the tools sharpened, and the summer Earth Day seeds are winter-sown," she says. "And still the snow comes. The indoor plants are being leaf-shined and fertilized. "And still the snow comes."
Still, even with the unfavorable weather, a few bits of gardening can be completed. "The outdoor fertilizer is being spread on the snow where the garden sites are flat, and accessible trees have been pruned," says Watson. "The Facilities greenhouse shelters sprouts of roses, lilies, hollyhocks, geraniums, and tomatoes. South sides of buildings, where reflected heat has melted snow to the ground, have started to be cleaned and weeded. Snagged trash is being collected."
Even with temperatures forecast to rise, the snow will take some time to clear away, and then the debris and sand will have to be hauled out. In the meantime, Watson and her team have been trying to keep busy with some of the technical elements of the job. "Plant listings for the Michigan Tech Campus Gardens Botanical Database have been brought up to date," she says. "The total now stands at 1,394 different species. We will continue to care for indoor plants and begin to make labels for outdoor ones. We work within the database, linking species with pictures and listing individual species within each garden site on campus.
"When the snow melts, the Michigan Tech gardeners will be ready," Watson declares.
Butvilas is busy developing a new future for Facilities, too. This summer will see the launch of a new online system for maintenance. Staff who make maintenance requests will be able to check the status and track when a job will be completed.
"We're really bringing maintenance into the 21st century," he says.
This summer will also see the annual shutdown of the steam generator for maintenance and upkeep, as well as an army of staff working through the residence halls to prepare them for summer program guests. Some of the electrical feeds for the main buildings also require servicing, and several new projects will begin, including the first steps in the Alumni Way plan.
Butvilas, from his windowless office down near the waterfront, can't see campus. Instead, the walls are covered with maps and plans, images of what is being done and what is yet to come. The implementation of Geographic Information Systems (GIS) data has yielded a database for tracking service and equipment. "We can look at a map of a parking lot, and I can pick out a single light pole," Butvilas says. "We have the data in this system where I can tell you what kind of bulb that pole uses and when it was last replaced.
"It's pretty remarkable stuff. These are thinking jobs."
Yet, even with the press of Spring Commencement and the flurry of plans for the summer, Butvilas can still appreciate the work of his staff and how it contributes to student success.
"We're here to make all of this work for everyone," he says. "We're a big part of helping these students getting where they need to be, and going up and getting their diplomas. I'm proud of that."
Michigan Technological University is a public research university, home to more than 7,000 students from 60 countries. Founded in 1885, the University offers more than 120 undergraduate and graduate degree programs in science and technology, engineering, forestry, business and economics, health professions, humanities, mathematics, and social sciences. Our campus in Michigan's Upper Peninsula overlooks the Keweenaw Waterway and is just a few miles from Lake Superior.