Sweating It Out with Employee Fitness Programs
By Jennifer Donovan | Published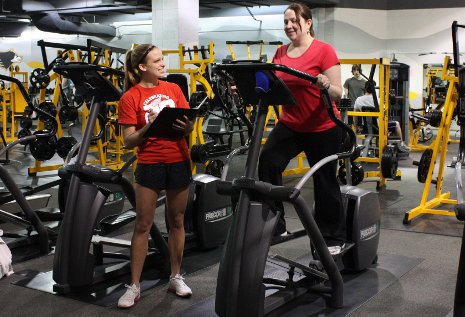 Crystal Verran wanted to get fit. She knew what she had to do, but she thought she needed a little help building a fitness program that she could stick to. First she tried a group activity through SWEAT (Social Wellness, Employee Action and Teamwork) program, a new, free program that supports employee wellness through group activities and one-on-one training.
Verran participated in SWEAT's pilot program. "My group did cross-country skiing," says Verran, assistant director of University Marketing and Communications at Michigan Tech. "I couldn't go to many of the meetings, but I still had fun, and it was a way to stay active."
After the pilot program, SWEAT offered Verran an opportunity to work one-on-one with a personal trainer. She jumped at the chance.
"Our first meeting was just to connect with each other, so she could build a plan for me. Then she had to get the plan approved by her professor, since SWEAT personal trainers are kinesiology and integrative physiology students. The program gives them an opportunity to get hands-on experience," Verran explains. "Through SWEAT, my trainer, Rosanna Chopp, and I are scheduled to meet four times, but she's willing to meet more than that if I want to. She's just been really pleasant to work with."
SWEAT is new to Michigan Tech this year. The free program offers activities such as yoga, pilates, skiing and hiking, as well as personal training sessions and fitness classes. A new SWEAT program starts every six weeks for 20 to 25 interested employees. So far about 60 people have gone through the program, with more waiting their turn. Members of SWEAT can also receive discounts on membership at the Student Development Complex (SDC) and community program punch cards.
For more information, or to be added to the SWEAT email list, contact the Benefits Office at benefits@mtu.edu.
Tech faculty and staff looking for other ways to get fit can use their TechFit benefit to register for a membership or community programs at the Student Development Complex (SDC). Community programs are open to all and run for five to eight weeks. Occasional Dollar Days give people an opportunity to take an introduction to a course for $2. A full catalog of programs is available at http://sportsrec.mtu.edu.
The TechFit benefit offers Tech employes up to $150 a year toward the cost of personal wellness programs, including community programs and SDC membership. TechFit is also accepted by a number of local gyms and sports rehabilitation clinics, including Snap Fitness, Curves, Weight Watchers, TOPS, the Copper Island Beach Club, Aspirus Fitness Center, and Portage Health Fitness Center, among others.
Another wellness program at Tech is HuskyPAW, where faculty and staff earn points by participating in wellness-related activities. The points can be redeemed for prizes, such as SDC passes and gift cards to the Campus Bookstore. The University also offers personalized Healthy Lifestyle Coaching online or by phone through Aetna Health Connections.
"My trainer explains why certain exercises are helpful and what they do for me," Verran says. "I was sore all over for a while, but it was worth it. I just have to stick to it."
Michigan Technological University is a public research university, home to more than 7,000 students from 54 countries. Founded in 1885, the University offers more than 120 undergraduate and graduate degree programs in science and technology, engineering, forestry, business and economics, health professions, humanities, mathematics, and social sciences. Our campus in Michigan's Upper Peninsula overlooks the Keweenaw Waterway and is just a few miles from Lake Superior.