Center for Technology & Training Brings New Tools to Transportation Technology Transfer
By Jennifer Donovan | Published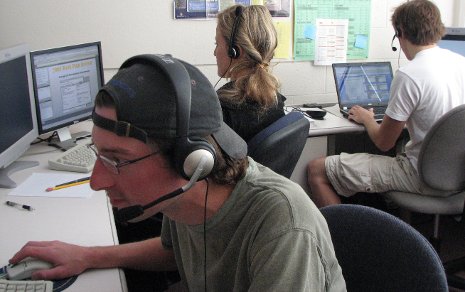 Web-based training is extending the reach of Michigan Tech's transportation technical assistance programs. Despite rising costs of training and shrinking budgets of county road commissions, cities, towns and villages throughout Michigan and the nation, a new Center for Technology and Training (CTT) at Michigan Tech is making more training available at a lower cost.
The CTT developed from a three-year experiment that replaced traditional classroom and textbook training with Internet webinars, harnessing this emerging technology to expand the center's reach while reducing costs—both for the trainers and participants. Some of the webinars have attracted more than 750 people in 13 states. "They have taken desktop web conferencing to a new level at Michigan Tech by conducting large-scale, fully interactive training sessions—over 900 hours of webinar broadcasts in 2009 alone," said Chad Arney, systems administrator for Educational Technology Services. "This is a pivotal technology for the programs this group offers."
The broad reach of web-based training demanded a new technology transfer model and a new organizational structure to support it. So the CTT was established. Within the Michigan Tech Transportation Institute (MTTI), the CTT is directed and managed by the staff that previously supported the Local Technical Assistance Program (LTAP) and the Technology Development Group (TDG).
"People we work with throughout Michigan, nationally and even on campus have been confused for years by the LTAP and TDG monikers," said Terry McNinch, CTT director. "LTAP is a funded project. TDG was a group of people working on funded projects. It sounds straightforward, but it didn't turn out that way, because the same people were involved in both areas. This should clear it up and give us a single overall identity."
Larry Sutter, professor and director of MTTI, said: "The establishment of the CTT allows all our programs to address technology transfer needs within the transportation industry. We are excited about adopting new delivery technologies and expanding Michigan Tech's outreach activities."
The CTT will increase its effort to provide reasonably-priced online training on a wide variety of transportation and engineering related topics. "We hope that this change and the switch to webinar broadcasts will widen the bottleneck and allow us to reach more people at less cost and provide a quicker response when training needs arise," said Tim Colling, senior research engineer and CTT assistant director.
The CTT also plans to expand into other states by working with the other 50 LTAPs and the 7 Tribal Technical Assistance Programs (TTAP), as well as national professional organizations such as the National Association of County Engineers (NACE). "We're relying on our sister LTAP/TTAP centers and industry partners to promote the events and help us identify content," said Christine Codere, CTT office manager. "We can't do this alone. It takes a lot of cooperation to reach 38,000 counties and cities."
Reorganization will also benefit projects such as the RoadSoft roadway management system and the MERL project estimator. CTT supports more than 300 agencies using RoadSoft in Michigan, and requests to license the software come from as far away as Brazil. "The webinar technology enables us to train people to use these tools no matter where they are in the world, "McNinch explained. "And external licensing brings financial resources into Michigan, which are poured back into the development process. That's good for Michigan's taxpayers and good for Michigan."
Michigan Tech houses a wide complement of transportation-related programs partnering in research, technology transfer, education and workforce development. Under the MTTI umbrella, federally funded centers collaborate with state and internally funded centers and programs such as the University Transportation Center for Materials in Sustainable Transportation Infrastructure (MiSTI), the Rail Transportation Program, the Center for Technology and Training, Michigan's LTAP, TTAP, the Michigan Department of Transportation-funded Transportation Materials Research Center and the Center for Structural Durability. For more information, visit www.mtti.mtu.edu.
Michigan Technological University is a public research university, home to more than 7,000 students from 54 countries. Founded in 1885, the University offers more than 120 undergraduate and graduate degree programs in science and technology, engineering, forestry, business and economics, health professions, humanities, mathematics, and social sciences. Our campus in Michigan's Upper Peninsula overlooks the Keweenaw Waterway and is just a few miles from Lake Superior.