A Look at Clouds from All Sides Now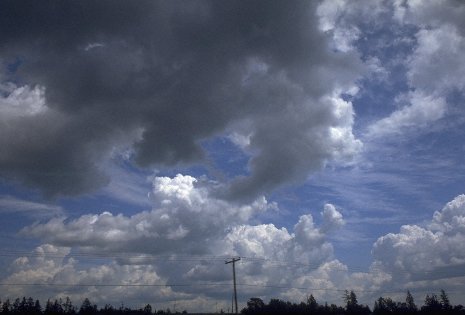 Clouds play a crucial part in regulating climate, but precious little is actually known about clouds' inner workings and their role on Earth. A group of Michigan Technological University scientists hopes to change that, thanks to a $1.4 million grant from the National Science Foundation.
The grant provides the lion's share of the funding for a chamber that will allow researchers to study cloud processes under realistic temperatures, pressures, and humidity levels, mimicking conditions from sea level to the lower levels of the stratosphere, where jet planes fly.
The chamber, to be located in the Great Lakes Research Center, won't be built until later in 2011, but lead investigator Raymond Shaw expects it will be in the shape of a cylinder, two meters in diameter and one meter high. "With a volume of pi, we have taken to calling it the pi can," says Shaw, a professor of physics.
One thing that makes the pi can special will be its ability to recreate something that all air travelers are familiar with: turbulence. "We will be able to cool the top surface of the chamber and heat the bottom, so air plumes are constantly rising and falling, mixing and stirring, creating a fluctuating, but well characterized, environment for cloud formation," Shaw says.
Clouds are much more important than most people give them credit for, he says. "If you imagine looking at the Earth from outer space, what you see is really only a little bit of earth. You actually see a lot more clouds and oceans. We call it Planet Earth, but it's really Planet Cloud."
Clouds cool the world by reflecting sunlight; they also warm it by keeping warmth from radiating into outer space. Yet clouds are hard to quantify. Small and scattered, each one is made of countless tiny droplets that freeze in strange ways, at temperatures well below the textbook 0 degrees Celcius. How bright clouds are, and how much moisture they may contain, are variables to consider. "We want to better understand clouds so we can understand their importance to climate," Shaw says. "We also hope to address some very immediate, practical questions, like 'Is it going to rain on my picnic Friday?'"
In addition, the chamber will help advance research in a variety of related areas. Lynn Mazzoleni, an assistant professor of chemistry, will use the chamber to study atmospheric pollutants and particulates, called aerosols, which undergo chemical changes when they enter clouds' watery environment.
Shaw expects that the chamber will attract scientists from all over the world. "It's a major research instrumentation program," he says. "The real scientific work will come after the chamber is built and proven. We hope this can become a research destination."
In addition to Shaw and Mazzoleni, other investigators on the project are physics faculty members Will Cantrell and Claudio Mazzoleni. Simon Carn and Bill Rose, of geological and mining engineering and sciences, and Paul Doskey and Judith Perlinger, of civil and environmental engineering, are also contributing to the project. Joerg Schumacher from Technische Universität Ilmenau, an expert in computational studies of turbulence, is a member of the proposal team.
Michigan Tech's Departments of Physics and Chemistry; the Earth, Planetary and Space Sciences Institu the College of Sciences and Arts; and the Office of the Vice President for Research provided support and an additional $600,000 to fund the cloud chamber project.
Michigan Technological University is a public research university, home to more than 7,000 students from 54 countries. Founded in 1885, the University offers more than 120 undergraduate and graduate degree programs in science and technology, engineering, forestry, business and economics, health professions, humanities, mathematics, and social sciences. Our campus in Michigan's Upper Peninsula overlooks the Keweenaw Waterway and is just a few miles from Lake Superior.