Detroit Youth Learn About Technical Theater
By John Gagnon | Published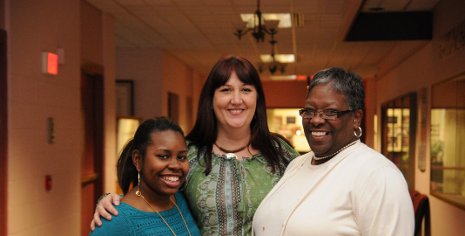 Sixteen performing arts students from Detroit visited Michigan Technological University late last week as part of an outreach program that immersed them in the technical aspects of performance. These students were accustomed to be onstage; Michigan Tech put them backstage.
The group, from Cass Technical High School, showed off their skills at a half-hour performance at the McArdle Theatre on Thursday night; then they spent Friday learning about such matters as editing and engineering.
Patricia Helsel, assistant professor of visual and performing arts (VPA), said the endeavor was meant to be both "an initiation and an inspiration."
She said this kind of technical exposure is helpful because the business these days involves so many media—from theater to television, from audio books to gaming. "We wanted to inspire them with the possibilities of our program," she said. She is proud of what Tech offers and describes it as "entrepreneurial"—geared to "the working actor" who wants to be "versatile."
Helsel and her VPA colleagues provided a wide range of activities. For one exercise, the voice was dropped from an animated film, and the Cass Tech students had to create new voice. Instructor Dennis Kerwin used cell phones as part of an improvisational exercise.
VPA students also had a hand in this coaching, and it was an education for them, too, Helsel said. "To learn a process and then teach a process--you understand the whole process better."
This is Helsel's fourth year at Tech, and this kind of undertaking is the fiber of her spirit. She says of the Cass Tech students: "Their enthusiasm is pretty catching."
Marilyn McCormick brought these Detroit students to Tech. She has taught performing arts at Cass Tech for 33 years. About 300 of the high school's 2,200 students are in her program.
"Our students are exposed to the creative side and performing," she said. "They need more awareness of the technical part, and Michigan Tech is one of the better universities in terms of what it is doing with technology and media. Cass Tech is on the cutting edge, and we want to stay on the edge--to be involved in theater and its newness."
This was the Detroit teacher's first visit to Michigan Tech. "I'm more impressed than I thought I would be," she said. "This is way more than I expected. The staff was welcoming. They embraced the children's questions."
She said her students "are passionate about the craft and about learning."
One of them is Paige Gilbert, 17, a senior. "It was interesting to see what goes on behind the scenes," she said.
Gilbert wants to be an actor. She's been performing since she was young. "I enjoy the stage. It's just what I do. I don't know how to do anything else."
She said she's got what it will take to succeed: "passion and discipline."
She also has confidence. "My chances of making a living at this are huge," she said.
McCormick said the Cass Tech-Michigan Tech connection might be the beginning of "a legacy." And Helsel would like to expand the program to other schools. "I'd love that," she said.
Michigan Technological University is a public research university, home to more than 7,000 students from 54 countries. Founded in 1885, the University offers more than 120 undergraduate and graduate degree programs in science and technology, engineering, forestry, business and economics, health professions, humanities, mathematics, and social sciences. Our campus in Michigan's Upper Peninsula overlooks the Keweenaw Waterway and is just a few miles from Lake Superior.