The wolf population doubled to 28. The moose population declined 28%. More pups, increased predation and pesky parasites are among highlights of the 63rd annual Isle Royale Winter Study.
With fieldwork's return to pre-pandemic levels, Michigan Technological University researchers were able to estimate wolf and moose abundance on Isle Royale for the first time in two years. The seven-week expedition by ski and plane took place Jan. 25 through March 6 on the 210-square-mile island, part of a roadless Lake Superior archipelago 56 miles from Michigan's mainland and 18 miles from the Minnesota shore. In addition to population estimates, updates about the lives of wolves and moose are included in the annual Winter Study report published by Sarah Hoy, John Vucetich and Rolf Peterson of the Michigan Tech College of Forest Resources and Environmental Science (CFRES).
About the Researchers
Wolves Find a Foothold on Isle Royale
Evidence collected over the past year indicates the reintroduced wolf population is well-established and healthy. At least five litters of pups have been born on Isle Royale since wolves were translocated to the island in 2018-19, said Hoy, CFRES research assistant professor. She noted one litter was born in 2019, two in May 2020 and two more in May 2021.
"Each time we carried out aerial surveys this winter, we saw wolf tracks across many parts of the island and we also regularly saw groups of wolves traveling or resting together," said Hoy. "It is such a pleasant change from five years ago when there were only two wolves on the island and the future of the wolf population looked pretty bleak. It just goes to show how quickly wolf populations are able to thrive in places where they are free from persecution." The wolves appear to be living in two packs, one in the island's western region and the other in the eastern.
Moose Feel the Effects of Predation
While the wolf population is thriving, moose seem to be having a harder time, said Hoy. Estimates from this winter indicate there are 1,346 moose on the island, down 28% from the 1,876 estimate in February 2020 — after the moose population experienced rapid growth between 2010 and 2019. Researchers conducting the winter study didn't spot many moose with calves, however. Only 4% of the moose counted during the annual survey were calves, the lowest number observed since 2007.
Part of the population drop can be attributed to wolf kills, which accounted for approximately 8.7% of moose mortalities over the past year. Hoy said it's the highest predation rate since 2011. Other factors include blood-sucking winter ticks and a shortage of balsam fir, the food of choice during winter when moose dietary options are limited.
About the Work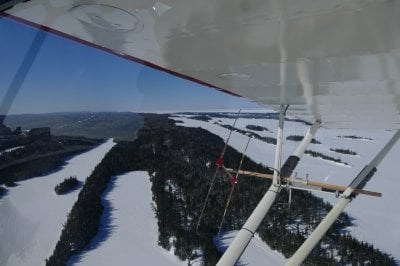 Designated a national park in 1931 and an international biosphere reserve in 1980, Isle Royale National Park covers 850 square miles and is home to the longest-running predator-prey research project in the world. Read the latest Isle Royale Winter Study report. Discover more about the research, the Isle Royale wolf and moose population, and the island:
Wolves and Moose of Isle Royale
Wolves and the Isle Royale Environment
"Over the past year we found an unusually high number of moose that appear to have died due to malnutrition," Hoy said. "The population appears to be suffering from a food shortage, especially in winter when moose don't have many good options of things to eat."
Researchers think the poor growth of balsam fir saplings they observed during fieldwork is partially due to moose overbrowsing in previous years. An outbreak of spruce budworm, a moth larvae that feeds on the needles of balsam fir and white spruce, is an additional peril. Ground-based field crew members Ky and Lisa Koitzsch reported that spruce budworm larvae appear to have eaten needles and buds on many trees in some areas of the park.
Winter ticks also challenge the moose population; researchers observed that infestations of the parasitic arachnids were particularly heavy this past year. Recent Michigan Tech research suggests winter tick burdens tend to increase following hot summers, Hoy said. Researchers suggest warmer temperatures may accelerate tick egg development and increase egg survival. An individual moose may acquire 20,000 ticks or more in a single year. Blood loss due to tick infestation causes anemia and malnutrition. The parasites can also reduce the chances of female moose successfully raising calves and adult moose surviving in winter. And, just as in any ecosystem, all of the factors affecting moose health are interconnected. "There is some evidence to suggest that moose with severe parasite burdens may be more vulnerable to predators, such as wolves," Hoy said.
This winter, researchers worked in partnership with the National Park Service (NPS) and Grand Portage Band of Lake Superior Chippewa to outfit 19 moose with GPS collars, part of an ongoing project to assess the influence of predation on moose now that the wolf population has been restored. "Data collected by these collars will also give researchers a better understanding how a moose's behavior, including activity patterns and habitat selection, are influenced by the animal's nutritional condition, their diet and weather conditions," said Hoy.
Hoy, Vucetich and Peterson also worked in partnership with the NPS and other collaborators to outfit wolves with GPS collars to help monitor the wolf population. The park service will release data on this project at a later date.
Partnering for Better Moose and Wolf Tracking
From major funders to boots (and skis) on the ground, Winter Study requires and receives ongoing support from contributors including the National Park Service, National Science Foundation and Detroit Zoological Society. See the full list of support and contributions in the Winter Study report, and learn more about what it takes to conduct winter research on the island (including who skis the farthest and bakes the best bread) in Michigan Tech Magazine's 2019 feature, "Supporting Winter Study."
Watch Ecologists Speak for the Wolves video
Ecologists speak for the wolves.
Michigan Technological University is a public research university founded in 1885 in Houghton, Michigan, and is home to more than 7,000 students from 55 countries around the world. Consistently ranked among the best universities in the country for return on investment, Michigan's flagship technological university offers more than 120 undergraduate and graduate degree programs in science and technology, engineering, computing, forestry, business and economics, health professions, humanities, mathematics, social sciences, and the arts. The rural campus is situated just miles from Lake Superior in Michigan's Upper Peninsula, offering year-round opportunities for outdoor adventure.