Two alumni are helping launch a successful plan to make it easier for students of color to picture themselves attending Michigan Tech.
Arick Davis and Donzell Dixson are the first alumni recruitment specialists in a program launched in 2020 that pairs young alumni of color with prospective college students.
The initiative aims to broaden and deepen student, staff and faculty perspectives. As Michigan Technological University's Vice President for Diversity and Inclusion Wayne Gersie explained in a Diversity and Inclusion Newsblog post, diversity matters. "Bringing together people from various backgrounds can help generate new ideas, transform vantage points and catalyze methods for problem-solving you may have never considered before," said Gersie.
"Quite simply, diversity fosters innovation."
Under the Tech Forward Umbrella
Enlisting the help of alumni to better serve pre-college students and establish a more diverse campus community falls under one of eight initiatives Michigan Tech developed through a series of campus conversations in 2018. Tech Forward, as it's called, is a future-focused, action-oriented means to prepare both students and the University community for the needs of tomorrow. In addition to diversity and inclusion, the initiatives lay out pathways to address sustainability and resilience; policy, ethics and culture; data revolution and sensing; health and quality of life; autonomous and intelligent systems; advanced materials and manufacturing; and natural resources, water and energy.
Davis and Dixson's work has proved to be an effective way to enroll more students from underrepresented minorities at Michigan Tech.
In 2019, one minority student chose to come to Michigan Tech from the Minneapolis area. In 2020, the number rose to seven. In Grand Rapids, Michigan, 18 students from minorities chose Michigan Tech. In 2020, 33 enrolled.
Huskies Pair Off with Prospective Students
Davis earned his electrical engineering degree in 2016. Dixson graduated with his degree in finance in 2014. Both earned accolades along the way for entrepreneurship, mentorship and the motivational energy they brought to everything they accomplished during their academic careers — and continue to bring to their work today. Dixson is located in Minneapolis and Davis is downstate in Grand Rapids. These are two of several regions where MTU sees opportunities to expand awareness and extend outreach. The alumni recruitment specialist positions include training and pay, and take place in close collaboration with Michigan Tech Admissions and its individual regional admissions managers (RAMs).
The position isn't a full-time job. Davis, who serves on the Michigan Tech Alumni Board, said it feels like a continuation of the mentorship and referrals he's been doing all along. Dixson was already involved in mentoring through both his job as a senior business analyst at Target and as founder and CEO of Dixson Dynamics, where he focuses on work as a life coach and motivational speaker.
When deciding who might best pilot the initiative to promote a diverse campus population, Dixson and Davis immediately came to mind, said Kellie Raffaelli, chair of MTU's Diversity and Inclusion Task Force. Now associate dean for student engagement, Raffaelli met Dixson and Davis through the Michigan College and University Partnership, or MiCUP, a partnership with state community colleges that brings community college students to Michigan Tech every summer for seven weeks to complete a research honors course, project and presentation — and experience what it would be like to complete their degree at a four-year university. Like their counterparts in the highly selective MiCUP Scholars Program, Davis and Dixson worked alongside staff, faculty or graduate student mentors on research and got a sense of campus and community life.
Watch MICUP student, Donzell Dixson video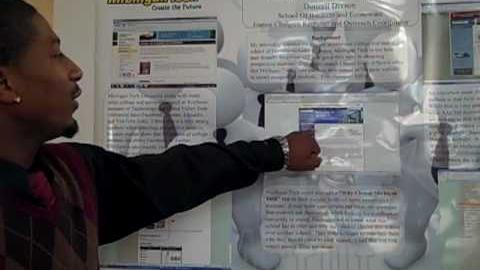 Dixson's MiCUP presentation at Michigan Tech (he was already looking at ways to make the University's message stronger).
"Asking Donzell and Arick to participate as recruitment specialists was a no-brainer," said Raffaelli. "They have successful careers and deep community connections. They understand the gig economy and have hands in everything: empowerment, education and equity."
In their efforts to encourage students from underrepresented communities to earn their degree at Michigan Tech, initiative leaders agree that maintaining momentum and results relies on authentic connections — human-to-human interactions that offer genuine value to pre-college students no matter where they decide to go.
"We want real, honest communication," Raffaelli said. "It's about more than Michigan Tech. They (Dixson and Davis) are building mentoring relationships."
"What we hoped for lined up in real life."
Raffaelli said the success of the initiative revolves around intentional, consistent collaboration with the enthusiastic participation of Kyle Rubin, assistant vice president for enrollment management, and his team. More alumni are already getting involved in areas where Michigan Tech sees opportunities for outreach and enrollment increases, including Chicago.
"The program is a complementary element with the RAMs, and a whole family experience for prospective Huskies," said Raffaelli.
"For parents, seeing successful alumni who look like your child contributes to your comfort level."
Speaking of families, there's a big piece of the project that hasn't yet been achieved. "The dream is to have a picnic," Raffaelli said. "Bring everyone — incoming and current students, their families, alumni — and have a big community party. We didn't get to do that as intended because of the pandemic. But we will."
Next in this three-part series: Meet Davis and Dixson. Find out how and why they reach out to prospective Huskies. Then stop by another picnic as Michigan Tech's African-American Alumni Association (A4) carries on a longtime tradition of bringing the Lower and Upper Peninsulas together in Detroit. This year, the party is in the city's Greektown, and there are plenty of special guests — including alumni, new and prospective students, their families and Michigan Tech's first Vice President for Diversity and Inclusion.
Michigan Technological University is a public research university founded in 1885 in Houghton, Michigan, and is home to more than 7,000 students from 55 countries around the world. Consistently ranked among the best universities in the country for return on investment, Michigan's flagship technological university offers more than 120 undergraduate and graduate degree programs in science and technology, engineering, computing, forestry, business and economics, health professions, humanities, mathematics, social sciences, and the arts. The rural campus is situated just miles from Lake Superior in Michigan's Upper Peninsula, offering year-round opportunities for outdoor adventure.