The inaugural fellowship, a highly competitive program through the Association of Public and Land-Grant Universities (APLU), builds up researchers in academic leadership.
APLU's Council on Research (CoR) brings together senior research officers working at public research universities from across the country and they have named eight individuals to its inaugural class of CoR Research Leader Fellows. One of them is Jason Carter, the chair of the Department of Kinesiology and Integrative Physiology.
As CoR puts it, the fellowship enables individuals who aspire to become vice presidents, vice provosts or vice chancellors of research to develop critical new knowledge and skills essential to research support and competitiveness.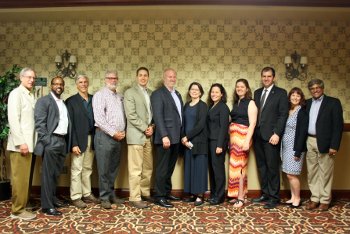 "Shifting from thinking as an individual researcher to thinking about groups of researchers, and thinking about the institution as a whole, forces you to have a broader perspective," Carter says. "It's a shift to how can I help others as opposed to how can I help myself."
Likewise, as a researcher learns to step back from the bench and see the university as a whole, they need to have a practical understanding of the processes that run research administration, development, compliance, communication and more. Few researchers have the chance to learn about these processes within their own institution.
Carter says serving as a department chair has set him up well for the fellowship, and so far, has found the CoR program a great way to integrate that knowledge. In particular, he thinks it builds on the decision-making skills researchers develop to clarify research objectives and prioritize projects.
"As scientists, we do that all the time in our grants," he says. "As a research administrator, you have to make those same kinds of decisions at a higher level, which requires more patience and the resolve to work with other people."
"This is an important national program developing the next generation of research administrators. Selection was very competitive—Jason is a recognized leader for innovative solutions to reducing administrative burden."
Carter and his cohort will go through an 18-month coaching program, which includes several site visits to other APLU universities, with a focus on increasing the depth of the group's knowledge to: develop expertise and skill in multiple areas relevant to leading a research agenda within an academic institution; experience broad leadership training, peer mentoring, and networking across public and land-grant institutions; and contribute new knowledge and new effective practices to benefit all CoR members, APLU institutions, and stakeholders of the academic research enterprise.
Carter is focusing on three areas—research development, compliance and core facilities. For the final one, he is the lead on the core facilities team, which will develop a guide of best practices for managing university core facilities with shared instrumentation like scanning electron microscopes, supercomputers, molecular sequencing equipment or other lab equipment operated by the university.
Carter hopes the proactive approach through APLU's CoR Research Leader Fellowship will help Michigan Tech.
Michigan Technological University is a public research university founded in 1885 in Houghton, Michigan, and is home to more than 7,000 students from 55 countries around the world. Consistently ranked among the best universities in the country for return on investment, Michigan's flagship technological university offers more than 120 undergraduate and graduate degree programs in science and technology, engineering, computing, forestry, business and economics, health professions, humanities, mathematics, social sciences, and the arts. The rural campus is situated just miles from Lake Superior in Michigan's Upper Peninsula, offering year-round opportunities for outdoor adventure.