Energy storage can learn a lot from ecology—and that's what one engineer plans to do with her early career award grant from the National Science Foundation (NSF).
Batteries have a lot in common with fish. And flocks of birds. And maybe even herds of caribou and tundra landscapes.
Lucia Gauchia sees the connection. She has a dual appointment in electrical engineering and mechanical engineering as an assistant professor at Michigan Technological University. As the US looks to update its electrical grid infrastructure, Gauchia plans to help by learning more about how ecological systems can inspire better designs and scalability.
For her creative and in-depth interdisciplinary work, she earned a prestigious CAREER Award from NSF. The grant is $500,000 that covers five years of research.
The Secret Lives of Batteries
When batteries drain, people say they're dead. Recharging them is not the only way to bring them back to life: Gauchia studies what's called a battery's second life, when it is repurposed for a new use.
"There is a life cycle for batteries that includes different applications and tasks," she says. "But everything was designed and tested for the first life, even if they end up having multiple lives."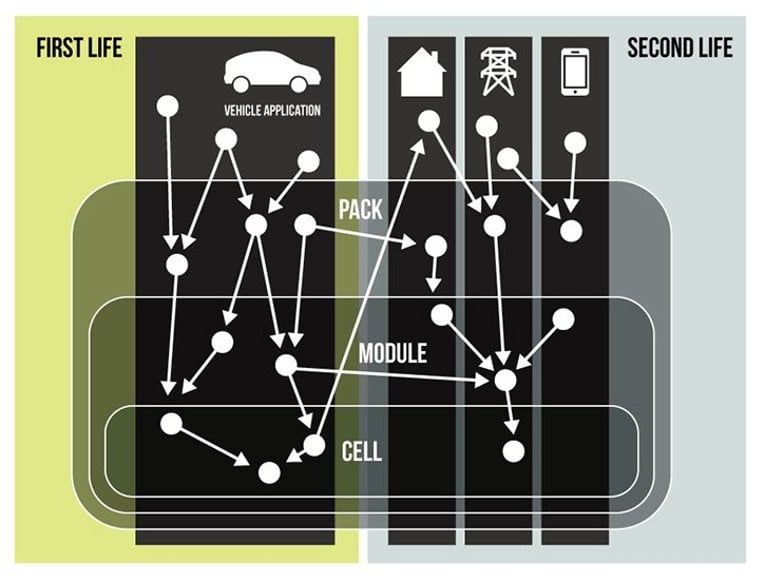 Packs and Populations
The challenge in Gauchia's research is that current battery testing methods are insufficient for measuring their multi-life effectiveness. Assessments tend to be linear with set conditions that do not reflect how people actually use batteries and the cold, heat, moisture and other conditions they might be subjected to. Additionally, battery systems scale: one battery goes into a module of battery units and modules make up packs.
"The only common thread I saw was that they have a lot in common with ecological systems," Gauchia says, explaining that testing a battery is like studying a fish in a pond. "In engineering, we take the fish out of the pond and expect to be able to tell how it's going to live in the pond; ecologists do not extract their subjects from their environment."
So, she turned to systems designs and population analyses that quantify individuals, groups and their interactions with their environment. Gauchia figured if the techniques can be applied to animals and plants, then they could be replicated for batteries and energy storage.
Testing and Theorizing
Gauchia plans to test a number of batteries in first and second life stages under a variety of conditions. She will then use Bayesian networks to inform ecology-based methods to discern patterns in the data; with those patterns she can do cross-level testing to see what holds true from batteries to packs to modules. The analyses should help better predict when a battery might fail in any of its life stages.
"Energy storage has become a very important component of the national conversation about renewable energy, the next generation of utility-scale power systems, and the smart grid," says Dan Fuhrmann, the chair of the Department of Electrical and Computer Engineering at Michigan Tech, adding that a better understanding of batteries is "critical to the thoughtful integration of more and more energy storage devices in the mix of technologies enjoyed by modern society.
Bill Predebon, the chair of the Department of Mechanical Engineering-Engineering Mechanics, agrees that Gauchia's research will enhance Michigan Tech's energy portfolio.
"A unique aspect of her research," he says, "is using ecological tools from the field of ecology to better understand battery aging and in turn obtain longer battery life, which has applications spanning electric vehicles to power units for emergency situations such as Hurricane Sandy."
Training the Next Generation
Gauchia's batteries and data will also be used in her undergraduate classes; students will be able to work hands-on and through online courses to run short-term tests that mirror Gauchia's own long-term ones. During the summer, she plans to mentor young Hispanic women through the MICUP program that brings students from community colleges in downstate Michigan to Houghton for six-week internships.
"Batteries are interesting systems and they have peculiar behavior—and you just don't believe that until you test them yourself," Gauchia says, adding that inspiring the next generation of researchers is key for battery tech's future. "There are simply not enough battery storage classes being offered across the nation."
One battery pack at time, Gauchia plans to change that. By connecting students, ecology and energy storage, she can take the promise of battery technology and help ensure that batteries have a stable and reliable future with many productive lives.
Michigan Technological University is a public research university founded in 1885 in Houghton, Michigan, and is home to more than 7,000 students from 55 countries around the world. Consistently ranked among the best universities in the country for return on investment, Michigan's flagship technological university offers more than 120 undergraduate and graduate degree programs in science and technology, engineering, computing, forestry, business and economics, health professions, humanities, mathematics, social sciences, and the arts. The rural campus is situated just miles from Lake Superior in Michigan's Upper Peninsula, offering year-round opportunities for outdoor adventure.