With a prestigious early career award grant from the National Science Foundation (NSF), one chemist wants to make color-coded testing of diseases easier.
There is something very noble about Xiaohu Xia's research. He wants to use palladium, platinum, ruthenium and other corrosion-resistant metals to refine tests to detect biomarkers for cancer and infectious diseases. To do so, he plans to use nanostructures made of these noble metals that mimic natural enzymes.
Xia, an assistant professor of chemistry at Michigan Technological University, explains peroxidase enzyme-based assays generate distinct colors when they interact with biomarkers.
"The tests are common and inexpensive, but not exact," Xia says. "Over the past decade, researchers have proposed peroxidase mimics to improve the assays."
To make them more effective, Xia will push the catalytic activity of the mimics.
Bimetallic Catalysts
The peroxidase mimics that Xia studies have a core-shell nanostructure. That is, they have a palladium core with a surface coating of another noble metal, which could be platinum, gold or others. Xia compares the nanostructures' careful atomic arrangements to the masonry of a building; he needs to optimize the size, shape and composition of the parts to make a seamless whole. Precision is essential.
"My research focuses on taking advantage of modern nanostructures for healthcare, particularly diagnostics for disease biomarkers," Xia says, explaining that he looks at biomarkers of significant diseases like cancer. "Our ultimate goal is to make clinical diagnostics more simple and precise. This CAREER award will help accelerate my research."
The grant covers five years, totaling $457,783, and enables Xia to dig deep into the structure-property relationships of the bimetallic peroxidase mimics at the atomic level. Even small changes in nanostructures can produce big results, demonstrated by his lab with improvements in the catalytic efficiencies of iridium-coated palladium and ruthenium nanostructures.
Cary Chabalowski, the chair of the Department of Chemistry, says Xia's work aligns with the university's goals to expand nanotech and surface science research.
"His work holds great promise for significant breakthroughs in general fields of nanoscience, nanobiomedicine and biomimetic catalysis," he says, adding that the project also introduces "students to the fascinating area of the nanoscale world where quantum-meets-classical behavior and amazing phenomena can be seen."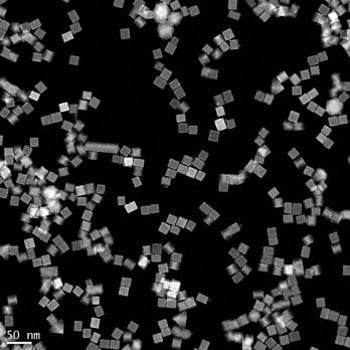 Kids, Shapes, and Nanotech
To inspire students, Xia is willing to go to kindergarten classes and bring high schoolers to campus.
"The kids are very interested in the shapes, for example," he says of showing microscopy images to five- and six-year-olds at a local elementary school. "We work with a group of very uniform and well-shaped structures—seeing examples of such materials helps foster their interest and curiosity about nanoscience."
Teaching and outreach are important components of a CAREER research grant and Xia plans to continue making classroom connections, working with students from kindergarten through high school. In fact, Xia will have one or two high school research positions in his lab during the summers, in addition to visiting schools and participating in local science festivals.
Xia is also enthusiastic about educating undergraduate students. During the past two years, he has worked with more than 10 undergraduate students for research projects. Four of them have published research papers in peer reviewed journals.
From inspiring youth to improving cancer detection, Xia's work is a colorful example of innovation in nanotech.
Michigan Technological University is a public research university founded in 1885 in Houghton, Michigan, and is home to more than 7,000 students from 55 countries around the world. Consistently ranked among the best universities in the country for return on investment, Michigan's flagship technological university offers more than 120 undergraduate and graduate degree programs in science and technology, engineering, computing, forestry, business and economics, health professions, humanities, mathematics, social sciences, and the arts. The rural campus is situated just miles from Lake Superior in Michigan's Upper Peninsula, offering year-round opportunities for outdoor adventure.